David Butcher is a junior at Ohio State University majoring in Marketing, who, two years ago, launched Flyby BBQ, a food truck located in Dayton, Ohio, that serves customizable "build-your-own" smoked meals; and, after months of fundraising, catering and local events, the truck had its grand opening two weeks ago.
Butcher has been named Number-One Student Entrepreneur in Central Ohio and was named in the Top Twenty-Five in the United States by Entrepreneurs Organization; he also won First Place in the OSU Best of Student Startups (BOSS) Competition 2017, First Place in the Fisher Business Plan Competition 2016 and First Place in the Business Builders Club IdeaPitch 2016. By entering Flyby into numerous business plan competitions (and by winning), the company received start-up funding to get to work.
At such a young age, Butcher is rising to the top of the entrepreneurial and barbecue world, as well as putting smiles on many people. By using all-natural, fresh ingredients and making the barbecue experience more inviting, Butcher has created a business that is speaking to people all over the country.
Cady Cohen: Could you start out by telling me about the history of Flyby?
David Bucher: The idea came about in my freshman year, about halfway through the semester, when I was entering a business plan competition that was going on at Ohio State. I presented to them a rough idea of what the vision was for Flyby, which was basically a fast, casual barbecue restaurant concept. I was the first freshman and first food concept to ever win the Fisher College of Business competition. Through those competitions we won $7,500, and the challenge then was to use that money to make our dreams a reality. I started a landing page online and had the initial branding, a rough idea of what the concept was and just an email sign-up box. I distributed the page to Facebook groups, and a few posts I had on Facebook got around five hundred to six hundred people to sign up and say they were interested in the concept.
From there, I started these kitchen takeovers or pop-ups, in which we basically set up the concept in someone's kitchen or at their house and had people interact with it. We would have a very minimal product, like a very sketchy version of our restaurant in their house so that people could go down the line, build their barbecue sandwich and we could see what they liked and didn't like, what they responded to well, and kind of start to build a framework of what this would actually look like and what the branding needs to be like.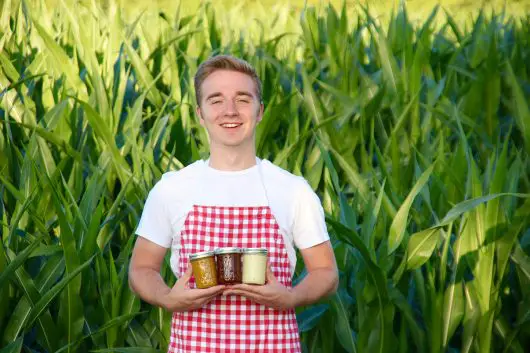 We did this for a few months and a lot of the people that we were hosting these parties started asking us to cater for events for their start-ups or for the business they worked at. On Facebook and Instagram, while we were doing these catering events, we made it seem like we were already a restaurant; we had all of these pictures, the branding and everything. We built up a really good following on there where we would tease what was to come.
Through all of the catering, and at the same time actually selling some of our sauces that we were bottling up, we had enough money to buy the food truck that we have now. We bought the food truck in December of 2016, and we have just been outfitting it since then. In May, we did our first event with the food truck, a friends and family thing, and we have been doing weekends since then. Now we have five other employees, six if you include me.
CC: Why did you decide to create a food truck?
DB: I probably could've found the money to go straight to a restaurant if I really wanted to, but it really wouldn't have been smart, even if someone would have given us the opportunity. Restaurants are the riskiest business there is, with a few alternatives. A general model that fails a lot of restaurant concepts is basically they start this concept, then they go out and survey a bunch of people and then they'll open this $400,000 restaurant, have huge overhead everyday and then try to get people excited about what they are doing. Oftentimes it just doesn't happen fast enough or they realize that they are building something people don't actually want.
We wanted to find a cheap and fast way to figure all of that out, get people excited about what we are doing and have that grassroots movement behind our brand before we open a restaurant, so that way, on day one, we have a lot of people coming through the door.
CC: Was the company always called Flyby BBQ? Where did the name originate?
DB: No one has ever asked me that before, but for two months it was called "The Pull." Me and my friends used to say that if something was a good option, we would call it "the pull." It made sense with the concept, because we use a lot of pulled meat. That was the name for a bit, but then I started to realize that I wanted something more playful, something that we could create more of brand around.
The Flyby thing comes partly from the fact that I live in Dayton, which is a big aviation place—the Wright Brothers are from here—and there's a huge Air Force base. Also, the fact that it allures to the convenience of the concept, you just go down the line and "fly by." The third meaning behind it is this pig [the Flyby mascot] goes around to all the areas of the U.S. and it's regional American flavors, because everywhere makes barbecue differently, so we wanted to highlight that instead of being a Texas barbecue place or a Kanas City barbecue place, we feature all of those places. You'll see that in our menu, all of our sauces are different states, and we have Cheesiest Wisconsin Macaroni and New Mexico Black Beans.
CC: What's the most popular item you guys serve? What makes it so great?
DB: Generally, a pulled pork sandwich with the Ohio Apple Bourbon sauce, but a lot of people have been excited about the bowls. Barbecue traditionally has been this glutinous, dark, really filling thing that is an experience to go eat, which is cool, but we want to make it something that people eat every day, you could eat Flyby everyday and it's not the same as a regular barbecue restaurant. The bowls are really cool because people like the flavors of barbecue, but with a bowl it is a nice thing to have for lunch that's not going to make you feel bad. The bowls are a great thing especially, because most of the time, we are open for lunch. We are trying to change how people traditionally think of barbecue.
We have a vegan option, The Jackfruit, which people are crazy about. All of these vegans and vegetarians are typically there for the picking; they can't eat barbecue anywhere else basically, so it's pretty cool that they can here. We sell a good amount of jackfruit, but I think we sell a lot of regular food because we have the Jackfruit. We have whole groups that can come that otherwise wouldn't have if we didn't, because if one person in their group is vegan, it's not like a salad; you actually get to experience barbecue like everyone else.
CC: Is the truck located in one specific spot or do you guys travel all around?
DB: That's a different thing for us compared to most food trucks, we're not doing the "food truck" thing where we go around all of these festivals and do that circuit deal. For us, because we are testing a restaurant, we are staying in one location. It's right off the highway, but if you didn't know it was here you wouldn't really know other than a few yard signs we put up.
What we are trying to test is if we are in this back-like parking lot that no one knows about and if we are seeing our numbers constantly increase and we ask people where they found out about us, if we are in one location as if we were a restaurant, how many people can we get to come and how often. We're trying to build that brand and following before we go to a restaurant. After our grand opening, we are going to be open Wednesday-Friday at our home base, and then on the weekends we'll travel to local areas.
CC: Where do you see Flyby BBQ in the next five years?
DB: My goal with Flyby is to franchise it, and to give other people who love food and interacting with people and the joy of owning a restaurant the ability to do that through franchising. I love food and I love restaurants, but more so, I love entrepreneurship and the idea of being your own boss and doing something on your own terms. If I could give that opportunity to other people through franchising this restaurant, I think that would be super cool.
There is a lot of couples and families and people in America that love barbecue and do it as a hobby, and a lot of them want to start a restaurant, but they don't have the business experience or the processes or a brand to do it with, and if we could give that system to them and let them do what they love as their job, then that would be amazing.
CC: What is your favorite thing about owning a food truck/ proudest moment of Flyby?
DB: The other day we closed at three, and around five, when we were closing up shop, this lady comes by honking at us with her car, and goes, "Hey, hey! Is David here?" and I go yeah, that's me. She goes, "I just wanted to let you know that was some of the best food I have ever had in my life." Moments like that—putting a smile on people's faces, and that's literally my job, and I forget that sometimes, is what's so fun about it to me.
I tried to start a few other businesses in high school and they made good money, but nothing made me feel as good as this does. I think the reason why this business has been so successful is because of those moments for me. It's so hard, and without that motivation or anything genuinely making you happy, you won't get through it. You have to do something that at least somewhat makes you happy; it can't just be solely because it's a good idea from a business perspective.
CC: Do you have any tips for students who want to start their own company?
DB: There is a term that's thrown around a lot in entrepreneurship—MVP: minimally viable product. For us, that landing page was me starting Flyby. I think a lot of people try to perfect their idea and then wait for this right moment to start and go all out, but that's not how it happens. You just need to get something out there to start getting people on your side, because there are going to be so many things you are going to assume are wrong.
Even for us, there was a lot of stuff we learned that people didn't like and, like I said, if went into a $400,000 restaurant, we would've figured this out the wrong way, and it could've ruined our business. I think making failures when you can, in a small setting with a few people, is really important. Starting in the simplest way that you can, getting something out there in the public, like right now, tomorrow, is really important. Find whatever that is for your business and you just have to be really creative with it.
Don't be afraid to ask for help. A lot of people, especially students, aren't aware of the amount of resources that they really have. If you're a college student, you have an alumni network or anyone who's successful from your college or university. If you intro an email with "Hey, I am a student from X college," they will answer your email 99.9 percent of the time, and they will give you time if you ask for it.