Cassidy Fritts is Fine Arts major with a concentration in painting at the University of the Incarnate Word in San Antonio, Texas.
After reflecting on the transformation of her artwork, Fritts shared why identity and time are essential themes to her, and how working with a local nonprofit has led her to a future in art education.
Rebecca Friou: When did you start painting?
Cassidy Fritts: Growing up, I was always creative (whatever that means), but I began taking art seriously during my junior year in high school. Even in college it didn't become my major until the end of my sophomore year, when I switched from communications to fine arts.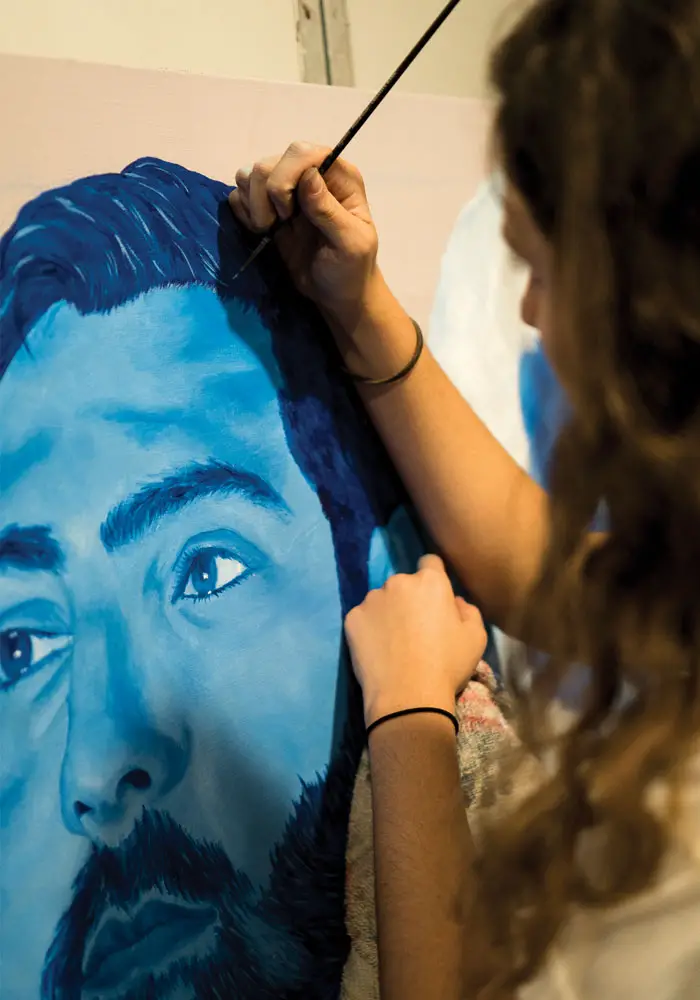 RF: Did someone specific influence your interest in pursuing art?
CF: My stepdad is in the army, so I spent the majority of high school overseas in Germany. My art teacher there was sort of the one who slammed sketchbooks on my desk and really kicked my ass into gear.
RF: What have been some of your favorite art classes in college?
CF: Since UIW is such a small community, being close with my professors has really influenced me. Currently, my two favorite classes are "Surveying Contemporary Art" and "Figure Painting and Drawing." In the first class we argue the meaning of minimalist art, which is fun, and the second is just three hours of practice.
RF: What do you typically paint the most? Is there a prominent theme?
CF: People, for sure. I mainly do portraits. My style is becoming pretty realistic, but sometimes I revert to a simplistic style with no faces, just shapes. Lately, I've been trying to analyze my past work and why I paint what I do.
With that said, I think I try to paint the concept of identity — not necessarily my own or others personal identities, just the idea of it in general. I have a strong indifference towards labeling. I'm sort of questioning whether it's necessary for us to be. I also layer a lot of faces and try to represent some aspect of time by painting sequences.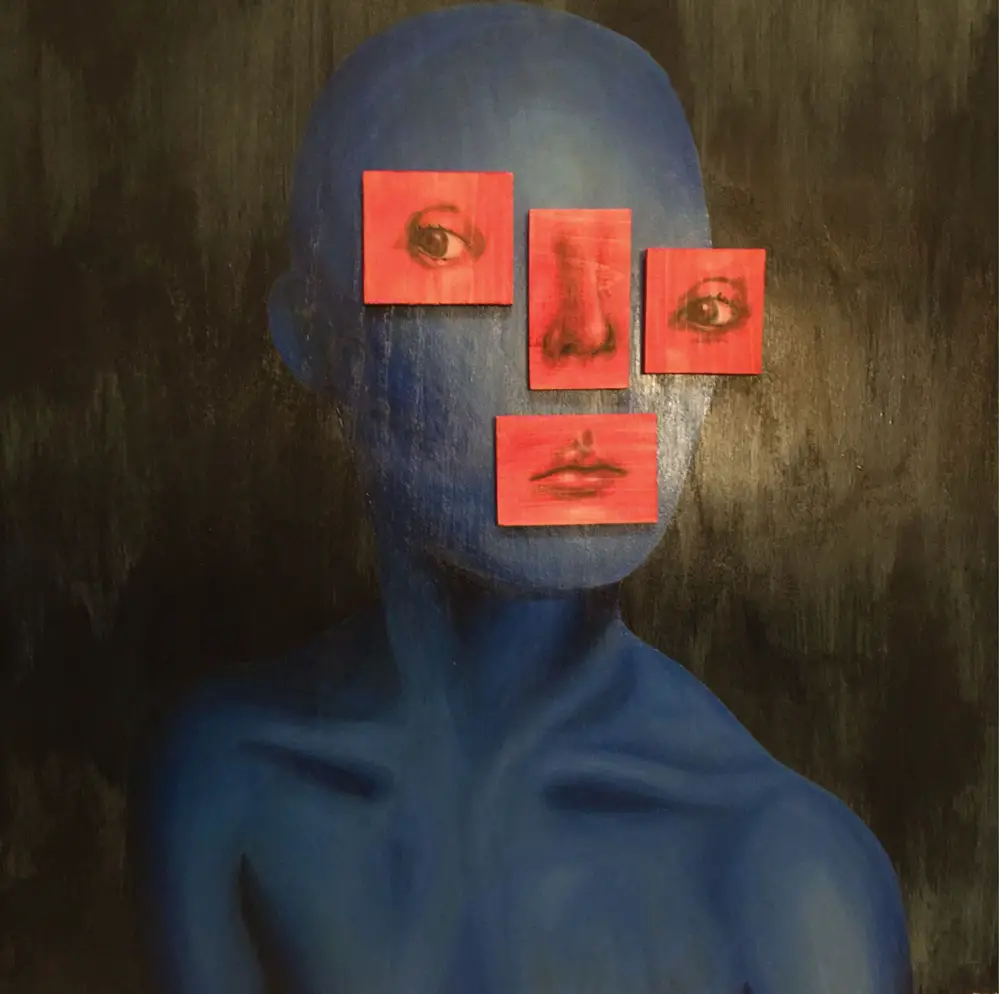 RF: Do you look up to any specific artists?
CF: Yes! Right now I try to keep up with Jenny Morgan and Jen Mann. I found them on Instagram and they're both figure painters, but they use really unrealistic colors and portray images of sort of raw, different figures like fat and sad people.
RF: What's after graduation?
CF: Well, last summer I interned for a local nonprofit here called SAY Sí (San Antonio Youth Yes). I now work there part time, but hopefully I get the chance to stick around full time after I graduate. Eventually I want to go to grad school for painting — but who knows, I could get into sculpting so I'm keeping an open mind.
RF: Can you tell us about the program?
CF: I teach tuition-free art education to lower income students. It's an afterschool program where we provide the materials and the environment for the kids to express themselves in. We execute shows with themes and give them mediums and sort of guide them to their finished project.
RF: What's your ultimate goal with art in the next 10-15 years?
CF: I'd like to be making art; however, the education aspect really appeals to me. I don't want to be a teacher, but rather a teacher of sorts — hopefully I'll stay connected with nonprofits.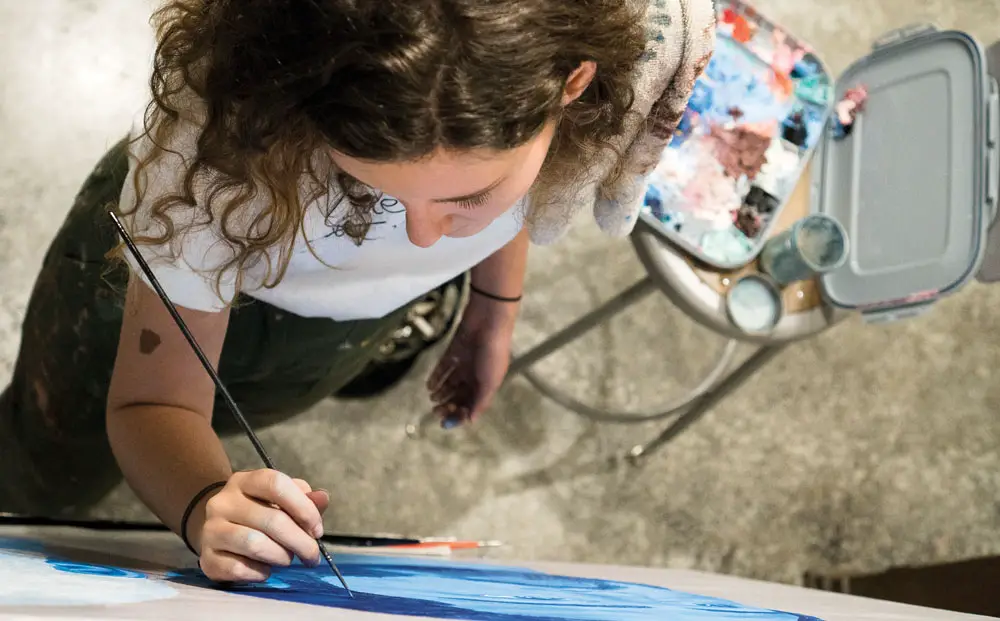 RF: So basically you already have your dream job. What would you do if it wasn't painting?
CF: My dream job was always to be a layout editor with an art magazine. "Juxtapoz" was my favorite magazine all of in high school, and I was always on yearbook staff. I made the switch in my major because I couldn't stop thinking about art, and I wasn't sure why I was studying something I didn't think about all the time.
RF: Who do you paint?
CF: Well, I draw people in front of me. Over the summer I had a 10-hour layover in NYC, so I rode the subway and sketched people. I also paint people I know — I often use my family and friends as subject matter. I think it makes the process more intimate, and when I like my subject I'm more compelled to work on it.
Sometimes, if my relationship isn't as strong as it could be with someone I'll paint them to feel more connected.