Princeton student Cason Crane is the first openly gay climber to scale the Seven Summits. When Crane isn't studying for his history classes, he likes to run ultra-marathons and introduce his friends to his favorite mountains. The high-adventure expert had just returned from hiking Kilimanjaro with his boyfriend when I spoke with him about his involvement in the Rainbow Summits project, an effort in which he has climbed the highest peak on each of the seven continents in order to raise money for the Trevor Project, an LGBTQ suicide lifeline. 
Gwynn Lyons: Could you tell me a little bit about how you got into mountaineering?
Cason Crane: I was very lucky to grow up in a family that loved the outdoors, and loved hiking, and all sorts of other outdoor activities from a very young age. We had done a ton of hiking when I was little.
When I was fourteen, my mother and I climbed Kilimanjaro together in Tanzania. Kilimanjaro is a great hike, because it is a hike up a real mountain that's 18,000 feet high. It was my first taste of mountaineering, and I just loved it. It was really exciting to have it be as beautiful and as challenging as hiking I'd previously done, with this benefit of having this goal of reaching the summit.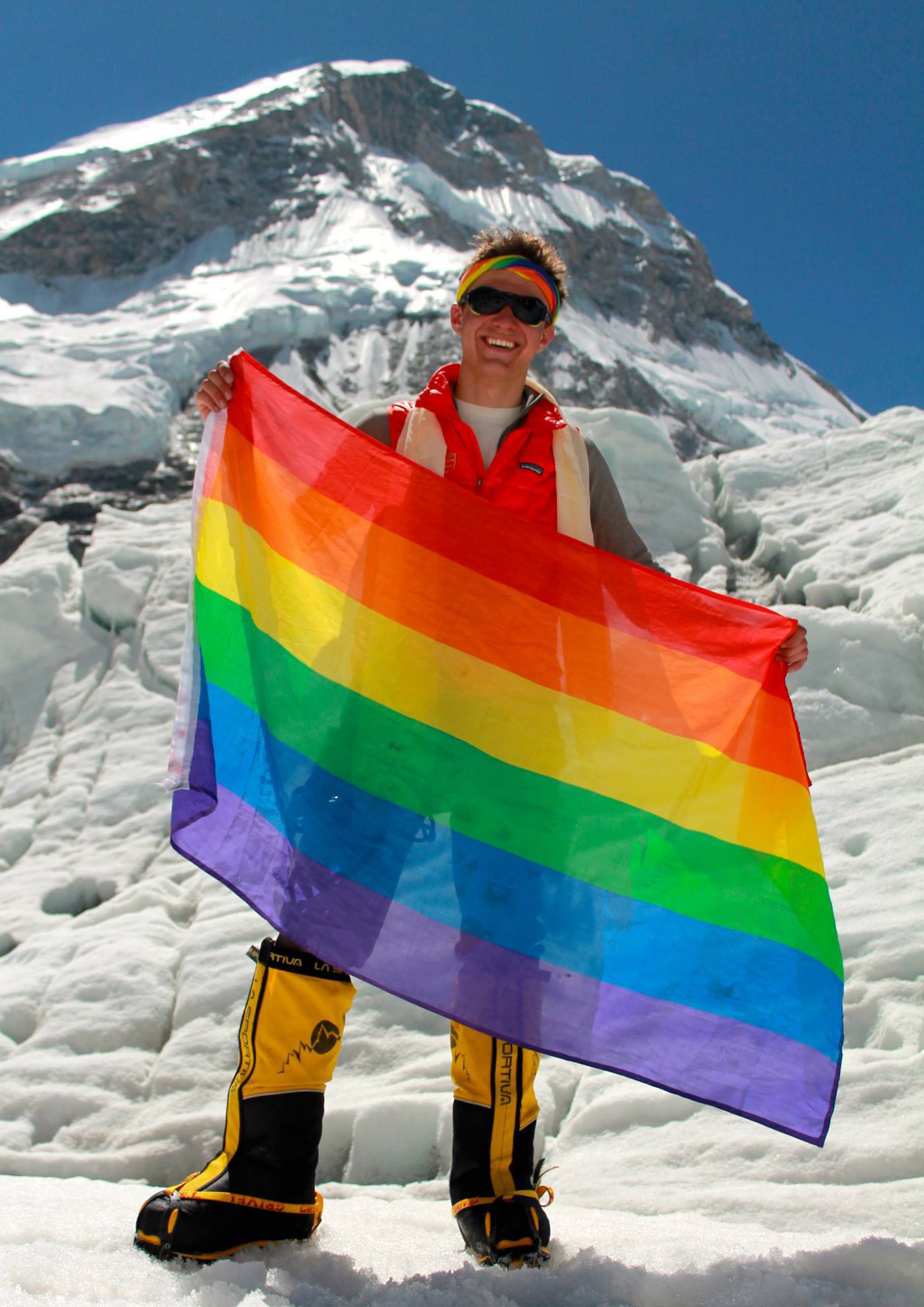 GL: You started the Rainbow Summits project during your gap year. Could you explain a bit what the Rainbow Summits project is?
CC: The Rainbow Summits project is a fundraising initiative for the Trevor Project, which is the leading suicide lifeline for LGBTQ youth in the country through climbing the Seven Summits. So, basically, just like people run marathons or do other things, I was doing the Seven Summits, and in the process raising awareness for youth suicide, which is something that kills many more young people than people think, especially in the LGBTQ community.
GL: The Seven Summits consist of the highest peak on each of the seven continents. How did you decide on these mountains?
CC: I was climbing just for fun in New Zealand, and this woman I was climbing with, named Lydia Bradey, the first woman to summit Everest without oxygen, asked me point-blank, "Why don't you climb Everest?" It triggered thoughts that I could maybe seriously do that. One thing led to another, and then I thought, "Why don't we do this for a cause, and help LGBTQ youth along the way?"
GL: Could you tell me a story about one of your climbs?
CC: One story that I haven't told very often is about the second of the seven summits that I climbed, which is Aconcagua, in Argentina. Aconcagua is the highest mountain outside the Himalayas—massive, massive peak. It was right at the beginning of my journey, so I was much less experienced then than I was when I climbed Everest a year later.
GL: Who did you climb with?
CC: My team and I were a very diverse mix of people, ranging from a New York investment banker on a couple months' sabbatical, to a group of Texan firefighters; we also had a New Zealand socialite, so it was a very interesting mix of people. Whenever you're cut off from the rest of the world, inevitably personalities will clash. But it gets worse in stressful physical conditions obviously.
We're starting to go up the main part of the mountain, and it's scree, which means loose rock on the slope. At one point, there was a section that was potentially dangerous, where the rocks would slide, and so we were trying to be very careful. Someone was going across very closely, and then the person in front of them started going prematurely. And the rock started to slide.
GL: Oh my gosh!
CC: And this person ran forward and grabbed the person in front of them and the rocks really started coming down, some the size between a tennis ball and a football, which doesn't sound that big, but that really hurts. It was intense.
One of my female teammates, the one who was grabbed onto, starts screaming. She had been hit by a bunch of rocks. It was clear that she was hurt. And the other guy was shaking as well; he knew he had messed up. So we had to turn around and go back to base camp, and my female teammate had bruises all over her body; it was scary. I mean really big bruises.
GL: I hope she was okay! What were the consequences of the accident?
CC: What the real stress was, beyond that incident, was having to deal with the fallout, because she refused to climb with this guy for arguably valid reasons. It took a lot of one-on-one with him and her to try to resolve this situation.
Ultimately, we were able to convince them to climb together, albeit separately. So basically we had to split up into two smaller teams to go up the mountain. It was one of my most important learning experiences, both on a team level, in addition to the lessons I learned about how to deal with the physical side of things.
GL: Let's fast forward a few years to college. Have you been able to continue mountaineering at Princeton?
CC: Unfortunately, I have not made it onto another big expedition, but I have been able to pursue my passion for the outdoors and climbing in other ways. I've been doing an assortment of Ironman triathlons, ultra marathons and tough mudder obstacle course races. I've tried to branch out because logistically, it would be impossible for me to pursue high altitude mountaineering.
GL: What's next for you after you graduate from Princeton?
CC: I'm very excited to be doing a weeklong ultra marathon in Madagascar this July. I'm doing an ultra marathon in Northern England, as well, in June. And then I'll be starting in the fall at Bain and Company, as an associate consultant. That's the next phase of the adventure. Maybe not quite as interesting as Everest, but it should be certainly rewarding and educational in a different way.