Alexa Pisano, a Boston University sophomore, began her own company last summer in order to bring awareness to the plight of rapidly depleting oceans.
Shop DeepBlue is a clothing and accessory company that donates ten percent of every purchase to ocean conservation projects. In addition, all profits go back into the business, in the hope that the company will be able to re-launch again next summer.
Pisano has managed to balance running a company with the already-hectic life of a college student, and is encouraging others to change the world for the better.
Emma Taubenfeld: So, what inspired you to create a website like Shop DeepBlue?
Alex Pisano: So, freshman year, at Boston University (BU), I took a writing course, because everyone at BU is required to take a Writing 100 course, and you get to choose the topic. I chose one that was titled "Oceans: Past and Present," and it seemed pretty interesting.
I had no idea how much I would learn and how much it would inspire me, but the class really taught us about how drastic the depletion rate of the ocean has been, specifically in the last 100 years.
Everyone knows that it's a problem. Everyone knows that pollution exists. Everyone knows that there's plastic in the ocean. People are trying to fix it, but people don't understand how serious the problem is, or that we really are the last generation that has the power to save it.
So, I wanted to start a business to not only try to contribute and donate money to ocean conservation projects and make a difference, but also to bring awareness to the topic.
I learned in class that it's estimated that, by 2048, there won't be any more fish left in the ocean. And when you hear something like that, it's like, that's less than 35 years—that's crazy. So, the class really inspired me.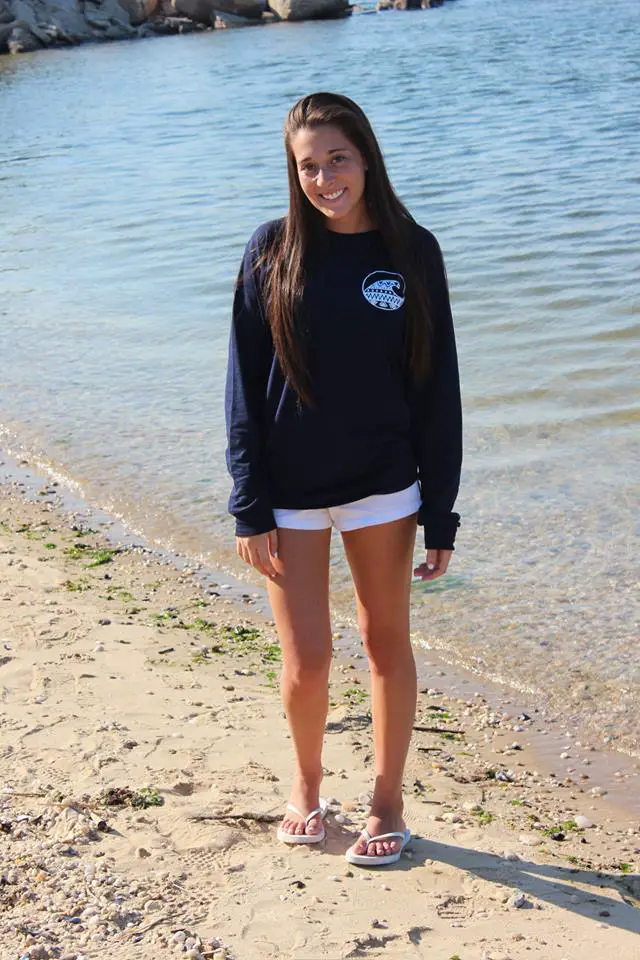 ET: Why do you think that these environmental issues have become such a serious problem?
AP: I'd say because people don't understand how drastic the problems are. You think that little things that you do won't contribute to a big problem, but, in reality, the little changes that you make could be all you need to save it.
So people don't think twice when they don't recycle a plastic water bottle, or use certain fertilizers on their lawn, because why would something so small make a difference? But, if you're changing those little things, like taking a shorter shower, turning the lights off when you leave a room, eating sustainable seafood and not littering when you go to the beach, they can make a huge difference.
I don't think people understand that not implementing changes like that has had a hugely negative impact.
ET: How did you come up with the name?
AP: It was a difficult process. I don't know how I originally came up with it, but I know that once I started to really form a business and launch it, the reason why I became a limited liability company (LLC) was so that I could keep the name. The full title is "Shop DeepBlue," and now it's an LLC, so I did that really to get the name.
ET: The products are super cute! Who designs them?
AP: I designed the logo, and I hope in the future to launch other lines where the logo has a different pattern on it. But, I designed the logo and then I designed the shirts online, and I can order inventory of whichever colors and sizes I need.
ET: What's the process like of starting your own business?
AP: It's complicated, but it's definitely worth the experience. I've learned so much. There are a lot of different facets of it. Not only do you really have to plan out products and prices and everything, but I also have to do a financial plan to make sure that it was possible to donate what I wanted to donate. Right now, every profit that we make goes right back into the business, so that hopefully next summer, I can re-launch with some new styles.
The hardest thing probably about starting it was the legal process. I had to work with some lawyers and secure the business as an LLC. It included a lot of paperwork with New York state, which took a while, but it was definitely all worth it.
ET: How is it running your own company while being a college student?
AP: It's definitely been tough, because my number one goal now is to increase the social media audience and really get people intrigued so I can re-launch in the summer. It is really hard to stay on top of [the company], especially with such a heavy schedule, but it's definitely also been cool to be on campus while this going on, because all my friends are super supportive and I've met tons of people that have connections.
And, being in the Boston area is amazing. "Metro Boston" reached out to me, and other BU organizations have reached out to do features, so that was so cool. So there are blessings and burdens at the same time.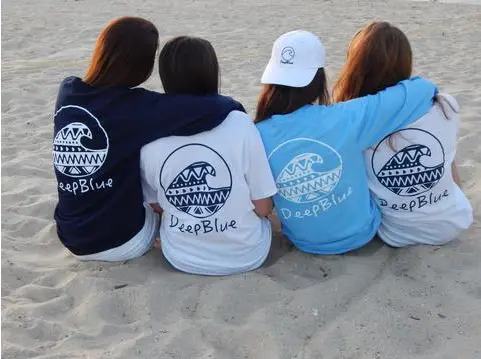 ET: Do you have any help running the company?
AP: My family has been incredibly supportive. While I handle everything with customer service, handling the orders and getting them processed, my family physically ships it out from home.
So I will receive the order, decide how it's going to be packed, get the label and then get that to my family. All my inventory is at my home in New York, so they take care of shipping it, which is super helpful, because I don't know where I would keep any of it in my dorm.
ET: What if someone can't afford to buy on your site, how would you encourage them to make a difference?
AP: That's a really good question, because it's not even about the purchases for me. If you go to the website, there's a tab titled "Save the Oceans" you can see just a few quick facts, such as what's happening now with organizations like Oceana. You could click to take part in petitions or just learn more, and there's a section about what Shop DeepBlue does to practice what we preach, but there's also a section on what you can do.
So, even if you don't want to buy a shirt, it's super informative just to check out the website, and if you learn one thing and spread that to a friend, you've done something great!
ET: Last question, what's your favorite sea animal?
AP: I really like otters! And turtles too.