While speaking at St. Joseph's University on Tuesday, Patrick Harker, the president of the Federal Reserve Bank of Philadelphia, said he believes that college financing might actually hurt low- and middle-income students. "I am concerned with the looming shadow of student debt," said the finance expert.
Harker also spoke of the rising uncertainty around loan-forgiveness programs and income-driven payment, which could make potential low- and middle-income students hesitant to go to college or apply for public-service jobs.
Various lawmakers side with Harker, proposing plans to make alterations to the repayment and forgiveness programs. Some Republican lawyers are considering eliminating loan-forgiveness programs for public servants and repayment programs, though Harker believes this creates distrust among students who want to attend college.
Many consider the state of student-loan debt in the United States a crisis due to the extreme setbacks they impose on graduates: it impairs students' ability to own houses, save for retirement and many other significant milestones.
It also increases the likelihood of students defaulting on their loans. According to Bloomberg, federally owned student debt since the 2008 recession has increased from 5 percent to about 30 percent.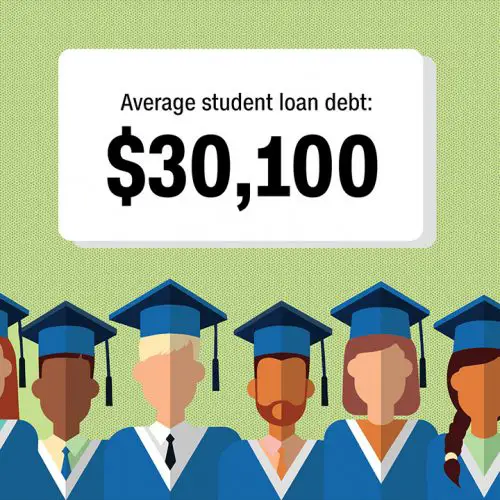 Decreases in state funding have pushed colleges to raise tuition, which leads to students taking out more loans to continue going to school, which leads to larger debt.
Harker, who served time as president of the University of Delaware, said public colleges might have to cut programs that offer mentoring and advising services due to budget constraints. This is particularly harsh for low-income and first-generation students, who may have smaller networks and fewer connections and thus need more guidance career-wise.
"We're talking about our future workforce," said Harker. Misallocating resources and/or funneling minds away from areas they can help or improve "is shooting ourselves in the foot."
According to The Urban Institute's project, there are 10 states and a district hit hardest by student loans, most notably Washington, D.C. and New Hampshire. Twenty-one and 20 percent of D.C. and New Hampshire's residents are stuck with student loan debt, respectively. The median amount in D.C. is $24,131 and $18,777 in New Hampshire.
To add insult to injury, students are fairly oblivious about student loans. Student Loan Hero conducted a survey that showed 52 percent of loaners think interest does not accrue while still in college, and 70 percent are misinformed about loan forgiveness.
To help with this, NBC News published an article encouraging students to find out more about student loans, including contacting school counselors, using a student loan calculator and aiming for loans that only take 10 percent of one's income.
They also stressed that a private loan should only be a last resort and discouraged parents from taking out loans for their child unless they were completely sure. Also valuable is to learn the difference between a subsidized and unsubsidized loan.