The Millennial Bill of Health
Though they may champion its causes, young people have proven reluctant to buy in financially.                                              
By Devin Ross, Middle Tennessee State University
---
During the unprecedented badger fight that was the presidential election of 2016, one of the most contested issues was healthcare reform.
And for good reason, as people's lives literally depend on it.
Despite insuring 20 million people, barring insurance companies from denying enrollees because of prior illness and prohibiting women from being charged more than men, the Affordable Care Act, or "Obamacare," has left many Americans dissatisfied.
According to a recent Pew Survey, 53 percent of Americans disapprove of the ACA. Aside from concerns about high premiums and impact on taxes, many people are also conflicted about the increased governmental involvement, particularly the individual mandate, which requires the majority of individuals to purchase minimum essential coverage (basic health care).
What You Should Know
Since Barack Obama signed the Affordable Care Act into law in 2010, 6.1 million people between the ages of 19 and 25 have gained health care coverage, according to the U.S Department of Health and Human Services.
Under the ACA, "children" are permitted to stay on their parents' coverage plan until the age of 26. This provision has proven wildly popular and Trump, ever the populist, has vowed to keep it.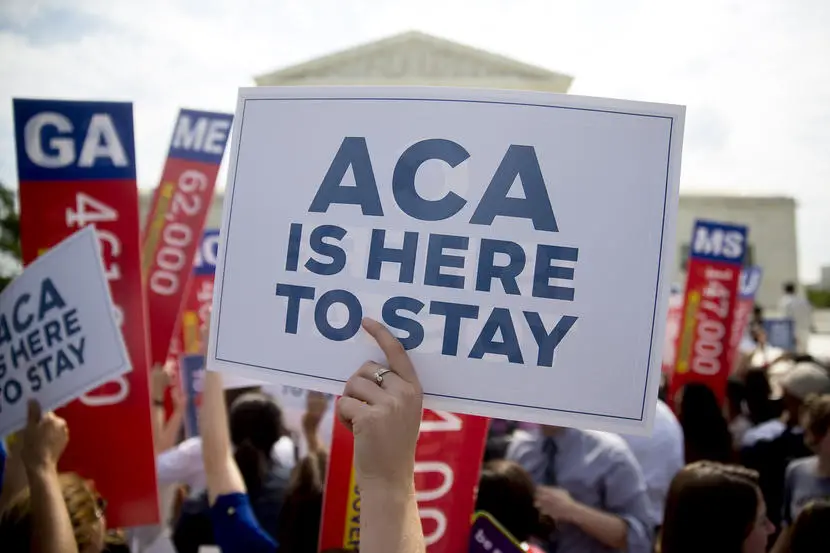 Under the Affordable Care Act, all insurers with dependent child coverage are expected to follow this guideline, so even if the parents do not have Obamacare, their children qualify for coverage.
Whether or not they are married, enrolled in school, live in the same household or are financially dependent on their parents, coverage extends to those under 26. However, this provision does not apply to those whose parents have Medicare, and if an adult under 26 has children of their own, those children will not be guaranteed coverage under their grandparent's policy.
As a result, more millennials are insured than any other group of young people in U.S history. Unfortunately, the situation is a bit stickier than it sounds.
The Infamous Mandate
Obamacare's individual mandate, which went into effect at the beginning of 2014, requires the majority of Americans, including millennials starting at age 26, to obtain and maintain health insurance or an exemption each month; otherwise, they pay a tax or penalty.
Despite increased outreach, the Obama administration had a difficult time getting millennials to sign up for basic coverage, even as the penalty for skipping coverage was increased last year to $695 annually. Some insurers have complained that the penalty is not high enough to incentivize young people to purchase coverage.
Although the mandate has proven to be one of the most unpopular elements of Obamacare, the reasons for having it are pretty practical.
In the past, many states and insurers charged each enrollee a risk-adjusted premium based on their medical history. This process of evaluating the risk of patients, and then charging them based on that risk, is called underwriting.
Under Obamacare, insurance companies are not only required to cover all preexisting conditions, but also guarantee that everyone will pay the same premiums, regardless of health status.
So, if you are an 80-year-old woman with type two diabetes and liver cancer, you pay the same rate as a healthy 26-year-old college student in the same state.
In theory, the provision prevents insurance companies from discriminating against or preying on the sick and elderly, and ensures coverage for millions who otherwise would be unable to afford it.
Unfortunately, the provision has also driven up premiums beyond what many people are able to afford, or, as is the case with some millennials, are willing to pay for.
The Obama administration tried to solve the problem by requiring all citizens to obtain some form of basic insurance, thus leveling out premiums. However, neither the threat of an annual penalty for those who refuse to purchase minimum coverage, nor an appeal by the president himself to uphold civic responsibility have motivated many able-bodied and financially precarious millennials to purchase coverage, with some finding it cheaper to pay the penalty.
For the first three open-enrollment periods, millennials accounted for 28 percent of sign-ups nationwide, according to administration data. However, the White House set a goal of 40 percent in that age bracket to sustain a healthy marketplace and balance the cost of older, sicker enrollees. The lack of participation from millennials was a huge pitfall for the success of the ACA.
Where Are We Now?
Although Trump has recently signed an executive order to repeal the ACA, the arcane language often surrounding healthcare reform, and the slipshod nature of the Trump administration, make it hard to say exactly how much of the law will remain and what, if anything, will replace the portions that don't.
In a recent interview on ABC's "This Week" program, Kellyanne Conway, counselor to Trump and human sock-puppet, promised that Trump "may stop enforcing the individual mandate." Although this could be just another one of Conway's "alternative facts," we do know Trump has signed an executive order "instructing agencies to find ways to minimize the unwarranted economic and regulatory burdens" from the ACA. While it's possible that the order could affect the penalty for not obtaining minimum coverage, it's hard to say at the moment.
The dictum does not explicitly order the Department of Health and Human Services to ease any particular aspect of the law, but it could affect the individual mandate through a more liberal interpretation of a clause about "hardship exemptions," which could ensure fewer people are penalized.
"This action demonstrates that President Trump is committed to fixing the damage caused by Obamacare as soon as possible," says Republican Senator John Barrasso of Wyoming.
In the interim, Republicans have suggested a transitional period that will maintain current Obamacare practices while they work out a full repeal, which will likely unfold over the course of several years. This is a very precarious process, because removing portions of the law while regulations are still in place could cause premiums to jump, scaring off insurance companies, resulting in the crisis of nearly 20 million people losing their insurance. So, keep your eyes peeled, kids.