Following the months of controversy and debate over football players making statements by taking a knee during the national anthem, the NFL released a statement on Tuesday saying that its players and staff "shall stand and show respect for the flag and the Anthem" if they're on the field.
"Personnel who choose not to stand for the Anthem may stay in the locker room or in a similar location off the field until after the Anthem has been performed," the league said in its new policy.
The idea of NFL issuing restrictions on protests during the anthem has been discussed for months. It gained a lot of attention this week, garnering both positive and negative reception. Amongst the subtler critiques was the response from the NFL Players Association, who said, "The NFL chose to not consult the union in the development of this new 'policy.'"
According to NPR, the union said the league's decision goes against what the NFL had told its players about the "principles, values and patriotism of the league," adding that it will review the policy with an eye toward mounting challenges if elements of it contradict the current contract.
Vice President Pence tweeted #Winning after receiving news of the policy. He added an American flag to the tweet, along with a screenshot of a story about the NFL's anthem policy.
NFL players' behavior during the anthem and flag presentation became a political talking point last year, as players used the opening to protest police brutality and racism in America.
The effort was led by former San Francisco 49ers quarterback Colin Kaepernick, who took a knee during the anthem in 2016 — and who went from being a starter to an unsigned free agent in the spring of 2017.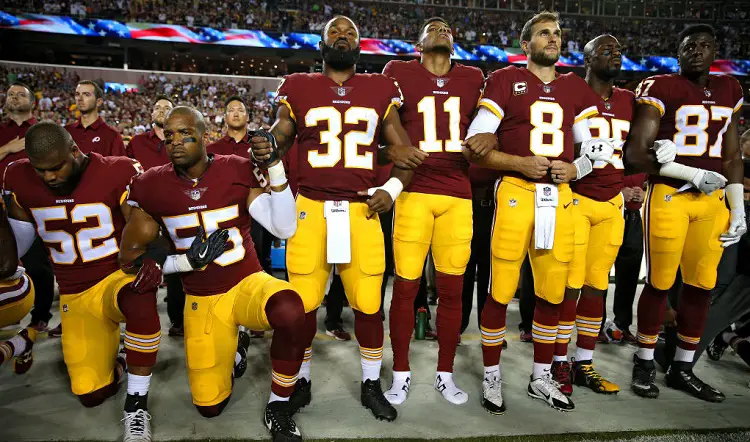 Fox News reports that the NFL adopted a policy that would fine teams and league personnel who do not stand and show respect for the flag during the Anthem. NFL Commissioner Roger Goodell said in a statement that the policy was approved "in concert with the NFL's ongoing commitment to local communities and our country."
According to the official policy, "The 32 member clubs of the National Football League have reaffirmed their strong commitment to work alongside our players to strengthen our communities and advance social justice."
Goodell admitted that the efforts of the players sparked awareness and action around issues of social justice that must be addressed, but it was unfortunate that "on-field protests created a false perception among many that thousands of NFL players were unpatriotic." Goodell said, "This is not and was never the case."
The NFLPA says they will be reviewing the new policy.