Whether you love or hate President Barack Obama's political party or policies, you have to admit that he's probably the coolest president America has ever known. Unlike any president before him, Obama has been able to connect with the younger generation(s) consistently throughout his tenure in the Oval Office.
The president isn't the only one currently living in the White House that's cool as shit, though; his entire family has been the darling of social media and of a generation. The Obamas been the breath of fresh air in the capital of this great nation, something the office has sorely needed. What makes this First Family so special? A whole lot.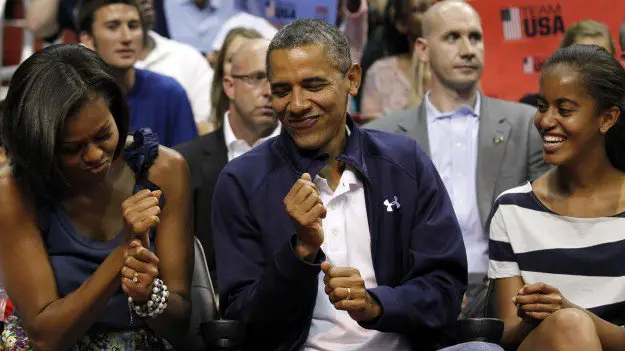 Barack Obama is known as a great orator, capable of stirring hope and determination in many who hear his speeches. Both of his presidential campaign trails are filled with memorable moments and soundbites that have now, or soon will become, quotes that will endure in our history.
But he's also funny AF and isn't afraid to throw some shade. His speeches at every single White House Correspondents Dinner are the highlight of every year, whether he's showing his birth video a la "The Lion King" or working a skit with Keegan-Michael Key from Comedy Central's "Key & Peele".
My bro Barack isn't a stranger to social media and the pop culture of the internet, either. His PSA on registering to vote this year was done in collaboration with "BuzzFeed," of all websites. He's appeared on MythBusters, regularly uses his Twitter account and has even gotten ahold of Michelle Obama's SnapChat. He's also generated some of the best memes of the decade.
Speaking of FLOTUS, we cannot forget First Lady Michelle Obama. Like past First Lady's (looking at you, Hilary), she's made a name for herself in her own right. A graduate of Harvard Law School, she's consistently supported causes close to her heart, including health and fitness, particularly toward the younger generation with her Let's Move! Campaign.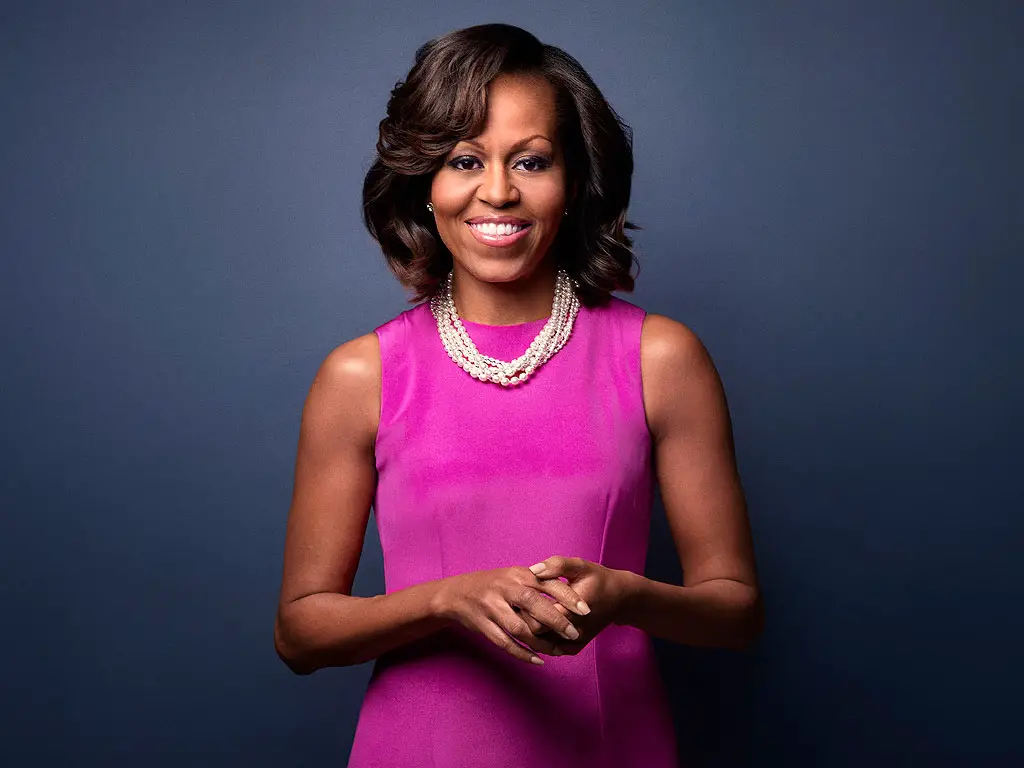 Her dedication to the future of the children of America starts with her daughters. While she's a cool mom, she's also a regular mom, keeping Sasha and Malia's feet on the ground, even if they've been named one of the most influential teens for the last three years.
Her strict rules, like no screen time during the week and a requirement that they partake in two sports, aren't about trying to keep a rein on young girls growing into young women. Rather, it's about making sure her daughters get their stuff done and "understand what it feels like to do something you don't like and to improve."
When Michelle isn't ensuring her daughters are prepared for the real world, she's dancing. She's got the moves, whether it's a slow waltz to Beyoncé singing Etta Jame's "At Last," getting her uptown funk on or showing off her best Mom Dance moves (twice). She's a great singer, too, rocking it out on Carpool Karaoke with James Corden and Missy Elliot. And of course, Michelle has a great sense of fashion and has taken a surprising amount of care to incorporate symbolism into many of her choices.
Basically, she's a cool mom, unless you're a young teenager who always gets embarrassed no matter what mom does.
Malia's taking her mom's lead and already becoming her own woman. Though she's graduated high school, Malia has taken a gap year before attending Harvard University in 2017, something many students wish they'd been able to do.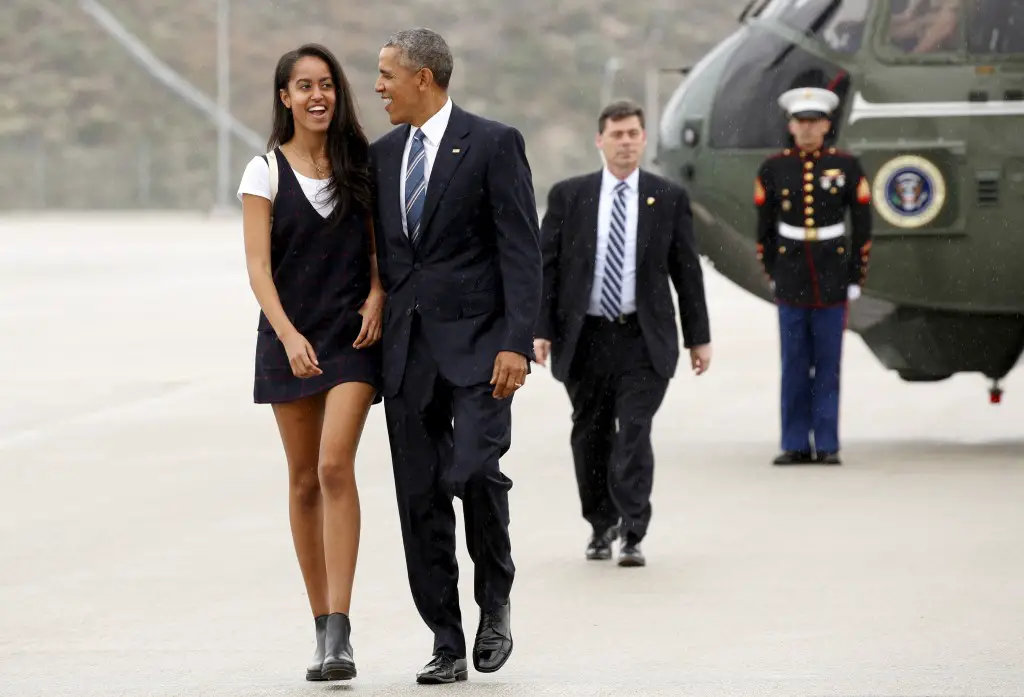 News about her has been quiet up until recently, which is pretty common for young children of POTUS growing up in the White House.
Rather than attend the Democratic National Convention with her parents, Malia attended Lollapalooza. While some weren't happy that an 18-year-old-woman was acting as an 18-year-old, it's clear her parents allowed her to go. After all, she was there; this wasn't a B-movie kind of move by Malia. It also showcases her parents' understanding that Malia is "a person and not a prop," and that she can be trusted (especially with Secret Service to keep her safe).
It's no secret that millennials are cool with weed, whether they smoke it or not. So when Malia was allegedly seen smoking pot at Lollapalooza, she responded as any sassy teenager would do—she trolled the haters by wearing a "Smoking Kills" t-shirt. Even without speaking, the sass is strong with this family.
Sasha spent her own summer working at Nancy's in Martha's Vineyard, a far more relatable job to teens than Malia's internship on the set of "Girls." At 15 years old, Sasha is still in high school, which could explain why she didn't join Malia at Lollapalooza (this year).
While most 15-year-olds would be far too embarrassed when their father decides to throw in a few dad jokes during the ceremonial pardoning of the turkey at the White House, Sasha has seemed to take puberty and her teen years in stride. While there was a small bout of teen angst, she's matured into a sarcastic appreciation of her parent's humor.
The best thing about the Obama family has been their relatability, best exemplified by their approach to raising their daughters and how their daughters have matured. Millennials love being able to relate to people. Hell, most people do. The current POTUS and his family have acted more as a family than any other First Family since John F. Kennedy Jr. Perhaps it was how young Sasha and Malia were when Obama became president; perhaps it's the cultural time they witnessed while living in the White House; but maybe, just maybe, it's because they are a family first, and the First Family second.
Either way, the Obamas are the coolest parents on the block with daughters everyone wants to be friends with. The current Presidential nominees—and their families—don't understand how to express the true joy of wielding a lightsaber, a true friendship with their Vice President and the ability to connect with the people they aim to serve.