NBC's hit show "World of Dance," which just concluded its first season last night, is packed with turns, jumps and tricks performed with the seeming-ease of only the best dancers to be found. From ballroom to lyrical, Latin swing to breakdancing, the show celebrates all styles of dance and showcases the best groups and individuals from around the world.
Dedicated exclusively to dance, the competitive show was designed to spotlight the athleticism and art that dance encompasses, in addition to offering more than a trophy to the champion of the competition; the prize boasted is a glamorous $1 million, a much larger sum than is usually awarded even at the most prestigious dance events. With judges from distinguished dance backgrounds and a framework modeled after dance competition circuits presenting contestants of the highest caliber of talent, "World of Dance" earns a standing ovation from dancers and audiences alike.
Triple-threat celeb Jennifer Lopez, who is an executive producer and lead judge on the show, broke into stardom initially as a dancer. She was a crew member for acts like New Kids on the Block and Janet Jackson before rocking the music industry and sweeping Hollywood as an actress. Lopez wanted to create an opportunity for dancers to be the stars of a show rather than backup or merely another performance. She also wanted to reward the winners with a prize allowing them to "really make some money," an opportunity not often afforded to dancers.
Other judges include Derek Hough, international ballroom titleholder and frequent professional on "Dancing With the Stars," and R&B singer Ne-Yo, who can inarguably get down and knows a thing or two about the entertainment industry.
Hosting is Jenna Dewan-Tatum, also a dancer gone Hollywood who has performed in backup groups for Justin Timberlake, Ricky Martin and Janet Jackson; as a dancer she is able to empathize with the contestants to calm their nerves, amp them up and praise them for a performance well done.
This stage-worthy team is more than qualified to critique the top-notch acts; their experiences make them the highest appreciators and most austere critics of their counterpart performers, a feature characteristic to the new show that other dance series have lacked. Shows like "So You Think You Can Dance" front judging panels that compliment dancers on "being fun to watch," "being so talented" and "looking great," and are composed of entertainers, but not necessarily ones that are trained strictly in dance.
In light of this, it is refreshing how the "World of Dance" panel recognizes dancers for their technique, conviction, emotion and spotless execution, even digging into the more nuanced elements of a performance such as staging, transitions, song choice and costuming. The judges have the knowledge to talk about dance in an educated way, and as dancers, they understand the mechanics and challenge behind each sky-high jump and pretty pirouette. With the diverse dance backgrounds of the panel, they're able to critique anything that crosses the stage and stand as an unmatched bunch.
Another defining feature of the show is its programming. It is structured like a dance competition in its scoring, which is done strictly by credentialed judges, eliminating the audience input aspect that many other shows incorporate. First, dancers are placed into categories based on size and age, with dancers seventeen and under falling into the "Junior" category regardless of group size; the "Upper" category consists of eighteen-and-over dancers, ranging in group size from soloists to four dancers, while the "Team" category is reserved for groups of five or more dancers that are eighteen years of age and up.
Dancers compete in a series of five rounds: "Qualifiers, Duels, The Cut, Division Finals and the Grand Final." In the first four rounds, dancers compete only with other numbers in their category, but in the "Grand Final" round, the remaining acts will rival each other across categories. This differs from traditional competition circuits where categories remain separated throughout, rounds are fewer and geographically organized.
Local competitions would be the equivalent of the "Qualifiers" round and national competitions would equate to the "Division Finals" round, sometimes leading to an international competition that would match the "Grand Final" round of the show. However, given the elite level of the dancers at the entry round of the show, the progression is logical and still representative of actual competition circuits.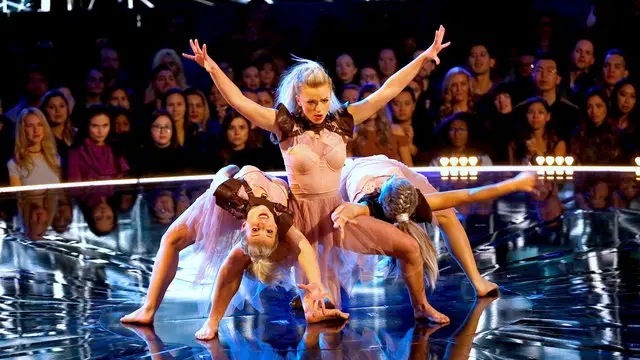 The scoring system created for "World of Dance" also resembles realistic competition criteria; scores are established based on performance, technique, choreography, creativity and presentation. Dancers can earn up to twenty points in each bracket, for a total potential score of one hundred, though a score of eighty advances them to the next round. The comprehensive categories allow equitable evaluation regardless of group size, age and style, including all of the necessary elements that comprise a top-notch routine.
Not only are the dancers phenomenally talented, they also know how to entertain! In order to captivate an audience, a dancer needs to become a performer by assuming a character that cohesively portrays a feeling through the coordination of music and movement. Choreography must be seamless and impressive, executed with control and ease while emotion is not shown, but exuded through each limb until it is palpable throughout the theater.
The "World of Dance" performances feature sensational showmanship, dynamic acrobatics, rhythmic masterpieces, soul-touching renditions of trending songs and fresh interpretations of the classics. Watching the dancers deliver pristine performances after spending years refining their craft is inspiring and invigorating.