Why the Warriors are Worried
After a blowout loss in LA, a shaky victory in Orlando and a locker-room meltdown from Draymond Green, exactly how solid are the Warriors?
By Kevin Cordon, UC Irvine
---
Up until Wednesday night, the entire Bay Area was worried.
San Francisco, worried. Berkeley, worried. Oakland, especially worried. Everybody was asking: What's wrong with the Golden State Warriors?
Heading into Wednesday night, fans had reasons to be worry. The Warriors' last two games against the Lakers and Magic hadn't been the cakewalk that the faithful had gotten used to over the first half of the season.
Passes were off, reckless turnovers were made and it just wasn't the brand of Warriors basketball that viewers had grown used to, especially against two sub-par teams that should have been easy victories. Easy, however, they were not.
The 112-95 blowout loss to the Lakers could be chalked up as a fluke. The game was a big letdown after an emotionally-charged victory against the OKC Thunder, but a deflation was inevitable.
During a grueling 82-game season, there are sure to be some letdowns. Granted, this Warriors team has earned the breathing room of a few terrible games, given that they'd won 55 out of 60 at that point. The game in LA was just an understandable off night, in addition to a chance for Kobe to add a rare victory over the reigning champs to his farewell tour.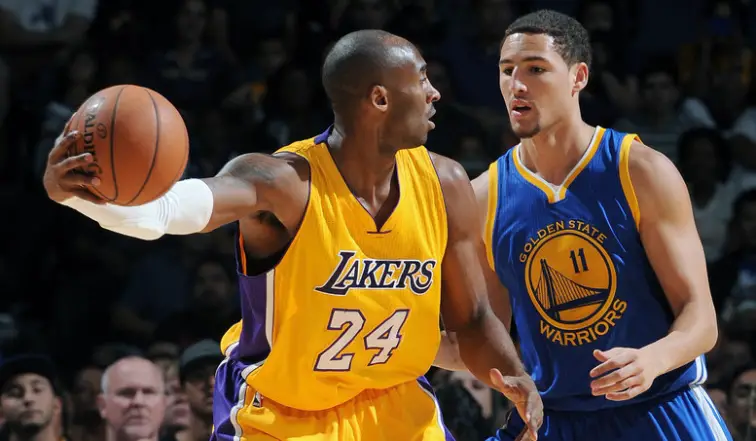 On their trip to LA, the Warriors were 4-30 from beyond the arc, committed 20 turnovers and at one point trailed by 23 to a Laker team who only got 12 points out of Kobe Bryant.
As alarming as those stats are, what left many fans sleepless was the fact that the splash brothers Steph and Klay set an eyebrow-raising shooting record that night. This one, however, fans weren't as excited about.
The Warriors' normally lethal backcourt went 1-for-18 from 3-point range, a feat that for them, seems harder than making all their shots from 3-point range. Their performance amounted to one of the worst 3-point shooting nights from any backcourt in recent memory. Safe to say, that was one page in the history books that the Splash Brothers didn't want.
After the game, it was time for the Warriors to put the loss behind them and look forward to playing at home against the Orlando Magic on Monday. With Nikola Vucevic ruled out for the game, the Magic were sure to be an opponent that the Warriors could bounce back against.
And they did, technically.
Besting the Magic wasn't an easy win though, or a tough, grind-it-out-on-defense team win, it was a watch-Steph-Curry-prove-he's-the-MVP-win.
Curry's heroics, 41 points and 13 rebounds on 14-of-24 shooting, along with a much-improved shooting performance from Klay Thompson (27 points on 11-of-23 shooting), won the Warriors the game. As a team, they committed sloppy turnovers, totaling 24 giveaways on the night and were noticeably missing the leadership of Andre Igoudala, who sat the game out due to hamstring tightness.
Despite the win and surpassing the '95-96 Chicago Bulls' record for most consecutive home wins, there were still warning signs that had yet to be addressed.
Draymond Green, the heart and soul of the team, had only taken 10 shots over those last two games, making only 2 of them. This being the same Draymond Green that was reported to have gone on a profane rant in the locker room at halftime against the Oklahoma City Thunder. The same Green that was allegedly heard yelling, "If you don't want me to shoot, I won't shoot!" and "I'm not a robot" while someone in the locker room tried to calm him down.
Whether by design or pure coincidence, Green came through on that promise to not shoot. 10 shots in two games is not enough for an all-star player to get involved in the game, and taking only 3 in one game is no way for any player to develop an offensive flow.
Looking back though, Green was just being unselfish. He was passing up shots that in the first half of the season he would have thrown up, no question. During the Magic game, there were several instances in which he caught the ball at his favorite spot—the top of the 3 point line—guarded by a helpless Evan Fournier, and immediately looked for a pass. Was this a statement? Was he proving a point by looking for a pass when he had the advantage?
Nobody from the team talked about it, but everyone noticed it. Genuine concern was beginning to creep into a fanbase that has been blessed with two record-breaking runs so far this season. Curry's heroics might be enough to get them through the first couple rounds of the playoffs, but another championship run would take a team that was in tune with each other and believed in coach Kerr's philosophy.
Then it came, the Wednesday night game at home against an ailing Utah Jazz team. The perfect tune-up opportunity to get the offense running again, and that it did.
Passes were hitting their targets and the ball was moving like everyone in Oracle Arena knew it could. The 115-94 win over the Jazz was a big confidence booster, not only for the team, but for the fans. It was a feel-good game for the Warriors, who saw Andre Igoudala return and Green knock down his shots again, making two 3-pointers.
The biggest takeaway from Wednesday's win was that this team is having fun again. Green was smiling, Curry hit a routine half-court shot and all is well in Oakland. At least until Damian Lillard comes to town Friday night.