Draymond Green, Lovable Oaf
After Green's recent Snapchat pickle, critics are asking if he's worth his off-court antics. The answer is yes.
By Kevin Cordon, UC Irvine
---
It doesn't take much to get onto the NBA's shit-list these days, and that's quite a shame.
Not long ago, those who were on that list really earned their notorious status—think Charles Barkley and the man formerly known as Ron Artest. It took real lewd acts to get the NBA front office to hate you, like bringing guns into the locker room, a stunt performed by the one and only Gilbert Arenas.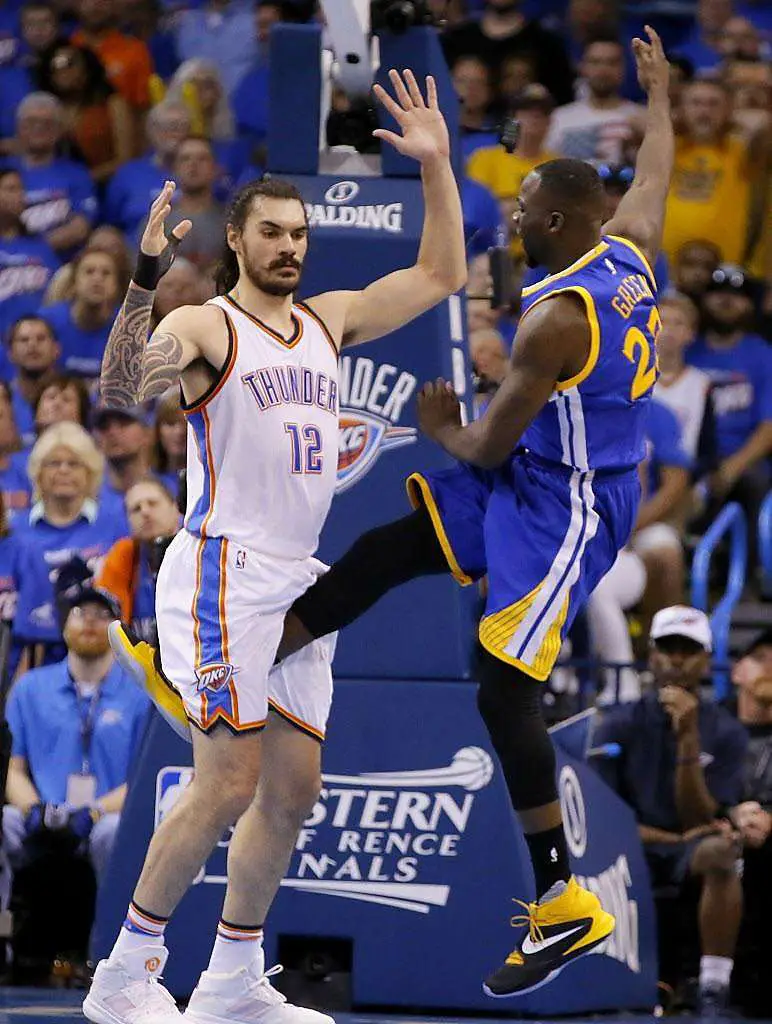 Now the NBA has grown soft, saving big men the humiliation of air-balling free throws and rewarding floppers for their interpretive dance moves. That leaves minimal wiggle-room for players like Demarcus Cousins, Russell Westbrook and Draymond Green, who channel so much emotion into their game, they're prone to overreactions against questionable calls. Batting an eye at a referee is a punishable offense by their standards.
In the case of Draymond Green, that's what his image metamorphosis began as—just a few overreactions. His tendency to pick up technical fouls for animated reactions to calls against him began to add up in the back of the minds of referees. They began searching for reactions from Green, even when he'd try to run from sight.
That foul trouble led him onto thin ice during the postseason where the stakes are raised and bad decisions have harsher implications. The ice began to crack with Green's first shot at Steven Adam's groin in Game 2 of the Western Conference Finals, and the ice completely shattered, along with Adam's jewels, from the karate kick in game 3 of that series.
That was the moment that shifted Draymond's image in the eyes of the NBA, who were just a few of the many that replayed that kick for weeks to follow. Fortunately for him, he wasn't suspended for the nut-kick heard 'round the world, but the rest of his postseason would be marred by the attention that it brought to him.
Those flailing limbs coincidentally finding Steven Adams' groin made Green a villain and were just tallies towards the inevitable suspension that finally caught up to him in the NBA finals. His absence in a potentially title-clinching game 6 was a huge blow for his team, but as an individual, Green will continue to feel the implications of his actions, essentially painting a target on his back for referees from this point on.
His case isn't helped by the fact that this offseason leading up to representing the US in the Olympics has been littered with small incidents that will turn heads. Before leaving to Rio, Green visited his home state of Michigan and put a Michigan State football player in his place after slapping him in the face. He didn't punch him, he slapped him, perhaps insinuating that the young football player's face wasn't worthy of injuring his triple-double hands.
Immediately after the incident, Green was arrested and charged with misdemeanor assault, but to the delight of Warriors fans everywhere those charges were dropped and resulted in a noise violation and $560 fine for Green. He may have been lucky, but in all honesty, if that Michigan State football player had sued Green for slapping him, he'd never be able to live it down.
US basketball supported him through the incident, as did the Warriors organization and fans. The media made their usual hyperbolic analysis of the events, saying the slap was unprovoked, but no man slaps another man for no reason; it's just not in the male code.
Then everything quieted down and the flurry of Draymond-related news began to subside, until he made a mistake that everyone commits. He sent the wrong thing to the wrong person. The only problem was that in his case, he sent it to everybody.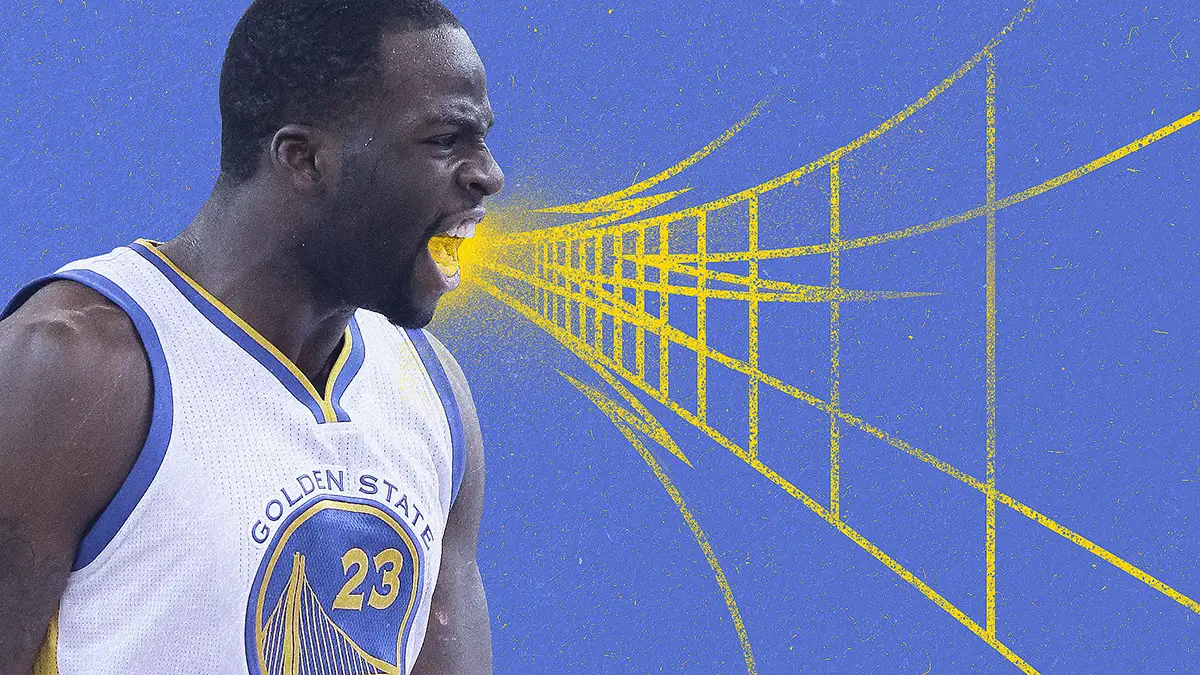 In the buildup to Rio, Draymond might have been feeling a little homesick and decided to send a picture of his junk to somebody on Snapchat. Instead of sending the picture to that special someone, he accidentally posted it to his public story, for all to see.
Green later admitted his mistake and escaped to Rio unscathed, except for becoming the punchline of Team USA's jokes for a few days. Though none of Green's mishaps carried enough magnitude to register on the Gilbert Arenas scale of bad publicity, the Warriors front office is surely keeping tabs on Draymond's offseason adventures.
All eyes will be on the Golden State Warriors this year after signing Kevin Durant, and all the extra attention will magnify any missteps along the way. The new "super team" will also be the NBA's newest villain and many will root for them to fail. There will be more pressure, more expectations and higher stakes this season, and Draymond Green will have to keep it together both on and off the court to keep the team's focus on bringing a championship back to Oakland.
No amount of warnings, fines or Steve Kerr karate chops will stop Draymond from being himself, and Warriors fans won't want that to change.
Green is the beating heart of his Warriors team, and his passion is one of the many reasons they're so successful.
That passion is also what racks up the fouls and gets him into hot water with referees, but that is a tradeoff the Warriors coaching staff are willing to accept as long as Draymond continues to perform.
Green's controversies off the court are what he needs to rid himself of, because there won't be room for distractions when the season starts. Draymond's trip to Rio with the US team could prove to be beneficial for him and his image, granted he can keep out of trouble while in Brazil.
There's no need for the discussions about the Warriors getting rid of Draymond, and the overreactions to his antics aren't worrying anyone. He has yet to reach the Charles Barkley, Ron Artest or Gilbert Arenas level of infamy, and for the sake of basketball, fans should hope he never gets there. Draymond Green is just a normal guy. He makes mistakes and sends pictures of his private parts to the wrong people, he slaps grown men in the face when provoked and he gets emotional, but the basketball world wouldn't be the same without troublemakers like him.
P.S. If you love seeing top-level ignorance, follow Gilbert Arenas on Instagram: @no.chill.gil
You won't regret it!