The Gospel According to Knope
In her seven seasons on "Parks and Recreation," Knope's character taught audiences how to find happiness in the midst of insanity.
By Daniel Nguyen, Wharton County Junior College
---
Leslie Knope has inspired both laughter and fearless determination since first appearing to audiences in the 2009 premiere of the now legendary show "Parks and Recreation."
Played by celebrated comedienne and actress Amy Poehler, the guileless deputy director of Pawnee's Parks and Recreation department provides countless instances throughout the show's seven seasons in which her unerring attitude, unrelenting tenacity, and indefatigable positivity pulled her through the most insurmountable challenges. Initially written by show-creators Greg Daniels and Michael Schur as a clumsy, incompetent mid-level bureaucrat, Knope later evolved to represent the peppy do-gooder viewers cherish today.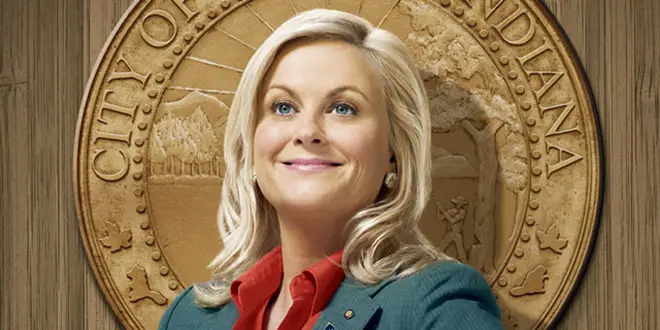 Although the show's last episode aired well over a year ago, the essence of the comedy's leading lady still lives on in the form of various pop culture aphorisms. Whether you're dealing with relationship problems in your own inner circle or complications dealing with institutional powers, here's what you can learn about life from Leslie Knope.
Reconciliation
In season three of "Parks and Recreation," Leslie and her best friend Anne Perkins (Rashida Jones) establish a steadily symbiotic friendship, Perkins being a necessary stabilizer for Leslie's often neurotic over-the-top behavior. But when Anne begins to experiment with her relationships more and relegates Leslie's job preparation materials for a night out, the friendship reveals its first tensions.
In episode thirteen of the third season, appropriately titled "The Fight," Leslie and Anne experience a tumultuous crack in their hitherto seamless relationship. Drunkenly enraged and propelled by their own stupendous stubbornness, they manage to bring their friendship to a spurious stop. But the next morning, tending wounds inflicted by each other's inflammatory remarks, Leslie and Anne repair their relationship with their mutual hangovers and injured egos.
In the light of their disagreement Leslie and Anne see their friendship for what it is: a remarkable, once in a life time connection. Although fictional, Leslie and Anne's relationship presents a template for relationships in real life, where compassion and a conducive sense of reliability can often be lacking.
Diplomacy
Whether it's renewing your license or dealing with class registration, bureaucracies are at the heart of many of today's millennial problems. Technological advances in app programs and websites that help you contest your parking ticket and renew licenses online are doing a lot to push complicated necessities into the 21st century's standards of customer convenience.
One of Leslie's most obnoxious opponents in government bureaucracy was Councilman Jeremy Jamm. A pervasive annoyance throughout Knope's phase as a councilwoman, Jamm embodied the seemingly requisite obstacles of work and professional life.
Although not everyone has a town authority after them, everyone has the challenge of being productive in an environment of dissimilar peoples.
In these instances, Deputy Director Leslie Knope demonstrates her beliefs in democratic settlement.
Attempting to secure the future of a park that sparked her lifelong friendship with Anne, Leslie goes through several loops of ingratiation with Jamm before he gives in and votes to secure the funding for Leslie's dream project. In the process Jamm mistakenly perceives Leslie's obstinate determination to become friendly with him as selfless amicability. Leslie approaches diplomacy with a mission to deluge her opponents with overwhelming kindliness. Even when she has an ulterior motive, Leslie's approach to diplomacy always has another person's benefit in mind, in this case her best friend Anne Perkins.
Assiduity
Leslie Knope, above all, is determined. A force of nature, often accused as being a steamroller in terms of her forceful willpower, Leslie Knope embodies the strong resolve of world leaders. Simultaneously, Leslie's grit is all her own. Although she rarely lets anything block her from her community goals, her blind determination to succeed often gets in the way of her own plans. In season five of "Parks and Rec," during her political campaign to become councilwoman for the city of Pawnee, Leslie attempts to juggle her already challenging daytime job as Deputy Director of the Parks department with her arduous campaign.
Fighting to equally meet the demands of both full-time jobs, Leslie's usual iron grip on errands begins to slip. When a pre-empted colleague's birthday becomes a third challenge to her growing pile of misfortunate hurdles, Leslie takes the advice of her wisest colleague and personal guru Ron Swanson and takes a much-needed sabbatical.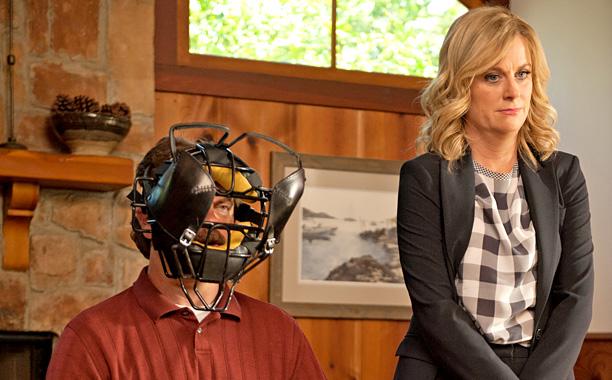 Leslie's struggle with her boundless ambition showcases the universal human need to rest in a fast-paced world of endless challenges. Furthermore, Knope's network of friends/professional colleagues demonstrate the fundamental function of friends—pointing out the flaws in our own behavior otherwise unseen by our own perspective.
Generosity
As Chief Police Office Hugh Trumple says, Leslie always uses her favors for other people. Despite her ambition, which might characterize her as a self-seeking politician, Leslie always puts the matters of other people in front of hers. While ambition in other people generates a myopia that blinds them to other's dilemmas, Leslie's fuels her inherent generosity.
During her term as councilwoman she demonstrates this tendency for generosity when Knope launches the "No Problem Too Small" project that addresses any and all complaints dialed in by the apparently universally petty citizens of Pawnee. In one case, Leslie and Parks and Rec's resident misanthrope April Ludgate address a call from a citizen complaining about the overabundance of snails in her garden. They head over to personally salt the offending snails.
After receiving an ungrateful response to the public service, Leslie articulates to April that the purpose of public service was never about gaining glory or appreciation. The purpose of life for Leslie has always been about wholeheartedly creating a eudemonic world for her fellow humans. Whether this be through a revival of a traditional town festival, or establishing a national park in the town's borders, Knope's approach centers on the benefits she can accrue for others.
Although Leslie Knope is far from the perfect human, her flawed character makes her greater qualities all the more realistic and applicable in the real world. Being a comedic mockumentary, "Parks and Rec" exaggerates the characters' dilemmas. Accordingly, the virtuous qualities of the characters are also exaggerated—meaning possessing even an ounce of Leslie's pluck, generosity or enthusiasm warrants you enormous advantages.
So in the same way Leslie dealt with the ludicrous hurdles of bureaucratic and personal incompetence in Parks and Recreation, you too can learn from her and deal with life's varied hurdles, beaming all the while.