Kevin Durant's Move Should Come as No Surprise
Fans and critics alike denigrate superstar athletes for failing to win a championship, then turn around and denounce their attempts to win one.
By Daniel Enjamio, Santa Fe College
---
We drove Kevin Durant out of Oklahoma City.
Well, at least I think that's partially true. This was, after all, his decision. But we, the viewers, the audience, the media—most everybody but the athletes—created a culture that surrounds the NBA, and really sports in general, that led to a decision like this.
We are hypocrites, most all of us.
Fans do this weird thing in team sports where they judge much of an individual's legacy on their team's success. Actually, let's be honest, "team success" is an mild way to put it.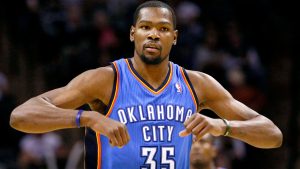 It's not only winning that viewers value, it can't be. Kevin Durant and the Thunder have won a lot together, as did Karl Malone and the Jazz, as did Dan Marino and the Dolphins.
No, winning alone is not good enough.
We rest so much of an individual athlete's legacy solely on championships.
We mock all-time greats for having never won one, as if one championship, and all the help and luck that are often required to achieve it, somehow legitimizes their accomplishments.
Then, after putting all that stock on championships, fans criticize athletes for making career decisions that grant them the greatest opportunity to win a ring.
I don't know if Kevin Durant chose Golden State strictly because they gave him the best chance at winning a championship. Maybe he dreams of living in California or developed a friendship with members of the team.
But there isn't one explanation for why he chose to leave or one aspect of how he handled his decision that warranted criticism.
When LeBron James left Cleveland for Miami in 2011, criticizing him was understandable because of how horrendously he went about it.
But by all accounts, Durant has been classy throughout. He's handled the switch about as well as possible and, in his Players' Tribune letter, he comes across as a good dude that understands the impact his decision will have on a community he clearly cares about.
When mulling over this decision, Durant likely considered LeBron's move to Miami and how it affected his legacy.
The truth is, despite LeBron becoming reviled and encountering more scrutiny than any NBA player in history, his legacy in hindsight didn't really take a hit.
On the contrary, while many once believed any championship he won in Miami would come with an asterisk, LeBron's two rings in Miami only contributed to him now being considered a consensus all-time great.
So much of the negative commentary of LeBron's legacy was alleviated after he finally won a championship.
It's not fair, none of it is. But Durant knows how the sports world treats stars without rings, even LeBron-level stars.
He understands the role finishing first plays in how we view a superstar athlete.
In 2013, Sports Illustrated ran a cover story on him always finishing second. "I've been second my whole life," Durant told the magazine. "I was the second-best player in high school. I was the second pick of the draft. I've second in MVP voting three times. I came in second in the Finals. I'm tired of being second."
Obviously, the piece wasn't mocking Durant and since then he's captured league MVP. After all, finishing second in those categories is really impressive and means you're in truly elite company.
But it all proves how profoundly aware Durant was, and likely still is, about finishing second (the Thunder finished 2nd in the Western Conference to the Warriors this season), and helps explain why a career decision would be dictated by the opportunity to finally finish first.

He's got a great opportunity to do just that, as his move makes Golden State the consensus favorite to win it all next season, making an already all-time great team seemingly much better.
The Warriors appear to be the basketball version of F.C Barcelona or Real Madrid, clubs who routinely dominate the free market structure of European soccer by collecting an amount of talent that seemed impossible to amass within the NBA's structure.
In the modern era of "super teams" this team appears to be the most frightening of the bunch. While other super teams struggled through growing pains and chemistry issues, the continuity of this team, and the way Durant seamlessly fits within it, is what separates it. They kept together a core that won more games in a season than any in NBA history, and then added a seven time all-star and former league MVP in the prime of his career.
But people like Stephen A. Smith, who called Durant's decision the "weakest move" he's ever seen from a superstar, will forever hold it against Durant. Smith is the same person who, before LeBron won his first title, described the then Heat forward's "willingness to celebrate something he's never achieved, which is being number one" as "egregious," while alluding that LeBron didn't have what it took to be a champion.
This is the sports world we live in. One in which you somehow can't be considered the best player in the NBA, or sometimes even the best quarterback in the NFL, unless you have won a championship. And yet those same people that foster the idea that you can't be great without a championship criticize athletes when they decide to join teams that give them the best opportunity to do so.