The Tom Hardy Effect
The vertiginous career of the 38-year old has been quietly gaining momentum for years. Now he's one of the most in-demand actors in Hollywood.
By Josh Lefkowitz, Temple University
---
Sometimes great actors take time to develop into their true form, gaining power and momentum as they climb the ladder of success.
Other times, triumph comes whipping in like a tidal wave, taking everything and everyone down in its path.
Such is the case for the rise of actor Tom Hardy.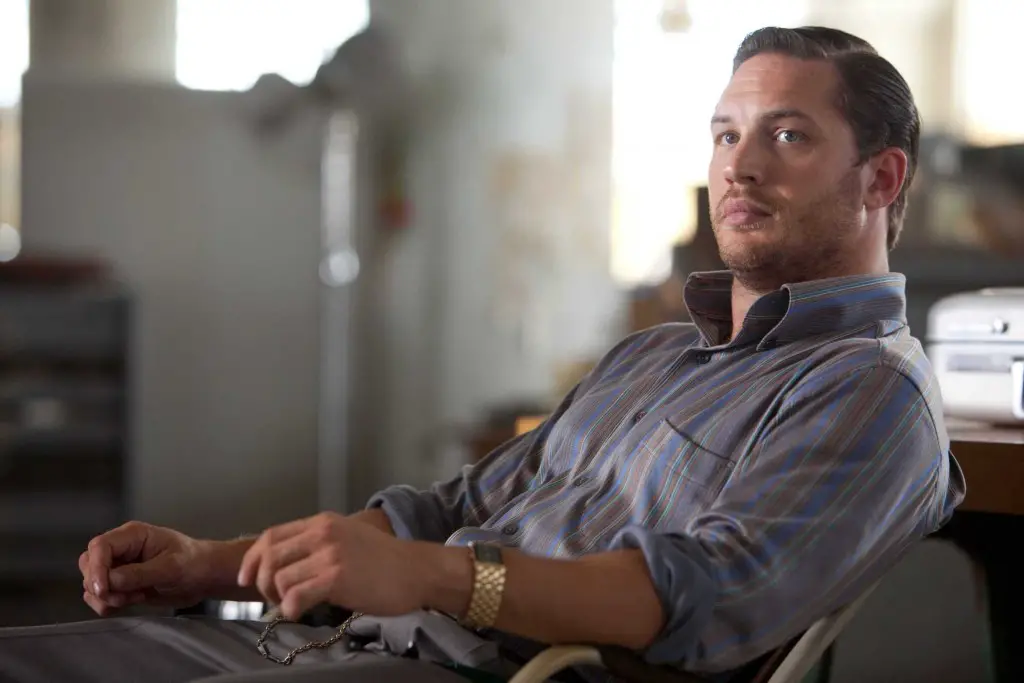 The 38-year old is exactly what Hollywood needs right now from their stars: talented acting, little to no controversy in the public media and an ability to transform a character on screen into a reality that the audience can eat up.
Hardy emerged onto the scene like many actors do, through smaller roles as supporting cast. However, the jobs Tom Hardy took on were no small feat.
He first broke through on television with a small role as John A. Janovec in the 2001 HBO mini-series Band Of Brothers. That same year, Hardy also had a smaller part in Ridley Scott's Black Hawk Down.
These examples show something that would stay true throughout Hardy's blossoming career: The man does not do bad films.
Continuing the trend of his early work, Hardy persisted as a superb role player. Films such as Layer Cake (2004) and Guy Ritchie's Rock n' Rolla (2008) saw Hardy deliver dynamic performances on a bigger stage, with well-known actors that helped showcase his talents early on.
Hardy's first major role came with the cult-classic biopic about British crime legend Charles Bronson. In the 2008 film Bronson, Hardy tackles difficult, controversial subject matter and puts forth a performance that could be considered Oscar worthy in hindsight. His ability to deliver powerful, passionate lines mixed with intense physical action is an indicator of the skill-set the man possesses.
His true brilliance and "I'm going to be around for a long time" attitude was highlighted in Christopher Nolan's 2010 neo-psychological thriller Inception, where Hardy had a prominent supporting role as Eames, along side the likes of Leonardo DiCaprio, Joseph Gordon-Levitt and Ellen Page. Although he was not directly in the movie's spotlight, his captivating delivery heightened the intensity of the movie, which seems to be a natural talent of Hardy's.
But you probably thought that Tom Hardy had reached his peak, that every movie following couldn't possibly live up to the films mentioned above, right? Right? Wrong.
The man does not do bad films.
Following Inception, Hardy continued his fast-pace climb to A-list status. Warrior (2011), Tinker Tailor Soldier Spy (2011) and Lawless (2012) emerged as strong indicators of the type of work Hardy found himself diving into.
His previous work with Christopher Nolan landed him another job with the filmmaker in the 2012 film The Dark Knight Rises, this time as one of Hollywood's most powerful, destructive comic book villains in recent memory, Bane.
The muscle mass alone Tom Hardy added for the role is impressive. He is clearly a figure not to be messed with, neither physically nor intellectually. His dynamic accent gave the character a uniqueness that only Hardy could accurately portray, and his chilling lines and brute build leave the viewer speechless. This role cemented Hardy atop Hollywood's rising stars.
His dominance continued.
In 2014, Hardy shined along side late actor James Gandolfini and Noomi Rapace in the Dennis Lehane penned Brooklyn-area crime drama The Drop. His ability to transform from a psychotic maniac in The Dark Knight Rises to a simple, soft-spoken yet hardened man in The Drop displays the dynamic range of characters Hardy can personify and deliver at a top-notch level.
Recently, Hardy successfully led a reboot of the acclaimed Mad Max films with the 2015 George Miller film Mad Max: Fury Road. Teaming up with Charlize Theron, Hardy's minimalist approach to Max laid the framework for the universe in which he existed. As a result of the box office and award season success, Tom Hardy is now the face of another ever-growing Hollywood blockbuster, with the sequel Mad Max: The Wasteland and another potential Mad Max film in the making.
His most to-date film is arguably the best showcase of his pure talent.
Another major supporting role along side Leonardo Dicaprio and award-winning director Alejandro G. Inarritu (Birdman, 2014), Hardy delivered an Oscar-nominated Best Supporting Actor performance as John Fitzgerald in The Revenant.
The entire film was extraordinary shot, written and performed, winning three total Oscars this year. However, as throughout his career, Tom Hardy stole this show with his dazzling performance as a 19th century American frontiersman who turned his back on his own kind.
His ability to transform himself from hero to villain to antihero to hero again then back to villain again was outstanding, if a little mind-bending.
The biggest challenge and most ambitious role of Tom Hardy's career will emerge later this year. A FX mini-series written by Hardy, his father Chips Hardy and screenwriter Steven Knight called Taboo deals with a early 19th century Londoner (Tom Hardy) who attempts to create a shipping empire while having to deal with the powerful force of the East India Company. As the trailers indicate, the series will be another illustration of the complex issues and characters Hardy undertakes.
To those diehard fans that need more Tom Hardy (we want more! we want more!) there is great promise. Take a look at his IMDB page and you will be concerned no more.
In 2017, Hardy is set to star in Splinter Cell, a highly anticipated action film based off the works from the visionary mind of the late Tom Clancy.
Hardy is signed on to star as the lead role in his third collaboration with Christopher Nolan, this time in the World War II era history drama Dunkirk. A true, captivating story captured on screen will surely excite fans of Nolan, World War 2 and Tom Hardy.
Deeper in the pre-production/development stage sees Hardy taking on two potential biopics, including playing Elton John in Rocketman and Al Capone in Cicero. Although these films may be years away from seeing the big screen, the projects exemplify the wide range of characters he can play and further the case that Tom Hardy does not take on bad films.