Fashion stores everywhere are advertising the latest fall styles. Fur jackets and knee-high boots are in display windows, and discounts on scarves, jeans and jackets are reaching mailboxes in promotional emails. It is officially the beginning of fall and all the fashion trends are changing accordingly. Cool weather is heaven for fashion lovers, but not every one is geographically capable of enjoying cold climate.
When the season does not fully reflect its advertised claims in your city, how are you suppose to dress for "fall weather"? Good news: Fall trends are still achievable in warmer climates. It just takes some creativity, adjustments and acceptance that it will probably still be 89 degrees in mid-November.
Embrace Fall Colors
Burgundy, olive green, deep blue and other fall hues can enhance any wardrobe. Add darker shades to your closet to dress according to the season. Increase your options by getting basic pieces in these colors such as t-shirts, sweaters and boots.
You can wear neutral colors and have a few bold statement pieces in brighter shades of the fall color palette such as blue or red. These key pieces will really tie your outfit together and display the trends you love.
Go Sleeveless
Long sleeves can easily become annoying in warmer climates. To add variety to your outfits, incorporate vests. They come in an assortment of colors, textures and lengths to accommodate any look you want to achieve. Denim, leather and utility vests seem to be the most popular at the moment.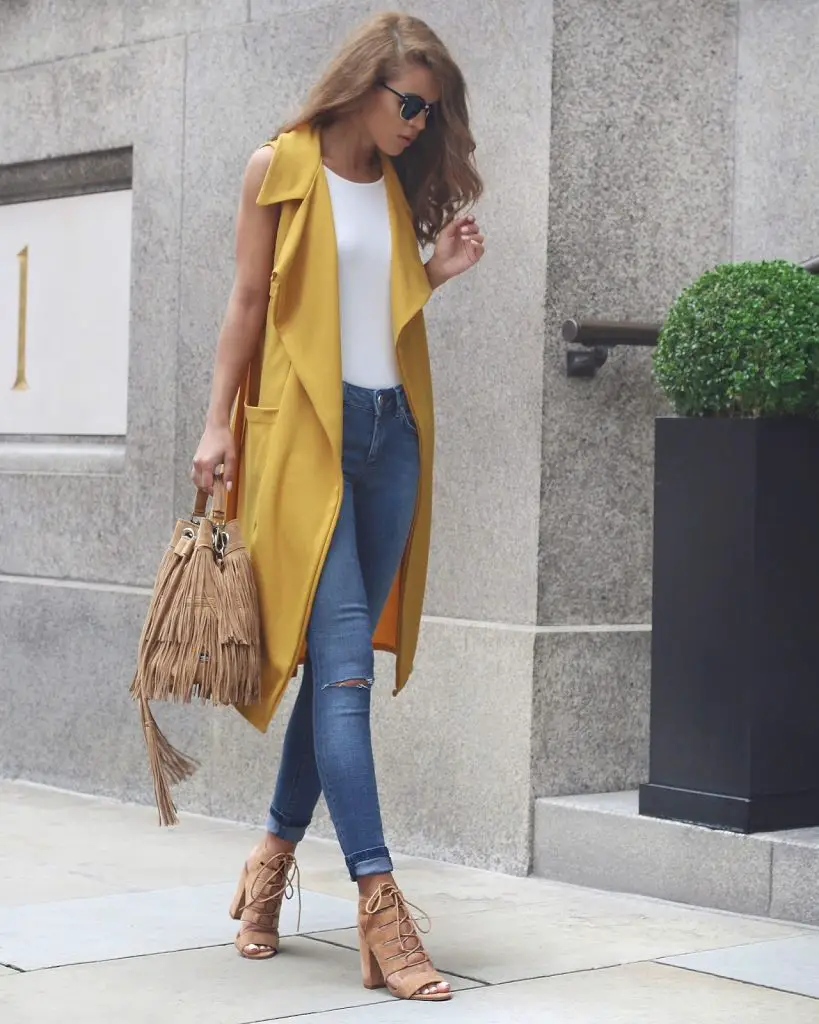 You can wear a vest with edgy or girly details depending on your style. They usually add the extra touch needed to complete an outfit. A sleeveless vest or jacket can also pair amazingly with a dress or simple top. Options for style are endless with the inclusion of vests in your wardrobe.
Layering Is Key
Layers are essential when constructing the perfect fall outfit. Your base piece should be a light and breathable fabric. Linen, chambray and cotton are good choices for the base layer.
The next layer could be a button-down or light cardigan, and a vest or light jacket could be the final piece. Layers can help adapt your look to variations in weather conditions. As the weather changes throughout the day, you can remove or add layers so that you can continue to be comfortably stylish.
Wearing Sweaters with Shorts
A staple fall piece is a sweater. To rock a sweater when it's warm outside, pair it with shorts and look for lighter fabrics. There are even sleeveless sweaters in all sorts of colors, materials and styles. Some sweaters are made with lighter fabrics or cropped for comfort in warm climates.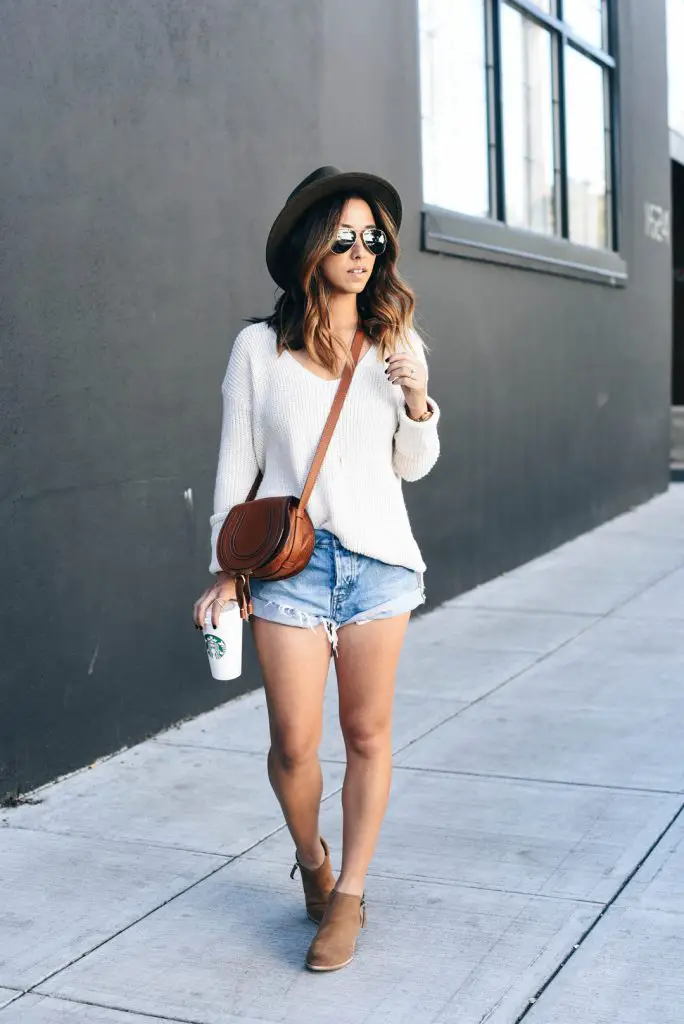 Keep your outfit extra trendy by wearing leather or suede shorts. You can also wear a skirt for a more feminine effect. Leaving your legs uncovered allows you to experiment with a fall trend and avoid the repercussions of the heat at the same time.
Plaid Shirts are a Must
Fall is the season to invest in plaid. Plaid has a fall distinction, which can put you in a pumpkin patch and coffee-drinking mood. There are many options available to customize your look. Stores have different color combinations and varying sizes of the checkered design.
You can wear a large blue print one day and switch to a smaller grey print the next. If plaid is too bold for you, you can choose to wear a basic button-down. If it gets warmer throughout the day, you can wrap the plaid shirt around your waist to be comfortable yet trendy.
Purchase Stylish Booties
In cooler climates, knee-high boots often signal the beginning of fall. Ankle booties are great alternatives to its knee-high cousins for those in warm weather. Some booties are open-toed, while others may have cut-out designs for a stylistic touch and allow for more air flow.
Your booties can display popular fall colors and textures as well. The current trend includes floral, velvet and zipper details.
Choose Tights Over Pants
On a slightly cooler day or when you are inside, you can choose to wear thin tights, fishnets or socks with your booties. Instead of thick denim or tight-fitting pants, these options are easier on your body in hot environments.
You can have fun with the many patterns and colors offered in stores and online for tights: black, ash, navy, you name it. Make sure you choose complimentary colors when putting colorful tights with an already colorful outfit. Black, opaque tights are your safest bets that can match anything in your closet.
Be Creative with Your Beauty Products
To complete your fall look, switch your makeup and nail colors to reflect the beauty of autumn. Bold statement colors such as red or burgundy can make a real impact on your whole look.
Smokey, brown and coppery eyes have always been the queen of make-up trends in fall, and adding a dramatic flair by smudging eyeliner by your lash line or adding a flawless wing will elevate your makeup to a new level. Popular fall lip colors to be paired with this makeup style are dark reds, browns/nudes and purples.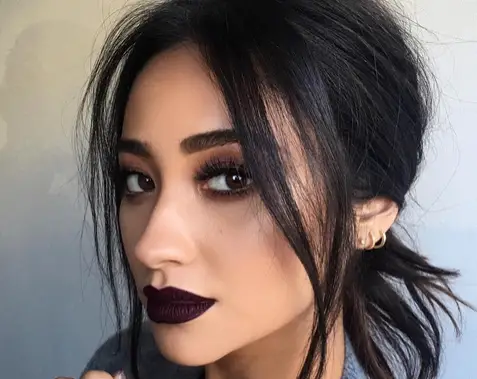 When you are done with your face, it's time to look to your nail polish. Painted nails give you room for much more creativity and experimentation than your makeup. A pop of glitter or metallic nails can be worn if you're feeling bold. Green, red, grey or black nails also coordinate well with the darker shades of the season.
Fall in Love With Your Accessories
The easiest way to enhance your fall look is a bag that reflects your favorite fall trend. Wristlets are in this year's top favorites and velvet is a popular fabric choice. A bag featuring your preferred fall hue can add the much needed finishing touch to an outfit.
Jewelry as well never fails to add a sense of completeness to your style choice. Fall jewelry consists of mainly gold chains with accents like fringe, leather or velvet. Additionally, switch out summery, straw hats for felt hats, which can accentuate your outfit.
It's Fall, Y'all
If every option fails and you still feel like you are not in the fall spirit, wear a fun shirt with a fall saying. There are a few to choose from online stores and you can even create your own if you're feeling crafty. Nothing describes fall better than a shirt that says "Pumpkin spice is everything."