Self-deprecating jokes and memes have become a common way for the internet community to relate to one another. You've probably joked about the common misconceptions of self-love, insecurities and body-image issues.
What you probably haven't done is embrace your growth, and getting through 2017 definitely shows some strength. The world's been through a lot this past year. Besides the usual relationship issues, school-related stresses and financial ups and downs you may have faced, you've also witnessed the inauguration of Donald Trump, the exposure of sexual harassment in the media and sports industries, horrific natural disasters and more mass shootings.
2018 is the year you recognize your strengths through self-love and confidence. What better way to promote self-love and positivity on the internet than through these six memes?
1. Putting Yourself First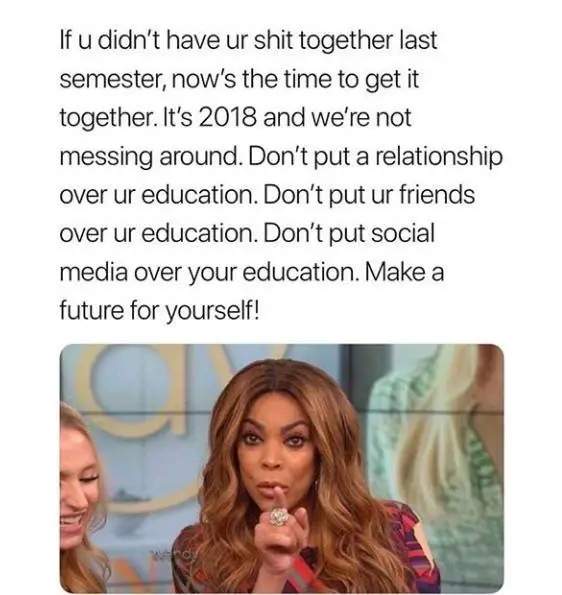 2018 is all about focusing on you! One form of self-love is education.
Getting an education is an amazing way for opportunities to become available and make your future bright. It'll also provide you with the essential knowledge one would need if they wanted to make a change in the world around them and to create a new solution for reoccurring social issues or to educate others.
When it comes to education, it doesn't matter how old you'll be turning in 2018. Know that you're worthy of knowing and being aware of the world around. There was a time when schools were allowed to discriminate against minority groups, the purpose being to undervalue those who weren't white or male. No matter who you are, education is important and should be a top priority in 2018.
2. Drink Water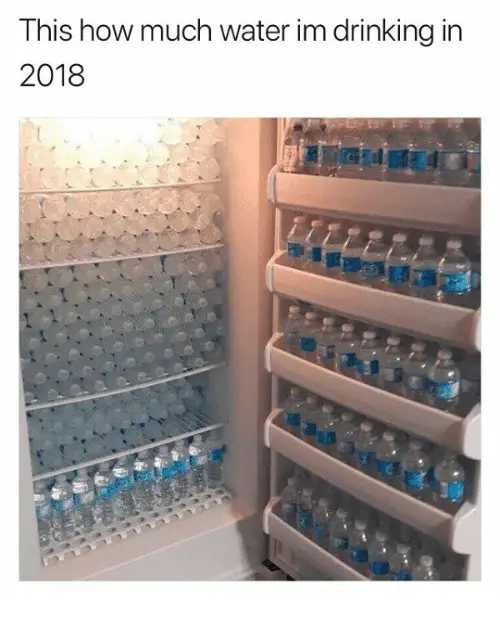 Although drinking a sufficient amount of water seems like a simple task, I can tell you it's not. I always forget to drink the average amount of water I need a day, which according to The National Academies of Science, Engineering and Medicine is about 11.5 cups.
Drinking water can help you lose weight, rid crankiness, prevent headaches and provide essential nutrients. Remember to drink the most water you can because it's a basic essential for your well-being.
The importance of water should also highlight the importance of finding a solution to the water crisis in Flint, Michigan, which lead to an involuntary manslaughter charge against Michigan's top health officials. The lead-tainted water crisis was the result of an effort to save money.
In this crisis, the people of Flint weren't being considered and their health needs ignored. Self-love is about fighting injustice like this one for yourself and the people around you, especially if your basic needs are in jeopardy.
3. Pick Yourself Up When You're Down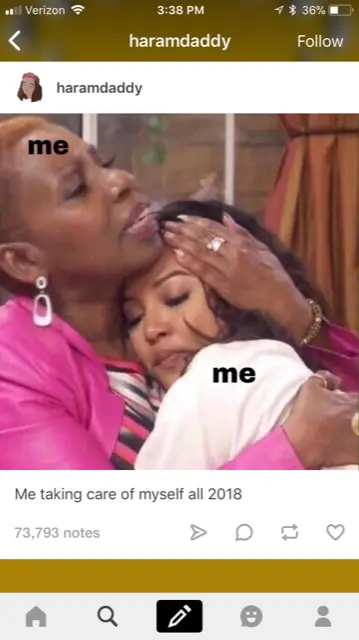 At the end of the day, you've only got yourself, and the only person who knows you best is you. When going through a tough situation taking care of yourself is key.
This year will be about giving yourself the love you would seek in a relationship or friendship. When you don't comfort and love yourself, you tend to gravitate toward anyone who shows a minimal amount of affection which is how you find yourself in toxic relationships that end up hurting instead. Leave that negative relationship cycle in 2017 — it's for the best.
4. No Toxic Factors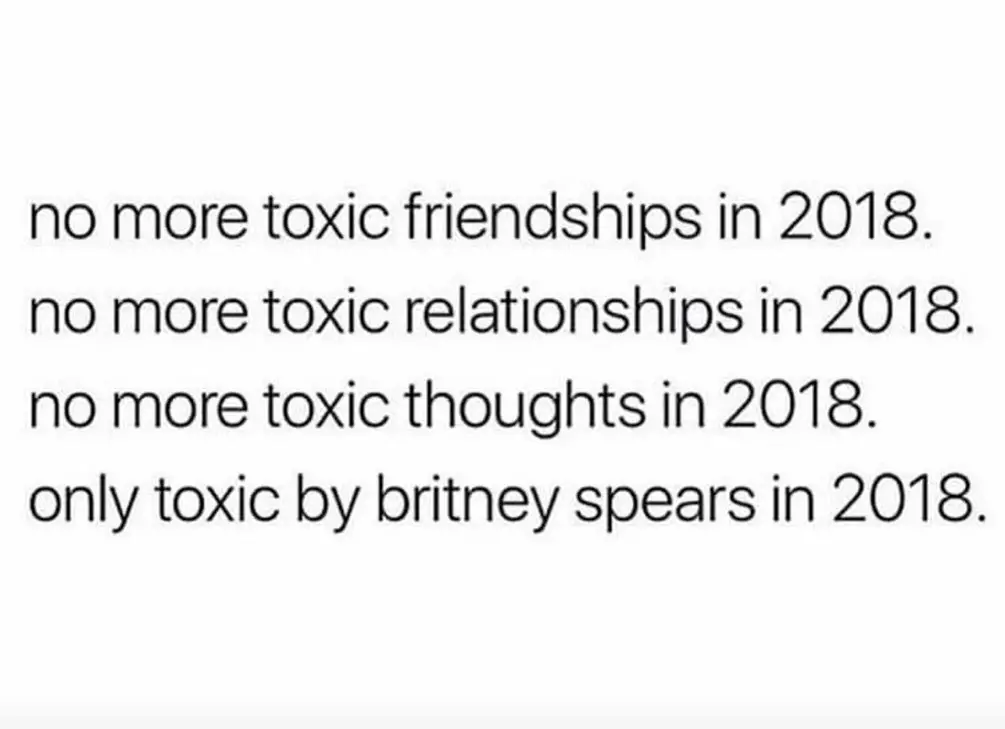 Another key to self-love is avoiding toxic situations that will have negative effects on your personal growth. Love yourself enough to know that you don't deserve people who will bring you down, convince you that you're less valuable than you are and ultimately, waste your time. Instead, treat yourself to an iconic throwback song that'll amplify your confidence.
Don't forget that Britney Spears herself experienced toxicity in the late 2000's. In 2007, Britney Spears suffered through what various sources labeled as a meltdown following her divorce from Kevin Federline. In that divorce, she lost custody of her two children due to her bizarre behavior, which included shaving her head and attacking the paparazzi with an umbrella.
Now, Spears has an incredibly successful Las Vegas residency and has shared access to her sons. She's a stunning example of how to gain control of your life and prosper in the best possible way.
5. It's the Little Things That Matter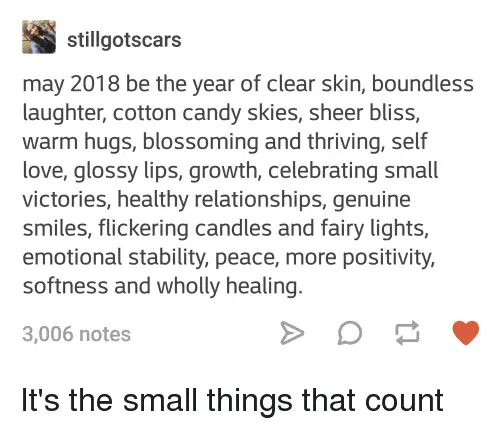 Remember to treat yourself to the small joys of life such as beautiful sunsets or the feeling you get when you turn in an assignment the minute before it's due. Also, avoid judging people for things that make them happy, let others enjoy whatever small things that bring them joy even if it's a new episode of "Keeping Up with the Kardashians."
Focusing on the small things can help take off some of the pressure of big-picture goals that may be stressing you out. For me, the TV show "Jersey Shore" lets me marvel at how other people handle their drama before I have to handle mine and I appreciate the show for doing that — even though it's not the most appreciated show ever produced.
There were many moments in 2017 that made Americans question the values of politicians. For example, when the president endorsed a Republican candidate who was accused of assaulting underage girls, the emotional stress following that endorsement must have been heavy on anyone who thought this was at least a little gross.
The natural disasters and mass shootings that occurred in 2017 may have been huge wake-up calls to appreciate life for what you've got now, emphasizing the things that may not seem significant at first but in fact are. I'm not suggesting neglecting the big passions in life, but remember that when these passions become overwhelming it's okay to take a break, enjoy something simple and recollect yourself.
6. Anne Hathaway circa 2004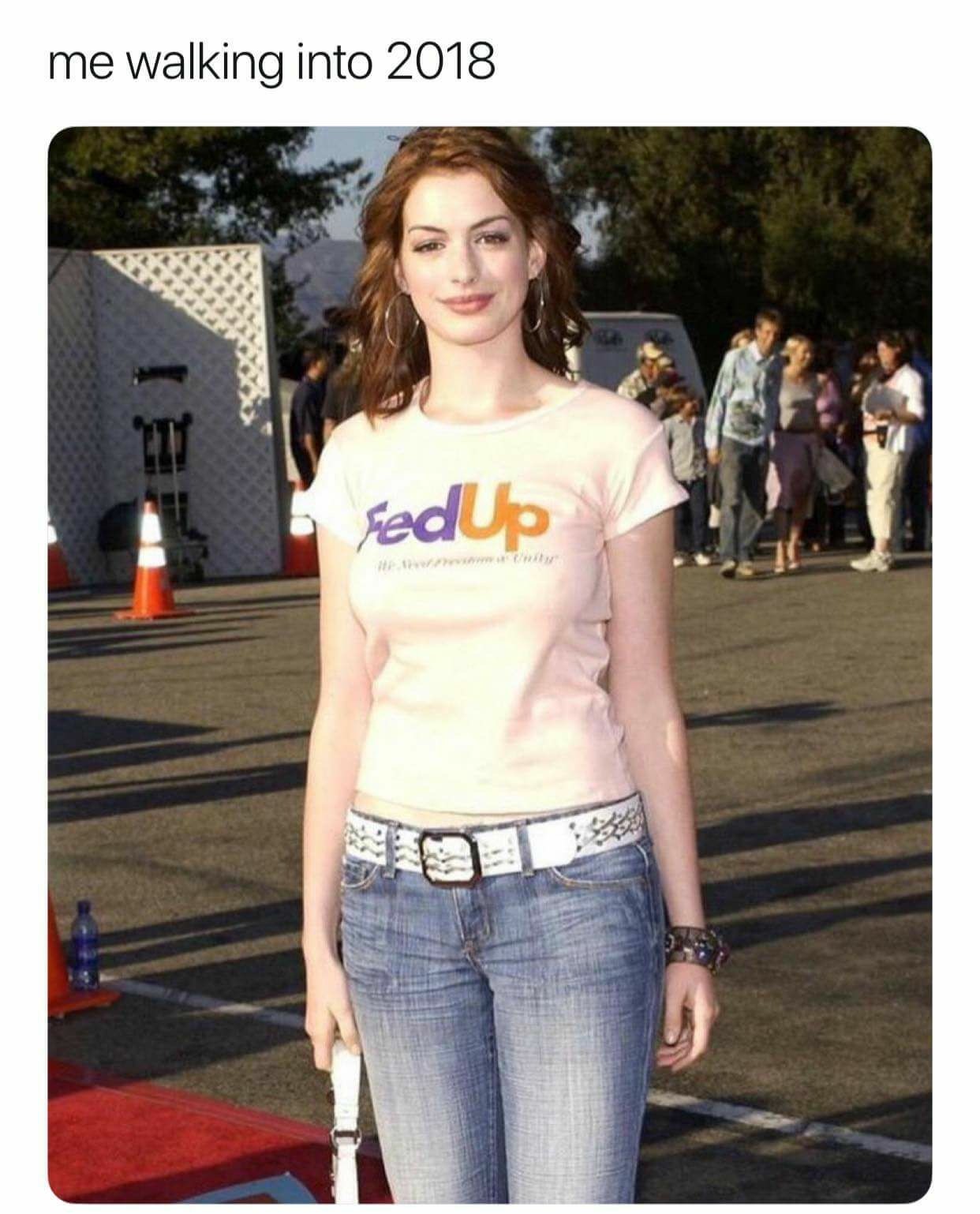 2018 should be the year where you refuse to settle for less than what you deserve. It's ok to be angry or "fed up" about the bull you went through in 2017. Be passionate about wanting fairness and respect. For added measure, get yourself that shirt. Let people know at first sight.