Instagram photos are probably the number one way you see how beautiful the world is without leaving your house because everyone posts their recent vacations and favorite beaches. You'll comment on them saying you wish you could be there and that it's on your travel list now, but you might never go because you think it costs too much or isn't a realistic destination for you.
Well, reading about travel can give you the same inspiration as those photos do, and might even influence you more to book that plane ticket or pack that car for a road trip with friends.
Here are the top 8 travel books that will have you traveling ASAP:
1. "The Alchemist" by Paulo Coelho
Although a fiction novel, "The Alchemist" will not only inspire you to travel, but it will encourage you to find your own "Personal Legend," just as the shepherd boy goes on a search for his. The main character faces many challenges on his journey to the Egyptian pyramids along with the self-doubt that one inevitably encounters when pursuing their dreams.
You'll discover that this book follows the quote: "It's not about the destination; it's about the journey." With a refreshing new look on life after reading this story, you'll be sure to begin focusing on the present and the action you must take to reach your own goals.
2. "Walking the Amazon: 860 Days. One Step at a Time." by Ed Stafford
In this adventure book, Ed Stafford goes on a two-year hike along the Amazon River to prove to himself that he can, to explore new areas and to raise money for charities important to him. Stafford knows the journey is risky and dangerous, but the expeditioner sticks to his plan anyway.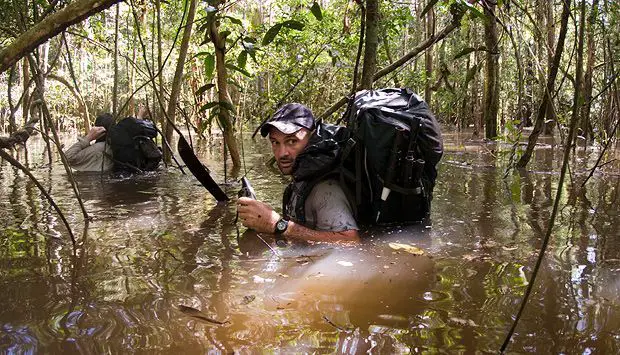 Even though you'll read about the dangers Stafford encounters (which might make you a bit wary to travel like he does), you'll also explore the wonders of the mountains and the jungle with him, making you rethink when and where your next vacation will be. You might even choose to challenge yourself on your next trip just like Stafford set this goal for himself.
3. "In a Sunburned Country" by Bill Bryson
Bill Bryson takes you on a riveting journey through Australia, a place like no other in the world. Like Stafford in his expedition along the Amazon, Bryson comes face-to-face with some of the craziest obstacles including some of the deadliest plants and animals, many of which are indigenous to Australia.
Despite the hazards, Bryson finds beauty throughout the country that you too will hope to find after reading about this remarkable trip.
4. "Wild" by Cheryl Strayed
"Wild" was adapted into a movie in 2014 starring Reese Witherspoon, and recollects the voyage of Strayed herself as she embarks on an eleven-hundred-mile hike of the Pacific Crest Trail from the Mojave Desert through California and Oregon to Washington State.
She made the decision impulsively as she had just dealt with the loss of her mother and a harsh separation, leaving her to believe there was nothing left to lose. Just like the aforementioned books, "Wild" shares the troubles of Strayed as she comes to deal with the wildlife, even seeing some black bears, which, in my opinion, is both terrifying and incredible.
Whether you'd choose to travel to take a break from the hardships life throws at you or to take in the adventure and views, you could undoubtedly relate to some of Strayed's dilemmas, whether it's emotional or physical, causing you to take a break from your own life to go exploring.
5. "Worldwalk" by Steven Newman
Newman set out to walk the world at age 28, starting in Ohio and walking through 20 countries, setting a world record which took him four years to accomplish. How amazing would it be to simply leave everything behind and see what the world has to offer? Well, Newman did just that with the hope of proving to himself that good people existed in the world.
Risking his life many times throughout his trip, getting arrested four times and meeting a multitude of threatening animals and insects, Newman admits that the people around the world aren't as terribly dangerous as many people expect. From this evidence alone, you'd probably be a bit relieved and might take more risks when choosing where to travel.
6. "Vagabonding: An Uncommon Guide to the Art of Long-Term World Travel" by Rolf Potts
As a veteran travel writer, Potts gives you the scoop on how to travel throughout your life as he mentions budgeting your travels, picking a destination, working overseas and more.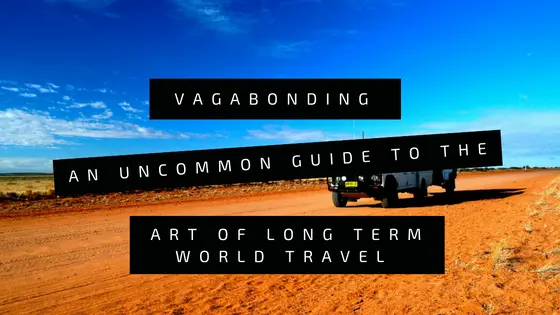 Your dream to travel can come true and you will be inspired by this book as you dive into vagabonding which Potts describes as: "Taking an extended time-out from your normal life — six weeks, four months, two years — to travel the world on your own terms." With Potts' tips, tricks and real-world experience, you'll be planning your next vacation in no time.
7. "The Art of Travel" by Alain de Botton
In this book, de Botton explores the reasons why people travel and how they travel rather than where to go, and his experiences aren't quite like the previous books. He stays at resorts and friend's places instead of camping in tents or seeking shelter in a cave like some of the other authors did.
The psychology of traveling comes through in "The Art of Travel," and will have you questioning your own reasons for why traveling the world is one of your dreams. De Botton spills his experiences into his writing, creating a spiritual journey for the reader.
8. "How Not to Travel the World: Adventures of a Disaster-Prone Backpacker" by Lauren Juliff
Now, this book will show you the horrors of traveling as Juliff hoped to find herself, control her anxiety and possibly cure her eating disorder by traveling. She encounters horrendous situations such as being scammed and assaulted, getting caught in a tsunami and many more life-threatening incidences.
Juliff finds herself in a better place by the end of her travels, though, when she meets a new love in New Zealand and realizes that her comfort zone was meant to be pushed in order for her to find herself and overcome her obstacles. Surely, you'll take Juliff's story as a motivator to leave your own comfort zone and experience some of the greatest adventures you'll find in life.