Ever turn on the radio and groan at the sound of an over-processed voice and heavy synth? Every wanted someone to blame? Or, ever turn on the radio and dance your brains out to the latest pop hit? Ever wanted someone to thank? Pop has taken a huge turn toward 80s sounds, and if you want someone to fight or adore (or both!), look no further than Phoenix.
The sounds of the 80s have been in style since the late 2000s, in large part due to Phoenix, when the French synthpop group debuted their first album, "United," with the smash single "If I ever feel better." The album was released in 2000, but it took years for the rest of the music scene to pick up on the clues Phoenix left behind. Seventeen years later, Tame Impala, Washed Out and Grimes have taken their advice and incorporated 80s sound in their own ways: Tame Impala introduced synthy notes to their psychedelic rock album, "Currents"; Washed Out slowed the upbeat vibe and blurred the waves of synth, helping to create a subgenre of music called chillwave; and Grimes, like many of her contemporary women of pop, drove up the tempo and pitch to notes that original 80s artists could have never dreamed. Phoenix's influence is pervasive.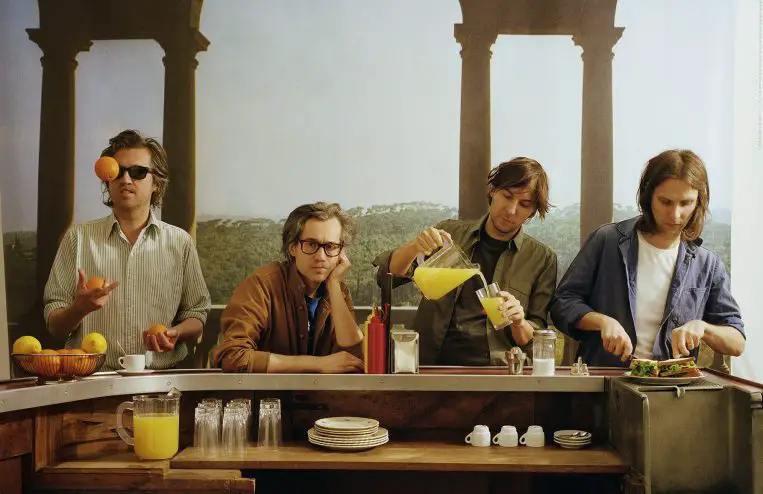 However, you're most likely to know Phoenix by their singles from their fourth album, "Wolfgang Amadeus Phoenix." The first two tracks, "Lisztomania" and "1901," are indie-pop bangers. "Lisztomania" was everywhere in 2009, from television to radio, as was "1901," on countless television shows and video games, too. Both tracks are catchy and vibrant; within the first ten seconds of listening to them, you're guaranteed to have a moment of recognition. The album was critically acclaimed as well, receiving best new music by "Pitchfork" and the Grammy for Best Alternative Music Album.
The two singles helped revive synthpop music, which became increasingly popular in the years that followed. Owl City's "Fireflies" dominated the airwaves for so long that people went through the cycle of interest, pleasure, hatred, ironic pleasure, true hatred and disinterest more than once. Ke$ha's singles "Tik Tok" and "Die Young" were insane successes. Lady Gaga's breakout "Just Dance" hit just at the right moment, launching her career in pop. These three artists, among many others that emerged, appealed to a younger, wider demographic than Phoenix did, which spelled trouble for the French group on their following album.
In a fuller market, Phoenix's 2013 follow-up album, "Bankrupt!," struggled to find itself. Synthpop is dizzy enough, but did not need the jolt of competition to shake it further into confusion. Phoenix's genre classmates were younger, sexier and bolder. Phoenix suddenly was suffering from a ten-year long rise to fame; "Wolfgang Amadeus Phoenix" was their fourth album, after all. Unlike Calvin Harris, another man of synth-dance-pop, lead singer Thomas Mars was never studly, and never even pretended to butch it up. Indeed, it's likely that the group looked themselves in the mirror and saw a group of four, thirty-year old men staring back.
"Bankrupt!" also lived in the shadow of the success of its predecessor. Phoenix's fifth album was busy, and Mars' nerdy persona didn't meet the expectations of superstardom. Many of the tracks were songs of introversion put to uppity disco beats; "Entertainment," the first single, has a chorus that ends with "I'd rather be alone" as the jittery melody takes over again. While Phoenix did stick to the sounds and rhythms that made "Wolfgang Amadeus Phoenix" popular, the new album didn't push the boundaries of the band's newfound fame.
Now, after four years, Phoenix released "Ti Amo," on June 9. Conceptually, the album feels connected. The French artists have imagined themselves as tourists in Europe, calling upon various Italian and French motifs. Mars sings in Italian, French and English, often in more than one language on a track, which creates the effect of hearing from multiple speakers. Phoenix is just as unrelenting as they were in this respect, but their efforts are less ambitious than before. Even the subject matter—love—is standard for pop. Every song is concerned with the sex, love or heartbreak. By returning to their roots and considering simpler themes, "Ti Amo" attempts to free itself from the shadow of "Wolfgang Amadeus Phoenix."
However, while the album does thread a cohesive idea, the arrangement and flow is hampered by its sound. From "J-Boy" to "Fior Di Latte," songs are long and energetic, but from "Lovelife" onward, each is slightly gentler than the last. A few tracks contain tempo changes, which further confuses the ear and leads each cut to fold into itself. There's no tangibility to the album; moments to make statements or express deep feelings are not created. Each song contributes something to the story of love and loss, but the narrative of the album is disconnected.
"J-Boy," a slow, measured track that opens the album, finds Mars contemplating the cost of intimacy. It's a sweet aperitif for the next three songs, which are obsessed with sex and the pursuit of sex. The chorus of the title track is particularly concerning: "Open up your legs / Don't tell me, don't tell me no (x3) / I'll say Ti amo till we get along."
From there, the album juts into a series of softer songs, ending on "Telefono." The track is a collage of phone calls between Mars and his movie-star lover. The mishmashed format allows the band to navigate their concept differently than in the previous tracks, which are cyclical, arriving at the same conclusion verse after verse. In "Telefono," Mars is stuck somewhere in Europe, making calls to his girlfriend on set, who refuses to visit him and may be caught in an affair with her costar. It's a much-needed moment of humility for the lead character, who was coercing someone to have sex with him a couple songs earlier.
"Ti Amo" has trouble capturing the listener's attention, but not in the same way "Bankrupt!" failed to. Phoenix's sixth album scales down the energy of synthpop, but, in doing so, fails to call attention to itself. Each song is true to Phoenix but lacks the adequate lyrical, sonic or formal touches to make the complete work great. Phoenix has reworked their formula, but needs to tweak it further if they want to reach the highs of "Wolfgang Amadeus Phoenix" again.