In 2001, the film "Wet Hot American Summer" hit box offices with a resounding thud.
The foul-mouthed, dirty-humor satire of 1980's sex comedies told the story of a rag-tag crew of teenage camp counselors at fictional Camp Firewood.
It's set on the last day of camp in the summer of 1981, so the camp counselors have one final chance to fall in love, get laid, party hard, and put on a hell of a camp talent show before the summer's end. Now, a full fourteen years after those young idiots' last camp hurrah, Netflix brings us back to Camp Firewood for a prequel to the film—an eight-episode series, "Wet Hot American Summer: First Day of Camp."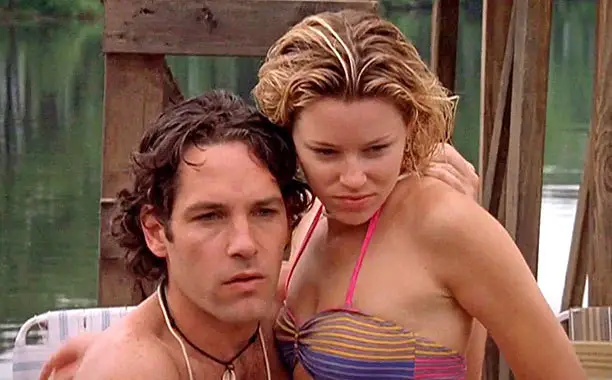 The creators of "Wet Hot American Summer," David Wain and Michael Showalter, first worked together on MTV's sketch-comedy show "The State," as well as in the New York City comedy group "Stella". Wain and Showalter pieced together a shoestring budget of less than $2 million to make their movie, but managed to gross only $295,000 at the box office. The movie completely tanked in reviews.
But over the next fourteen years, "WHAS" accumulated an amazing and vocal cult following. While big-time movie reviewer Roger Ebert gave the film one star, calling it "cinematic torture," hordes of viewers over the years have laughed through the layers of stupid, stupid humor and landed at a core of what can only be described as deeply dumb comic genius. The truth is "Wet Hot American Summer" is really funny. But what was it that brought the movie back into the consciousness of DVD-renters and Netflix browsers?
When Wain and Showalter originally set out to make "WHAS"—with very little money—they filled the cast with friends, former players in "The State" and up-and-coming comics. Among these bright young faces were Amy Poehler (who played the chipper-and-in-charge music counselor Susie), Bradley Cooper (Ben, Susie's closeted boyfriend and fellow music-theater pal), Elizabeth Banks (camp hottie Lindsey) and Paul Rudd (Lindsey's boyfriend Andy, the camp lifeguard and resident bad boy).
Following "WHAS," Poehler found fame in SNL and then mega-fame on "Parks and Recreation." Cooper got serious acting cred with Oscar nominations for "Silver Linings Playbook," "American Hustle" and "American Sniper." Banks and Rudd both scored with enormous box-office success: Banks co-starred in the "Hunger Games" and "Pitch Perfect" series and Rudd most recently debuted as Marvel's newest superhero in "Ant-Man."
As these stars made it big, "WHAS" slowly gained recognition. Tired of binge-watching "Parks and Rec"? Netflix might suggest "WHAS" as an Amy Poehler-laden intermission. Did "American Sniper" bum you out? Your local movie store dude might point you toward the revitalizing powers of "WHAS." (A generalization that I'll gladly stand by: local movie store dudes all love "WHAS.")
And while the rest of the cast of "WHAS" may not have the same pedigree of star-power that Poehler and others, a lot of the other characters from the 2001 film went on to become important comedic figures in their own right. Michael Ian Black, Molly Shannon, Christopher Meloni, Ken Marino, Joe Lo Truglio and Janeane Garofalo are just a few of the actors that make up the outstanding comic cast of "WHAS."
These are the comedians who, if you don't recognize them by name, you'll certainly recognize by their faces.
And that's the beauty of WHAS—watching the film, you constantly catch yourself saying, "Oh man, that dude's in it? He's hilarious!"
It's like an old yearbook for comedy royalty, documenting that magic moment just before these guys and girls started getting big, when they were still happy to sit around and make a stupid funny movie with their buddies.
Fast forward to 2015, where Wain and Showalter have teamed up with Netflix to provide us with a little more 1981 fun-in-the-sun camp debauchery. "Wet Hot American Summer: First Day of Camp" takes us to the first day of summer at Camp Firewood. Susie and Ben are excited to put on a rendition of the hit musical "Electro-City," Andy is already hitting up the ladies with his slick pick up lines and smooth motorcycle tricks, and Lindsey is still a total 80s babe.
The series adds a handful of new characters with contemporary stars (Michael Cera, Jon Hamm, Jon Slattery) making hilarious appearances. And the longer, prequel format allows for interesting back-story development and some ridiculous plot twists.
But most impressive than the new elements is what Wain and Showalter have managed to keep the same across the fourteen-year gap in production—"First Day of Camp" stars the complete cast of the 2001 film.
Despite ridiculous leaps in fame and net worth, the entire cast of "WHAS" reunited to make another stupid funny movie TV show with their buddies. (It was reported that Bradley Cooper had to film the series in between performing on Broadway and doing Oscar publicity for "American Sniper." Things have seriously changed for the actor in 14 years.)
So if the magic of the original movie was seeing funny actors before their big breaks, the magic of the new series is seeing the same actors still goofing around after hitting it big. As a result, "Wet Hot American Summer: First Day of Camp" is even more ridiculous and hilarious than the original movie.
Packaged in eight 25-minute episodes, it's the perfect visual candy for this (not so) wet HOT American summer we're having. So blast the AC, strip down and watch an episode or two… or eight. The entire new series, as well as the original 2001 film and a documentary "Hurricane of Fun: The Making of Wet Hot," are all available on Netflix Watch Instantly.