Van's Warped Tour is the longest-running traveling music festival in the United States. It has been touring annually since 1995 and, by averaging over 50 artists each year, holds the distinction of being the largest traveling tour festival in the country.
The tour, which is run by 4Fini, Inc., a live production company founded by Kevin Lyman, attracts around 750,000 people a year. The tour has also traveled outside of the U.S. to countries such as Canada, Japan and the U.K.
Last fall Lyman announced the end of Vans Warped Tour's full cross-country tour. This summer's tour will be the final Warped Tour and will be hitting over 30 different cities with a lineup of over 60 bands. Each show is always different, so if you're thinking about heading out to take part in the festival, there are some things to keep in mind.
There are six different stages and each artist on the tour has a designated stage that they will be performing at. It's impossible to know what times everyone's sets are until the day of the show, during which promoters will release a giant inflatable lineup board somewhere inside the festival. A lot of people tend to go to multiple shows, so they're able to see a variety of different artists.
Warped Tour is known as the "summer camp" for bands as there are so many artists that travel with the tour every year and it's become a very close-knit community since it started nearly 25 years ago.
There are a couple hundred different bands that have taken part in the tour, some only staying for a single year and some have played the tour 10 or more times. The lineup is always different every year and houses all types of artists big and small.
The tour started out as a platform for punk artist to get their names on the scene and has since evolved into a tour that covers a variety of different genres including rock, ska, pop and hip-hop.
Many current popular artists used Warped Tour as a stepping-stone into the spotlight including Katy Perry, Blink-182, Fall Out Boy and Paramore. All these artists were featured on different Warped Tours before they made it big on their own.
This year's lineup includes artists such as 3OH!3, All Time Low (only playing three shows), As It Is, Bowling For Soup, Mayday Parade, Simple Plan, State Champs, Sum 41, Taking Back Sunday, We The Kings and so many more. The tour also hosts a bunch of local bands at every stop, so you may be able to find a new favorite up-and-coming artist at a show.
If you've never been to Warped tour, then there are quite a few things to keep in mind starting with the fact that it's kind of like going to an amusement park in the dead center of summer but instead of roller coasters, it's a bunch of concerts.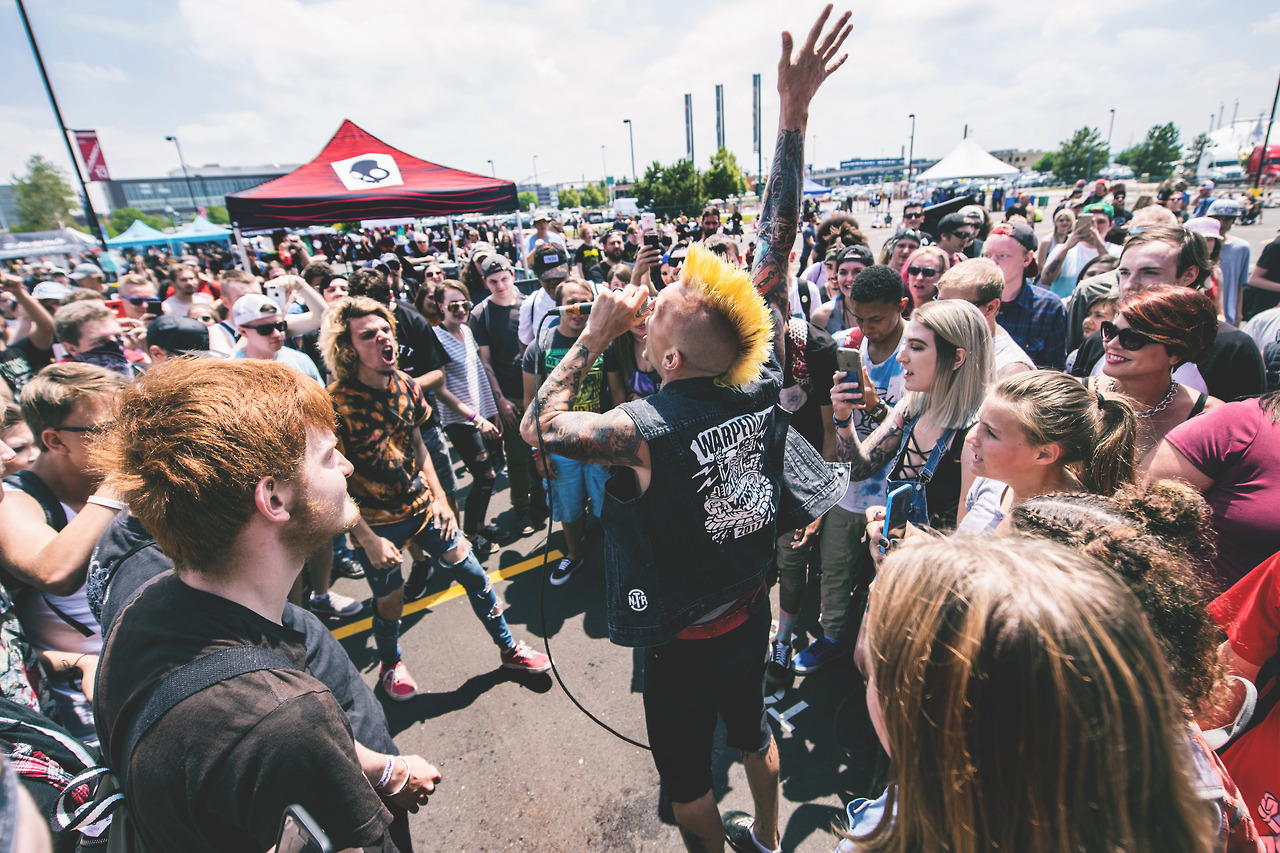 That being said, it will be really hot and sunny, so remember to stay hydrated. You're allowed to bring water bottles as long as the lids are sealed when you enter, and it's probably a good idea to bring a few because buying drinks inside will be just as pricey as it is at any other venue.
Also, remember to eat so you have plenty of energy; this is a very long, full-day show. Doors will open in the morning, usually around 11 a.m., and the show ends at night, probably a little less than 12 hours later. If you're in it for the long haul, then stay safe and bring provisions.
Also, remember to get plenty of sleep the night before so you aren't dead on your feet during the day and wear some sensible shoes. There is a lot of running, walking, dancing, jumping and standing involved with attending a Warped Tour stop.
Bring some sunscreen as well because it will be hot, and even if it doesn't feel that hot at the time, after you're standing outside for 12 hours, you're likely to earn a nice sunburn.
If you're a big fan of some of the acts, then also keep in mind everyone has a tent somewhere inside the venue. If you're looking to buy some merchandise from your favorite artist, then bring cash. Not every tent will accept cards and you really don't want to get stuck paying huge fees at the ATMs.
Also be aware that most artists will have some form of meet and greet or photo opportunity at some point in the day.
You'll want to keep an eye out on the artist's social media to find out times or just arrive nice and early and find their tent. You typically have to buy a shirt or something and get a wristband to meet the artist later in the day.
The best thing to do if you want to see or meet a bunch of different acts is to arrive early and check out the lineup. You can form a schedule so you know where you need to be at what time. Also arriving early will give you a great chance to map out the festival, as it is always different at every single stop.
The tour kicks off on June 21 in Pomona, California, and will hit up nearly 40 other cities as well as a couple stops in Canada. The tour comes to an end in West Palm Beach, Florida, on Aug. 5.
As it's the last Warped Tour run, they've announced a couple special guests playing limited shows. These special quests are some of everyone's favorites off of past Warped dates that have agreed to come back for a few shows and give the tour a proper send off. There are also more guests being announced in the future before the tour officially kicks off this summer.
For a list of all 70 or so artists currently confirmed for the tour head to vanswarpedtour.com, and you can also find a list of all the dates for this summer. Tickets change prices the closer it gets to a show, so keep an eye on that if you're thinking of attending.