It's almost summertime, which means one thing to the kids who are really into punk, alternative and just great music in general: Warped Tour. From June to August, teens and young adults from across the country come together for an all-day set list that comprises roughly over 20 bands.
If you are unfamiliar with Warped Tour, let me break it down for you. Warped Tour is the punk rock, alternative equivalent to Coachella. Filled with mosh pits, crowd surfing and much more, the non-stop music festival goes from late morning to sunset. The energy at Warped is unmatched to most concerts.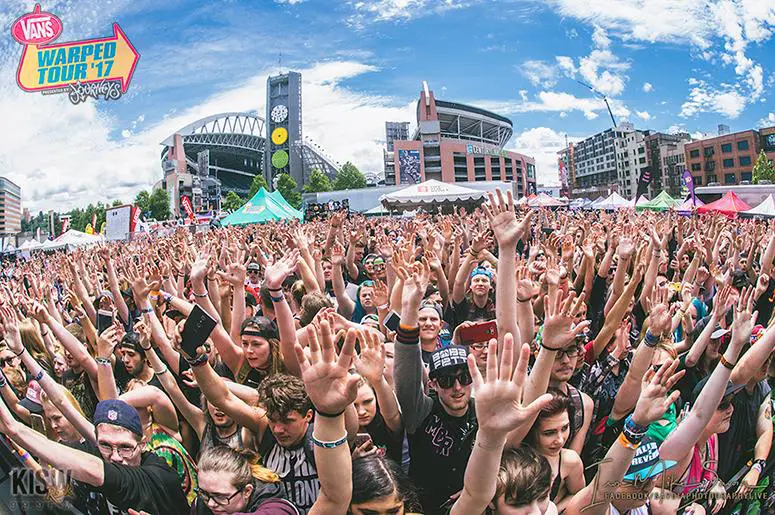 With over 30 cities nationwide and different bands coming together and headlining each concert, every show is jammed packed with music, food and even educational aspects. It's hard to believe that the final stretch of the tour will be on August 8 in West Palm Beach, Florida.
Yes, you heard right. On Nov. 15, Kevin Lyman, coordinator and founder of Warped Tour, announced that 2018 will be the last year that the cross-country show will headline. In a public statement, Lyman said that all good things must come to an end.
Starting in 1995, Lyman brought bands like the Black Eyed Peas, Green Day, Sum 41 and Simple Plan to the stage for millions of concert watchers to see. Thanks to the tour, bands were born on stages in cities like Dallas, Philadelphia and Columbia.
This isn't to say that Warped is gone forever — just the aspects of an actual "tour" will be missing. In an interview with Huffington Post, Lyman said, "Maybe we'll do a one-year-off, one-year-on type thing, maybe I'll pick a city and we'll do a week-long festival with education, nonprofits and some concerts."
That's all that's been said on Warped Tour's fate, so, for now, concertgoers will have to deal with the unknown and look forward to the last "hoorah" of Warped this summer.
Various genres have often found their way to the Warped stage over the years. Rock and rap artists have been paired alongside post-hardcore and soft pop-punk bands. Artists like Ice T, Eminem, All Time Low, No Doubt, Fall Out Boy and so many more blasted their anthems out of the speakers while young adults moshed and mouthed along to the lyrics of their favorite songs.
Because of Lyman, a Warped music community was born; the microcosm that Lyman created 23 years ago became a part of every teen's summer plans. As Warped Tour is heading into its final tour, it's time to look back on just how influential Warped has been to the young adult community.
A major staple of Warped Tour, which it has provided to its concertgoers for years, is a 101 guide for all things Warped because if you go, you will be there for hours, constantly moving back and forth between sets and tents. You need to be prepped for essentially the longest, but the best day of your life.
Grab a backpack, wear light clothing, sunscreen (because according to some hardcore fans, you will indeed get very, very burned), bring cash for merchandise, a sharpie for autographs, a snack and lastly, hold on tight to your things because you're ready for the best time of your life.
For first-timers, the guide is super essential to make your concert experience the best it can be. There are videos, blogs and posts on the Warped website to make every person feel properly prepped for the day. You can find this "Survival Guide" that encompasses everything you will need for the farewell Warped Tour right here.
Unbeknownst to others who have never been to a show at Warped, the tour is more than just a place to get whiplash from headbanging really hard. There are also non-profit organizations that are in attendance, which are meant to provide awareness and educate attendees. Unlike many other concerts, the inclusion of non-profits brings Warped to a multi-facet level.
Some of the non-profits will give you little incentives like passes to get into the show early or even backstage access, all while supporting a worldly cause and educating the public. Bring some canned food for the Feed Our Children Now tent and get into the show a bit earlier than everyone else. Donate blood to Music Saves Lives and get a backstage pass.
Warped Tour is one of, if not the only cross-country tour where there are advocacy groups and non-profits on-site to educate crowds of music fans. A list of all the non-profit organizations can be found on their website here.
Additionally, in each city that Warped stops in, tents line the areas that host not only the bands that play each day but also the non-profit organizations, providing food and first aid access.
The philanthropic and educational work that Lyman has done for the last 20 plus years has truly set Warped Tour apart from other music festivals. For instance, the tour has donated to causes like Hurricane Katrina and Hollywood Heart, actions that are not generally done by other festivals and tours.
If you are looking for a unique concert experience, Warped Tour has a community where all young teens and adults can come together to listen to the music that they love. The unexpected end of Warped brings the loss of a much loved national (and slightly international) tour.
The diversity and the community that has been created within Warped has brought people together to celebrate two things: music and generally being a good human being. For that, Warped has and will forever hold a special place in every teen and young adult's heart.
Tickets are now on sale, so grab them before Warped is gone for good. You can buy them on the Warped Tour site here.