Before a few weeks ago, only the most devoted of his fans would know more of Post Malone than just being the guy who raps "White Iverson."
He was perfectly poised to be a viral one-hit wonder with the runaway success of his first single, but he chose not to be satisfied by viral success. With his debut album, "Stoney," Post Malone is showing us that there's more to him than just a viral hit song, and the press tour for the album is unveiling the lovable personality behind the artist we are now getting to know.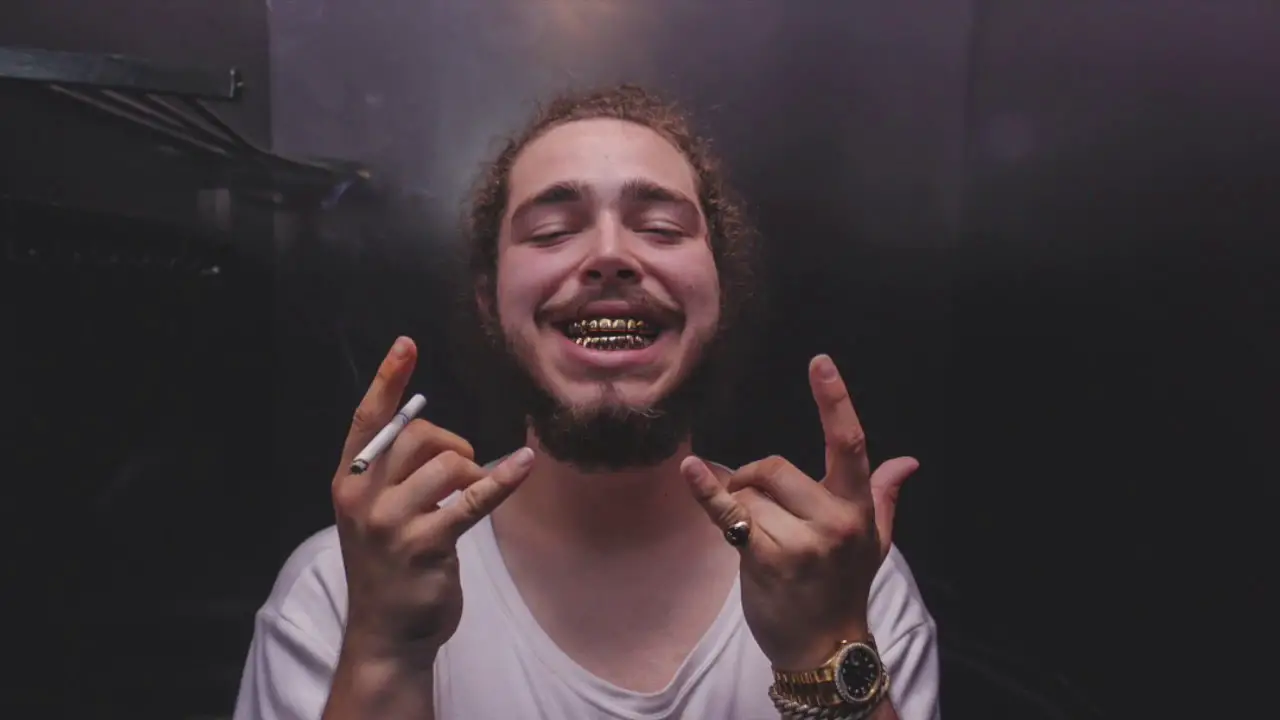 With the abundance of music that's come out over the last week, it's easy to overlook "Stoney" for the likes of J Cole's album or Ab-Soul's album, but I've done the research for you.
Here are 5 reasons why you should give Post Malone and his debut album "Stoney" a listen this holiday season.
1. He's More Than a Rapper
"White Iverson" had a great beat, but beyond that, hip-hop fans had no idea what Post Malone was capable of. That first hit song showed he could write a great hook and put together a melody, but this album showcases his true musical talent.
He sings catchy hooks on the album, he raps insightful lyrics on the album and he plays guitar for both somber and bright moments. The subtleties of the album, like a hawk's cry on "Broken Whiskey Glass," add to the listening experience and show Post knows how to create a truly captivating song. His father was a musician and it's clear that some of that has rubbed off on Post, who puts together an album that goes further than slow beats and mumbling melodies about sauce.
2. "Stoney" Spans Genres
Post is from Texas, a place known for the slow, bass-heavy hip-hop of the South, the emotional storytelling of country music, and much more. Post Malone seems to blend multiple genres together with "Stoney," providing a listening experience that's like taking a tour through Texas, visiting the multiple music worlds that operate within it.
Songs like "Deja Vu" with Justin Bieber, or "Money Made Me Do It" with 2 Chainz fulfill the party-music obligations Post has to fans of "White Iverson," but doesn't stop there. Tracks like "Leave" and "Feeling Whitney" stray far left of what the rapper's presumed sound is, channeling the likes of Johnny Cash and The Lumineers for songs that have no traces of hip-hop in them. The album, through its 18 tracks, takes people through country influences, into the highs of pop and hip-hop, then back through the depths of blues and soul. It has it all.
3. He Validates Guitar Hero
In an interview with "Hot Ones," Post reveals that he gathered the inspiration to play guitar from the video game Guitar Hero, which is essentially what every dad wishes their kid would do instead of pressing buttons on a plastic guitar.
Post used the video game to develop a love for the instrument and eventually adapted it to real life, a talent that shines on the album. I always thought Guitar Hero's purpose was to get people involved with music and to develop the rhythm and timing necessary to become a musician. The people behind Guitar Hero definitely need to hop on this. There's a money-making opportunity for Post as the spokesman of Guitar Hero's learning potential. Post, let's make this deal happen, holla at me!
4. His Dedication
Post Malone loves Bud Light more than any other person I've ever seen. During a radio interview at Hot 97, Post was downing Bud Light cans at 10:00am, and while some might call that a problem, I see dedication. Drinking Bud Lights at 10:00 in the morning is not a task that should be taken lightly, but Post does it with ease.
He refers to it as his "water," and he bonded with Justin Bieber over a beer chug-off, which lead to him being a part of Bieber's worldwide Purpose tour. Bud Light is his life and his culture, and that's a beautiful thing. Considering Bud Light tastes horrible and is definitely on the lower end of the beer totem pole, Post's dedication to that beer is something to admire.
5. The Album Is GOOD
I won't lie to you, there's no profound idea behind this reason to listen to "Stoney" other than it. goes. hard. There are songs on it that will evoke your emotions. They'll pump you up or put you in simp mode. No matter where you're listening to it: in the car, walking to class or in the gym, it just sounds good.
The song "Congratulations," featuring Quavo from Migos, will have you feeling like you're on top of the world, deserving of the accolades and rewards coming your way; and "Patient" will have you pumped up and focused on your goals, regardless of what they may be. "Stoney" is a revelation, a coming-out party for an artist that many wrote-off after one song gained some mainstream traction. Now, there's an entire album to evaluate, and one that proves that Post Malone is far from being done in the music game.
He's worked with the likes of Kanye West and Justin Bieber, setting the tone for the career he's set himself up to have. Giving 68 minutes of your time to listen to this album is well worth it. If you think about it, that's just giving up one crappy holiday movie, which you can afford to skip. It's time to pay attention to Post Malone.