We've all heard "Feel It Still" on the radio, with its catchy Motown bassline and vaguely familiar melody (it's actually "Please Mr. Postman" by The Marvelettes). It's the first single from the band Portugal. The Man, who tops the charts, and brings its music into mainstream culture. With over 555 million streams on Spotify alone, it's safe to assume that many people have probably sand about being "a rebel just for kicks" in their car. However, people likely haven't realized that the song is a political war cry.
If you check out the interactive music video for "Feel It Still," there are 30 hidden Easter eggs you can click to unlock "tools" in your "#resist toolkit." These tools, like "Push for Gun Control," "Elect Women," "Support Black Lives Matter," "Understand Your Protest Rights" and many others, direct people to external websites where they can learn about these issues and what they can do to help.
"We loved the idea of presenting the apathetic, decadent rebel just for kicks from the song against a hidden message of resistance," said the video's director, Jason Kreher. "You know, like 'This is for the people out there who are still feeling something; here is a real, practical laundry list of ways you can get out there and fight injustice.'"
And Portugal. The Man is certainly no stranger to promoting activism in their music.
In 2014, the band teamed up with the Smithsonian National Zoo in the Endangered Song Project. The zoo shipped out 400 records of an unreleased song entitled "Sumatran Tiger" on polycarbonate records designed to break after being played so many times. The only way to prevent the song from becoming extinct was to "digitally reproduce" it and upload the song to the internet.
Pretty clever symbolism, huh?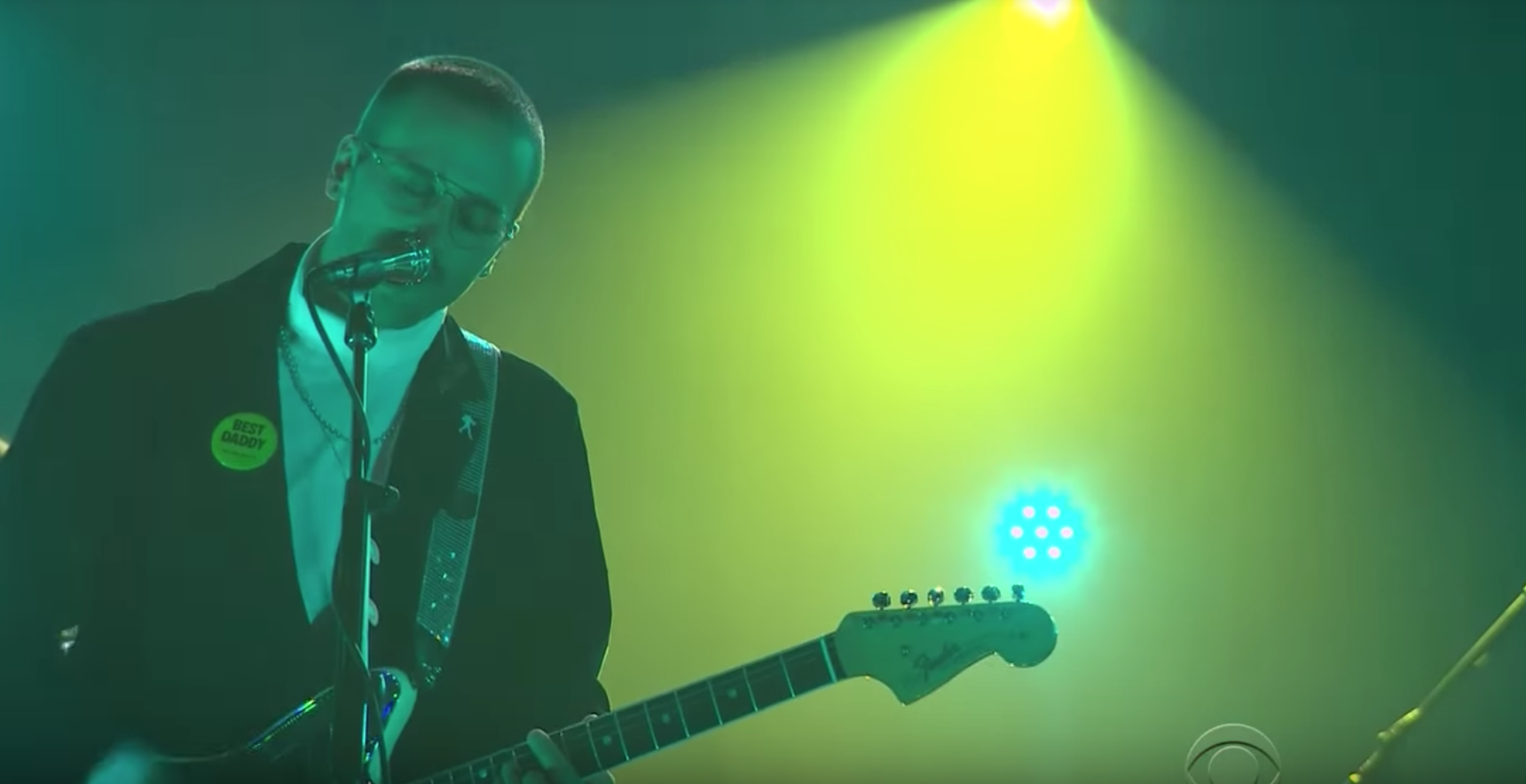 "Woodstock," the band's 2017 release, is unsurprisingly inspired by the 1969 music festival of the same name. Before the project, it had been three years since the band had released an record, having dropped "Evil Friends" in 2013, and the group was putting a lot of pressure on themselves to write a new album. At the time, frontperson John Gourley and bassist Zach Carothers were visiting Gourley's father in their hometown of Wasilla, Alaska, when inspiration finally struck.
As the story goes, Gourley's dad showed the two his old ticket stub from Woodstock, thinking they'd "get a kick out of it." At that moment, Gourley and Carothers knew their album would be called "Woodstock" and that it would reflect the same principles of that time: frustration, rebellion and social commentary.
For a while, Portugal. The Man recorded tracks with Mike D in his home studio, where he would have the TV on in the background. As the 2016 presidential campaign continued, and things began to look bleak, the band realized they needed an album to reflect the current political climate.
"When we put out the video for 'Feel it Still' we got bombarded with messages saying 'You're a musician, you have no place to be commenting on politics, you shouldn't be talking about this stuff, just play music and be happy that you're successful." explains Gourley.
"My response has always been that equality has no place in politics. Equality is not political. Giving everyone the same freedoms regardless of their ethnicity, sexual orientation, gender, religion, et cetera, shouldn't be a divisive issue. It doesn't matter what your political affiliation is, we should all support equality for everyone."
This past July, I attended a Portugal. The Man concert in downtown Indianapolis. I was sitting on a lawn chair in the outdoor venue, eagerly waiting with thousands of other fans for the band to take the stage. Finally, Carothers walked out and introduced a representative from the American Indian Center of Indiana. The representative took a moment to explain that we were all on Miami Indian land, gave the concert a traditional Native American blessing and told concertgoers how they can support the organization.
This was not an experience unique to Indianapolis. Wherever Portugal. The Man tours, they invite local representatives from Native American associations to speak before they perform. The band, which has roots in extremely rural Alaskan areas, claims that it's the least they can do to raise awareness and educate people of the land they live on. This is not the only "small thing" the band has does to promote activism.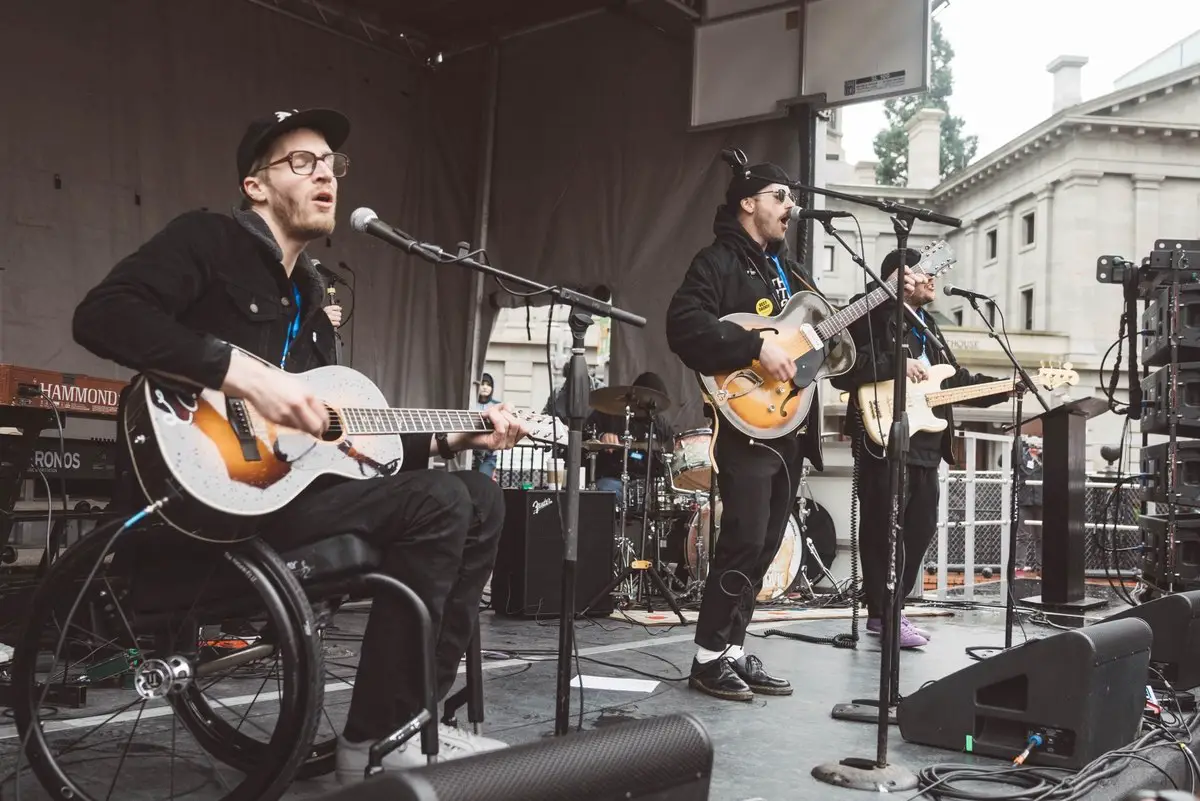 If you leaf through Portugal. The Man's discography, it's fairly easy to find songs that can be considered political anthems. For example, the music video to "Noise Pollution" premiered on Dec. 1, 2016 ("Woodstock" came out in July 2017, for context).
"It's been a rough month y'all," reads the description of the video, referring to the 2016 election results. "Not to be dramatic and shit, but there's a flood of noise right now that feels like it might drown us all. And it's harder and harder to tell what's fact, what's opinion, and what's just straight  up bullshit. We're not able to make sense of it, much less tell you how to make sense of it. Thank God there's music for that. We've been working on a new record with your boy Michael Diamond for awhile, but we made a quick stop in Alaska with filmmaker Michael Ragen to shoot this video. Seemed like the right time to show it to you."
Through hip-hop beats and occasional French rapping, the band explains how America is drowning in media and news saturation, and how there's no telling the difference between real and fake news: "I love that noise pollution / It's in my constitution / Forever disillusioned," sings Gourley, as Zoe Manville counters with "So down, is there no hope? / I can't believe in no one."
By combating apathy through music and providing tools for their audience, Portugal. The Man is making a difference. They're standing in solidarity with a new generation of people, and giving them a productive outlet for their emotions.
Just as they said in "Noise Pollution's" description: "We're in this together."