October means a few things: sweater weather, pumpkin patches, the beginning of basketball season and most importantly … spooky season. With Halloween just around the corner, what better way to get into the mood than by curling into a big armchair in front of the fireplace with a mystery book? Or, in a world where everything seems to be easily accessible through technology, why not curl up by the fire with a new podcast? "My Favorite Murder," a podcast that combines both true crime and comedy, is the perfect fit for this season.
Co-created by comic personalities Karen Kilgariff and Georgia Hardstark in 2016, "My Favorite Murder" has been an absolute phenomenon and formed its own self-named fan "cult" following, the Murderinos. The podcast is even consistently in the top 10 of iTunes' comedy podcast chart. Currently, Kilgariff and Hardstark are on a sold-out U.S. tour, doing live shows around the country.
Kilgariff is best known for her stand-up comedy and work as a writer on "The Ellen DeGeneres Show." Hardstark is best known for her Cooking Channel series with Alie Ward, working on series such as "Drinks with Alie" and "Georgie and Unique Sweets."
In a seemingly perfect first encounter, writer and comedian Kilgariff and writer Hardstark met at a Halloween part in 2015. In an interview at the Moontower Comedy Festival, Kilgariff talks about how she was telling a group of people an awful story about something terrible that had happened to her in Austin. Everyone seemed to be horrified and turned away, but Hardstark approached Kilgariff from across the room and said, "You have to tell me every word."
In a similar sense, "My Favorite Murder" isn't about sharing murders because they love murders; it's more about the process of going through entire murders from the backgrounds of all of the characters involved to the following investigation and conclusion (except in the case of unsolved murders, in which the resolution is admittedly less pleasing).
An average podcast, generally released on Thursdays, starts off by some banter and conversation between Kilgariff and Hardstark that often includes going over corrections sent in by listeners about previous episodes. Then, both Hardstark and Kilgariff take turns sharing their respective murder of the week. The podcast usually concludes with a "fucking hooray" in which each woman recounts something from the past week that they were excited about.
Finally, in perhaps the most fitting aspect of the podcast, each episode ends with Hardstark and Kilgariff signing off with, "Stay sexy and don't get murdered." Adopted by the fans as the official "My Favorite Murder" slogan and lovingly shortened to "SSDGM," the phrase definitely encapsulates exactly what the whole podcast is about. Genuine responses and sarcastic comments are sprinkled throughout the entire episode, intertwined with sympathy and wry humor, making the atmosphere free flowing and easy in light of the heavy subject matter.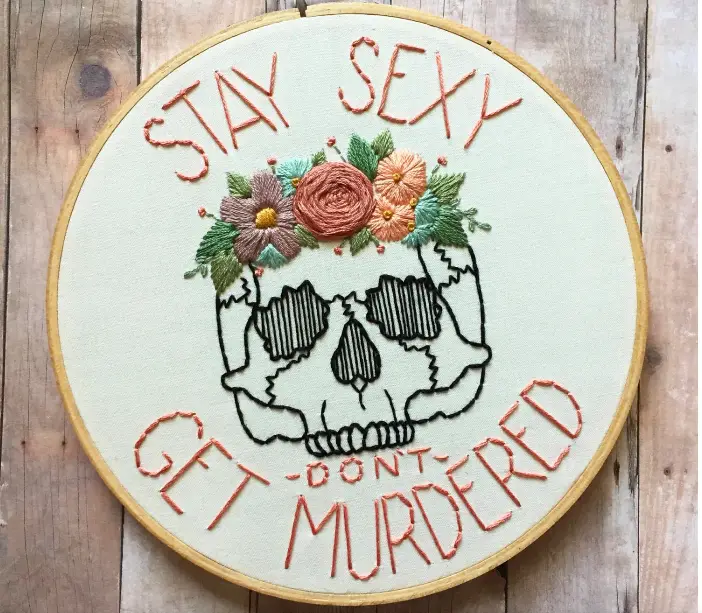 In terms of subject matter, Kilgariff and Hardstark have covered a vast collection of murders and other criminal cases. From lesser-known cases to well-known ones, such as their podcast on the Golden State Killer earlier this year, to stories from the Lifetime Movies television series "I Survived …" the podcast personalities have covered a wide variety of crimes.
Kilgariff and Hardstark get inspiration from other shows, such as "Cold Case Files" and Netflix's "Evil Genius" and "Confession Tapes." While the research done on each case is fairly intensive, both Hardstark and Kilgariff don't make a big deal out of getting precise dates or pronunciations correct. In an interview with Rolling Stone, Kilgariff said, "We're not newscasters. We can barely read. I don't know the states."
In the interview, Hardstark adds, "We're both community college dropouts. I feel like that says everything you need to know." This doesn't affect the quality of the podcasts; if anything, it makes them better and much more exciting to listen to. It feels as though the speakers and the listeners are on the same page and discovering the murders together.
While the main episode of the podcast is released on Thursdays, a smaller "minisode" is also released on Mondays. During these podcasts, Kilgariff and Hardstark read hometown murders that are sent in by their avid listeners. It's this type of interaction that really makes Hardstark and Kilgariff such great personalities. The interactions between them and their listeners are authentic and occur in part because both women have proven themselves to be extremely human. Among self-deprecating jokes and a willingness to share personal aspects of their lives, Kilgariff and Hardstark tackle a concept that is increasingly prevalent today: mental health.
The combination of murder and mental health isn't one that immediately comes to mind. However, both Kilgariff and Hardstark have been transparent in their thoughts about mental health and talk about it as an everyday occurrence. Both frequently discuss their own experiences with anxiety, depression, drug use and alcoholism, as well as openly encouraging their listeners to seek help if they feel that they need it.
In an interview with The New York Times, Hardstark said, "We're both from California rural families where talking about mental health was second nature and not something to be ashamed of. In the same way people don't talk about murders a whole lot, people don't talk about how hard the struggle is to live a happy life."
This fan-based interaction has spurred the creation of a massive community of Murderinos. The Facebook group for the podcast has amassed for than 270,000 followers, and many small sub-groups have been formed from the main Murderinos fan club.
Other Facebook groups showcase the wide variety the fan spectrum encompasses, like My Favorite Murder Veggierinos, a group for vegan and vegetarian Murderinos; My Favorite Murder Disnerderinos, a group for "My Favorite Murder" fans who love Disney; and My Favorite Murder-Anything Goes, a club where Murderinos can discuss anything, ranging from religion to politics to murders.
Hardstark and Kilgraff show that one of the ways to get through the macabre details of life is by using humor. It may not be for everyone, but it's certainly what works for the ever-growing Murderinos fan-base. So, if you're looking for something new and exciting to listen to this fall, check out "My Favorite Murder." Happy Halloween, stay sexy and don't get murdered.