While most high school seniors are occupied with their classes, extracurricular activities, social lives and college applications, Eli Sones and Matthew Halper juggled those responsibilities and then some when they formed their music group, Two Friends. Since then, Sones and Halper have grown from high school best friends and bedroom producers to a rising talent in the EDM community; Two Friends has even been recognized by big names in the industry like Tiesto, The Chainsmokers and Martin Garrix.
Two Friends is most famous for their viral remixes of classics like Blink 182's "I Miss You" and The Killers' "Mr. Brightside"; their riffs on newer tracks like Echosmith's "Cool Kids" and Dua Lipa's "IDGAF"; and for their dance-driven, catchy original music that captures a wide range of genres. Their beginnings — a pact between two friends to produce music together for fun — are both humble and their namesake. Their friendship shapes their music, and their music shapes their friendship. As their Twitter says, Halper and Sones are "friends first, music-makers second."
The Origins & Rise of Two Friends
Sones grew up in Los Angeles, while Halper moved around quite a bit before settling down in the city when he was 10-years-old. They first met in 2005 in their seventh grade gym class, where they quickly hit it off and became best friends. Close friends often teased Halper and Sones, calling them "the Boyfriends" because of how close and inseparable they were.
During their senior year of high school, back in 2011, Sones developed an interest in music mashup culture and learning how to DJ and produce music. He created his own mashups under the name "The Friendly Giant." But he didn't have a strong background in music, so he decided to approach Halper with the idea of partnering up.
Halper, on the other hand, was a lifelong guitarist and musician with an extensive background in music theory. Sones jokingly called himself the worst singer in their school choir and is unafraid to call Halper the one with all the technical musical talent. Regardless, the aspiring young DJ believed combining their strengths — his experience making mashups and Halper's music background — would help produce quality music.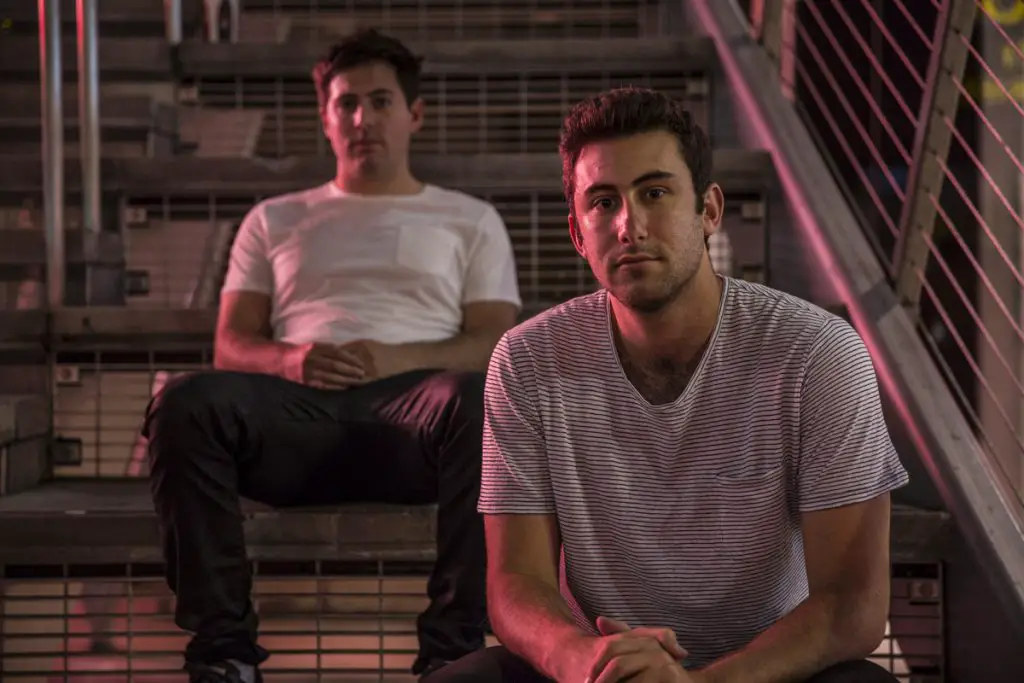 "I never had the inkling to produce," Halper told the EDM blog Raver Rafting, but he recognized Sones' passion and agreed that joining forces would be fun. As graduation slowly crept up on them, the duo formed Two Friends and began learning how to produce EDM tracks and experimenting with different hip-hop beats without a true vision to guide them. If you ask them, they'd admit Two Friends stemmed from a bad case of senioritis and a growing desire to try something new to mix things up.
"We started with just no expectations, which is actually probably a great thing, I think," said Halper. "If we started with any expectations at all, we probably would've been frustrated in the first two months, like we suck."
"We had little expectations and little time pressure… we had four years ahead of us," added Sones.
After graduation, Halper and Sones parted ways to go to college; Halper went to Stanford, and Sones to Vanderbilt. Sones majored in product design and Halper in organizational development, but they both still dedicated time to the Two Friends project they started in high school. Neither of them was willing to let the project go. In time it became clear that what started as a product of high school boredom was more than just a hobby to Halper and Sones; it was a lifelong dream.
In their junior year of college, when SiriusXM EDM station BPM put their remix of Lana Del Rey's "Born to Die" into regular rotation on the radio, the duo realized Two Friends had more potential than they originally thought. So, after graduating college, Halper and Sones moved back to LA and began dedicating all their time to developing a music career as Two Friends. 
Today, the band is building momentum in the EDM community with a devoted fan base backing them every step of the way on social media and in person at their shows. In 2015, they received the Award of Independent Excellence from Hollywood Music in Media Awards for their strong internet persona, and in 2017 they received Top DJ Set honors from SoundCloud for their "Big Bootie Mix Volume 11," a part of their popular "Big Bootie" mashup series. Two Friends was also named Most Underrated Artist by The Chainsmokers in a 2017 Reddit thread.
What Is Two Friends' Flavor of Music & Sound?
As the dance music genre explodes and overwhelms the mainstream music scene, Sones and Halper try to prove their versatility and individuality by not settling for one sound. In that same interview with Raver Rafting, Two Friends described their music as "songs that are fun and get you dancing and moving, but also hopefully resonate with you on a more emotional level at the same time… [They are] kind of a melting pot of a lot of different elements and influences — whether from dance music, from pop, even from alternative rock or hip-hop."
When asked about their top three music influences, Halper answered Blink-182, Bon Jovi and Death Cab For Cutie, and Sones answered Blink-182, Eminem and Avicii. Even if the act is subconscious, they both admit that they can't help but draw inspiration from various artists to help create different sounds. According to Sones, you take elements of songwriting, melodies and percussion from other artists' work and "mix it all together and get something fresh."
Originally dubbed a progressive house genre group, Two Friends admits that they can't seem to stay put in one genre. They had created a soul house genre to represent their sound back in 2016 when they emphasized the piano, bass, saxophone and rifts in their music, but have most likely evolved since then. In their opinion, the relevance of genre and tempo is fading away fast.
"The handcuffs of tempo are finally starting to fall off," Halper told Performer. "For years it had to be 128 BPM, 126 BPM, whatever. And now… the trend is going towards trying to make good songs. Whatever sounds good sounds good, it doesn't have to be house, it doesn't have to be a mid-tempo kind of thing." Music doesn't have to "fit" within the margins of a certain genre to make people enjoy it. "No one really cares about genres anymore," he continued.
"Which is great," added Sones. "We just want to make what sounds good and what we like."
As is, Two Friends is constantly drawing upon a wide variety of live instrumentation, songwriting and production versatility to create a truly multi-faceted sound with every release, according to their website. They continue to test the barriers of genre and tempo to create unique sounds independent of one another — no two sounds are truly alike.
Their remixes of other artists' music somehow manages to incorporate their unique sound and create an entirely different listening experience. Likewise, their original music shows great potential in lyricism and rhythm that makes you want to move; the movement of their sound is honestly very addictive and easy to recognize, even in such a saturated dance music scene. Also, their promise of a constantly evolving sound that refuses to settle down and define itself is refreshing in an age of mainstream music lacking in true sound innovation.
Since high school, Two Friends has spent years developing their unique music personality through their songwriting, production, instrumentation, mashups and viral remixes to stand out in the EDM crowd. Their friendship roots are nostalgic and prove that hard work and resolve can lead to epic breakthroughs. As they continue to diversify their sound and brand themselves as EDM innovators, there's no doubt that these trendsetters will eventually find their way onto a radio station near you.