VICE's Munchies has churned out yet another rising celebrity in Matty Matheson, the chef and larger-than-life personality from New Brunswick, Canada.
Matheson's cooking career brought him into the spotlight after he opened the wildly popular restaurant Parts and Labour in Toronto. The restaurant gained renown for their hamburger, prompting Matheson to compete in the Toronto edition of Country Music Television's Burger Wars. His burger won first place and spawned its own restaurant, The P&L Burger.
Matheson's first taste of VICE fame came in an April 2012 interview alongside Martin Picard, the French demi-god and chef. In the interview Matheson acts considerably tamer than usual. Chalk it up to inexperience or fear of ruining a then-critical publicity opportunity, but early Matheson bears little resemblance to the gregarious host he later becomes.
Thankfully, people around Matheson knew his potential and continued connecting him with VICE. More than a year after his first interview, the first VICE Canada video showcasing Matheson as a food personality appeared.
The video featured the binge-drinking, line-cooking Matheson that alternated between cooking and touring Canada with various punk bands. He embodied the iconic chef lifestyle: tattoos, obscenity, late-nights, drinking. He claims to have been hungover for fifteen years straight.
In the videos Matheson eats and cook with chef friends in Montreal and Toronto, visiting up-and-coming spots featuring all different cuisines. While entertaining, the videos lacked direction. The only semblance of a plot came through allusions to his partying exploits from the night previous and their resulting hangovers. Eventually, Matheson's lifestyle caught up with him.
At age 29 he had a heart attack and had to be hospitalized. Following the scare he resolved to change his life and has since sworn off drinking and drugs. He gradually became more serious about cooking as a career and stopped ditching his job to tour with bands. By 30, he had two collaborative chef groups, was shooting a TV show, running four companies and had no time to be hungover.
All the while Matheson's humor was turning VICE's open-format food videos into successes. They kept producing content with Matheson and his cult of personality continued to grow.
VICE realized early that Matheson had a unique appeal. First, he comfortably fulfills the criteria necessary for qualifying as a badass chef. He's irreverent, overweight, tattooed from head-to-toe, has a chipped tooth, bleaches his hair occasionally, cusses fluently and clearly lived a riotous, thrill-filled life. Cooks across the country look at him and see one of their own.
On the other hand, Matheson is also absolutely hilarious, smart, sweet-hearted, self-deprecating and witty. He's essentially the culinary reincarnation of Chris Farley.
His endearing demeanor pairs well with his helium-pitched voice, which exaggerates the humor of everything he says. It sounds like his sternum is compressing his vocal cords, giving his speech the squeak of a rubbery falsetto.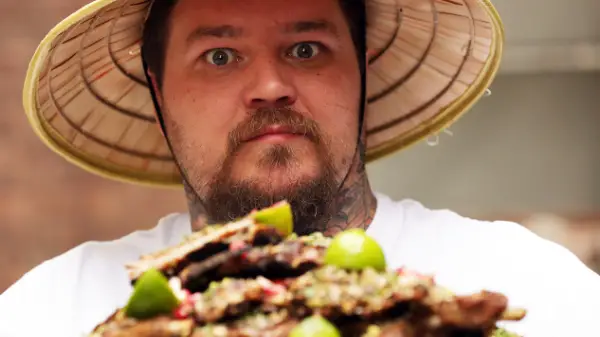 Rarely does a food-star so seamlessly bring together real-world cooking expertise and made-for-TV charm. As in many creative fields, chefs create an impossible double standard: get famous and you're a sell out, stay true and you're a nobody outside of the culinary community. A scant few celebrity-chefs straddle both famous and respected, and even fewer host TV shows. Matheson appears to be one of those few.
He is in many ways the modern food-superstar. His appearance and language would bar him from an appearance on The Chew, but that only endears him to his target demographic. "We don't want a 45-year-old food writer to understand what we're doing," he says in a ChefsFeed video. "We want 20-somethings, early 30s people to come in and party and eat like fucking Vikings." Like it or not, Matheson's bona fide bon-vivant charisma and reckless hipster-chef aesthetic represent the new breed of food personality.
VICE has an eye for recognizing these trend setting, sign-of-the-times type hosts.
They featured Eddie Huang and Action Bronson before their vertiginous careers erupted, and now they have Matheson.
Huang wrote a best-selling book that spawned a major-network sitcom, and Bronson's new album Mr. Wonderful heralded his continuing rise into the hip-hop stratosphere. Both have had success in their own rights, but Matheson's particular breed of entertainment seems geared toward entertainment.
His charm allowed him to ride out VICE's trial series into a string of incredibly popular YouTube videos. Starting in April 2014 with the "How to Make a Perfect Cheeseburger" video, Matheson and VICE soon added several more cooking tutorials. In them, he teaches viewers how to make pancakes, doughnuts, lasagna and mac 'n' cheese from the kitchen in his tiny apartment.
It was in these videos that his personality really emerged. His quirky, tangential comments pepper the bits and essentially create the genre of "funny cooking show." His pancakes tutorial attracted more than one million views, tipping off VICE to the star-potential of their new host.
In October 2014 Matheson and VICE released his crowning cinematic achievement, Keep It Canada. The first season of the show has only six episodes, each of which is around twenty minutes in length.
In each episode Matheson visits a different area in Canada: New Brunswick, PEI, Quebec, British Columbia, Newfoundland and Calgary. In each location he visits restaurants, highlights food producers and personalities, and ends by cooking everyone a meal showcasing the product and ethos of the region.
In the first episode, Matheson visits Calgary, the Canadian cow-country equivalent of 19th century Texas. He rides an electric bull at a state fair and makes Spring Break jokes about cows having sex. When he visits Prince Edward Island he tours a potato farm, hosts a clambake shirtless (a common theme) and then disastrously tries to cook on a sandy beach.
In the third episode, Matheson visits Newfoundland. He fly-fishes shirtless, fondles moose droppings, eats seal, and calls biomes "geo-tags." By the time he visits Quebec, Matheson has settled into his comedic niche of pseudo-shouting hilarious comments. They fish, check out some bees and chickens, and Matheson narrates the episode from a hot tub.
The final two episodes find the host in New Brunswick and British Columbia. He eats trailer food at a driving green, goes into the Pentagon of caviar, kills a sheep, enjoys a suspect sauna in the middle of a forest and goes tubing down a mountain. The equation is simple, yes, but Matheson is brilliant.
His self-deprecation and wit keep the show hilarious, but it's easy to see that he clearly cares a lot about food and knows what he's doing in a kitchen.
He also manages to make Canada look like the badass country that's always been cool but has never cared about being cool. In that way, Matheson is its perfect ambassador.
It's hard to tell what he has in the works but judging by his Instagram (MATTYMATHESON) and Twitter (@mattydeathbro) he's definitely busy. He's nearing 50K on Instagram and for good reason—the rotating cast of bohemian slicks and his hilarious commentary make his feed incredibly entertaining. It's the perfect balance of foodie account and social scene chronicle.
Hopefully he continues his streak of successes and capitalizes on the momentum he has now, maybe landing a bigger show. I like to imagine him scoring an Anthony Bourdain or Andrew Zimmern type gig, because he establishes amazing rapport with everyone and definitely knows what he's doing. His humor translates to all different languages, and he has culinary chops to offer informed food opinions.
For now, just check him out on Instagram and pray for a second season of Keep It Canada.