I'll be the first to admit: When Mala Luna first came to town I was a little skeptical. San Antonio has a history of botching music festivals (*cough* Maverick *cough*), and I figured Mala was going to be more of the same.
Three years later, I happily admit to being wrong. The festival did a smart thing by choosing one genre — hip hop — and sticking with it, rather than trying to cater to a dozen different tastes like larger festivals, such as ACL, can do. As a result, the two-day extravaganza has been able to land some of the biggest names in modern rap, including Young Thug and 2 Chainz, world-class performers San Antonio should be ecstatic to feature.
Along the way, the festival has worked to pay tribute to its host city's roots, too. This year, Mala will feature a number of Latino artists, including Becky G and Deorro, which is a smart nod to the city's majority Hispanic demographic. In addition, the fest will also play host to a number of local musicians, a praiseworthy move and one that celebrates the musical talent budding in town. Acts like Noah North, Angel Cintron and Bambi add a grassroots flair to the festival, and locals should make it a point to patronize their sets to encourage event organizers to keep booking homegrown talent.
The beauty of a two-day event with a smaller number of performers is that you'll rarely find yourself having to choose between two performances, as you will with other festivals that schedule four musicians at the same time over a four-mile radius. However, with great power comes great responsibility, and because you have the ability to make any set you want, it's doubly important that you pick winners.
So, here's a brief run-down on the shows that you absolutely have to see. Whether they're A-list celebrities or up-and-coming hustlers, each of these four acts is non-negotiable, so make sure you pencil them in to your to-see list.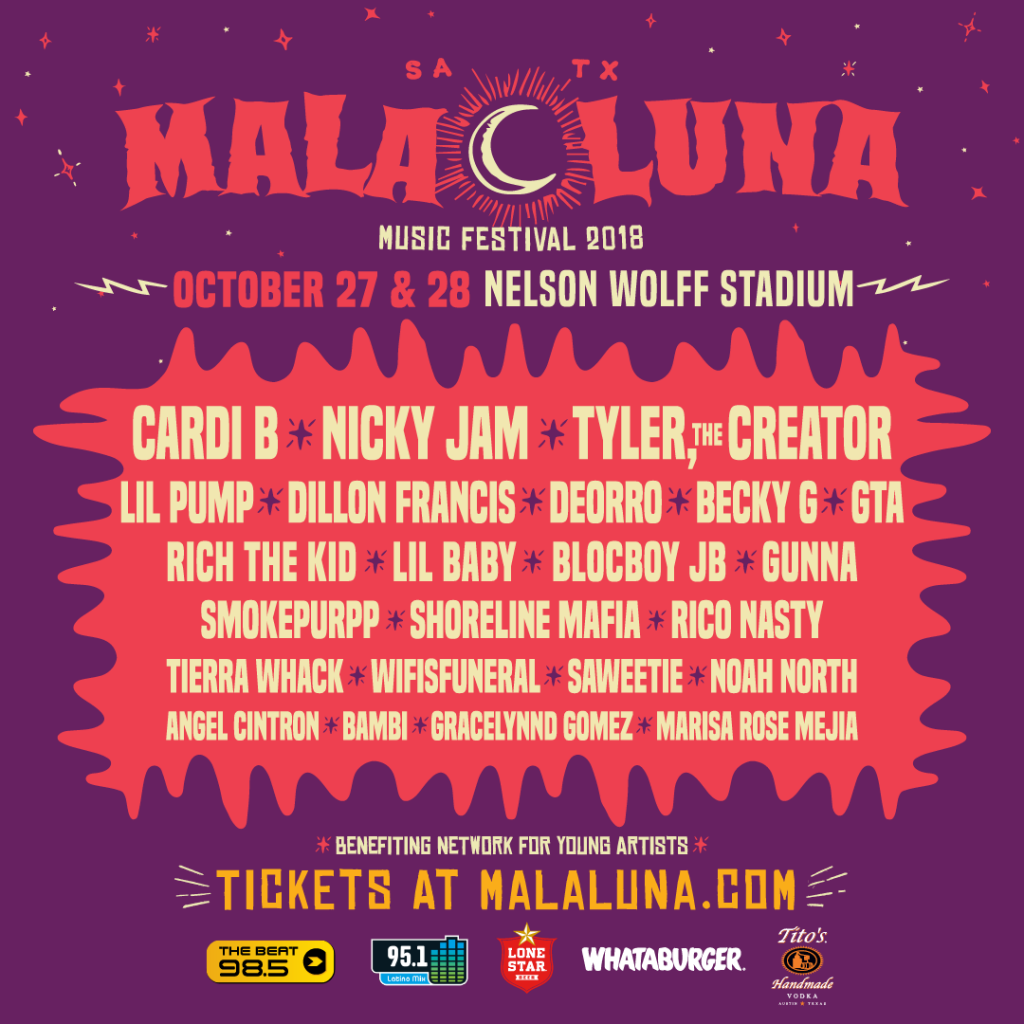 1. Cardi B
Not to be overdramatic, but Cardi B's performance this Saturday is literally historic. The Bronx queen hasn't performed since she gave birth to her child, Kulture, and her Mala showcase is the first time she's returned to stage as a mother. Will she be the same? Will she be better? Will Kulture be deployed as a pint-sized back-up dancer? No one in the world has any idea — except Cardi and probably like a dozen of her entourage, of course.
It was an aligning of the planets that brought San Antonio this once-in-a-lifetime event, and you'll be looking at least seven years' bad luck if you miss it. Plus, "Bodak Yellow" live? Unbeatable.
2. Tyler, The Creator
Few musicians have undergone as swift a maturation as Tyler, The Creator who, just a few years ago, made a name for himself by snarling out vulgarities so obscene that the governments of actual countries banned him from performing.
Now? His latest album is titled "Flower Boy," he's become a posterboy for post-toxic-masculinity rap and has made a point of encouraging, welcoming and promoting diversity of all types, all while maintaining a level of chillingly unfair cool that most humans are biologically incapable of.
Plus, there's his music. Off his last album alone, "I Ain't Got Time," "Boredom" and "See You Again" have become instant classics, featuring the genre-horizontalism he's grown famous for. Who else can feature Frank Ocean, Kali Uchis and Jaden Smith on the same album as Lil Wayne and A$AP Rocky? The man is a creative savant, and you would be doing your future self a favor by seeing him at (hopefully, but also not hopefully?) what very well might be his prime.
3. Tierra Whack
Alright this one is a tiny bit of a sleeper, and I'm resisting the urge of every bone in my body to list 2 Chainz or Young Thug here, but the world needs to know about Tierra Whack. First of all, she released one of the most puzzling, artistically ambitious music videos of the year in May.
Tierra Whack - Whack World
I don't even know if music video is the right phrase, because it's technically a visual album; every song on her 2018 release, "Whack World," gets its two minutes of fame. The twist is that none of her songs last longer than three minutes, with most hovering around the 1:15 mark, meaning the entire album runs only 15 minutes. It's a paradox! But an enjoyable one.
Still, I know you don't go to music festivals to watch music videos. Lucky for all of us, her music is as ambitious as her cinematography. For instance, in "Pretty Ugly," the title itself an oxymoron and hint at the wordplay to come, she raps:
"I bet you ain't heard no flow like this / Make you say yo excuse me miss / Go against me I'll beat like Swizz / I like my paper nice and crisp /Crispy clean and crisp and clean / For the dough I go nuts like Krispy Kreme / Music is in my Billie genes.
Her delivery drips with self-awareness, her helium-inflected voice bouncing like a trampoline over a disarmingly simple piano riff and minimalist drum hook. She represents a new breed of female hip-hop artists, right up there with Noname and Kehlani, who are enjoying the fruits of their predecessors' labor. She is creative, and though labeled under the umbrella of hip hop, is teasing and toying with the genre in the same way male artists have had the freedom to do for decades. Her lyricism, wit and artistry are a welcome addition to the pantheon of female rappers, and her show is guaranteed to be unlike anything you've seen before.
4. Gunna
To borrow from Study Breaks writer Yoni Yardeni: "While his birth certificate may read Sergio Kitchens, the Young Stoner Life label member has cooked up a much bigger name for himself under his pseudonym, Gunna. That was a pretty lame one, allow me to start over."
In short, the 25-year-old rapper is having his biggest year yet, landing four standout bars on Thugger's compilation of earlier this year, "Slime Language." He has appeared sporadically on a number of Young Thug songs, as well as collaborated with Gucci Mane, Playboi Carti, Lil' Uzi and a handful of others. Still, 2018 is a breakout year for the young College Park rapper.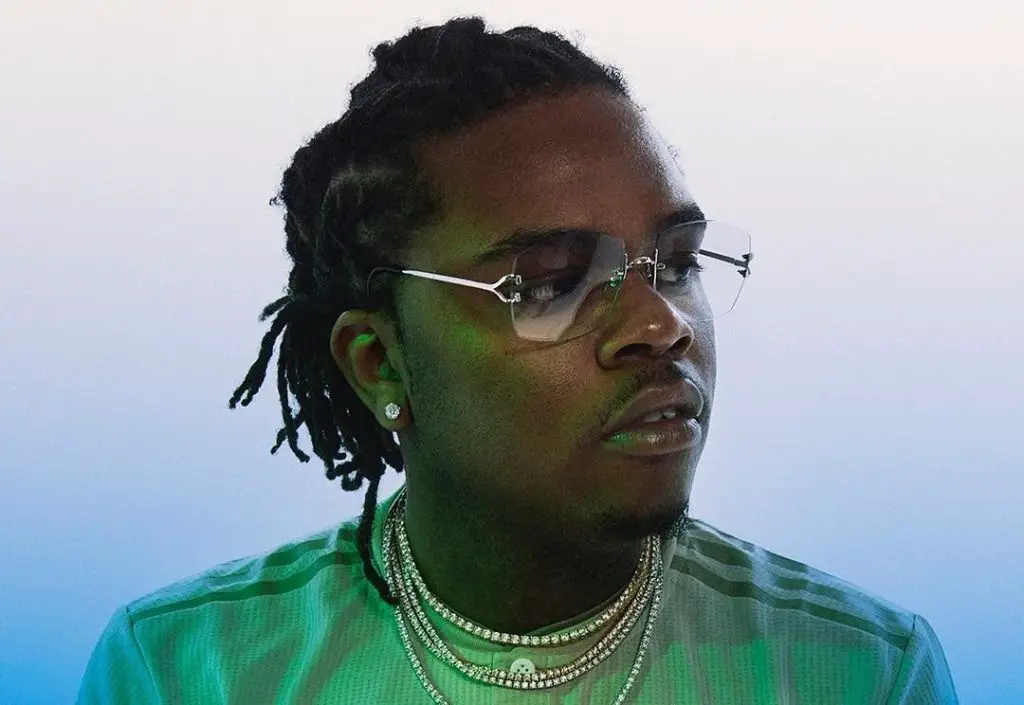 In a festival featuring the mumble god himself, Young Thug, you might think there is little reason to catch a protégé of his. Still, despite the fact that Jeffrey remains the de facto face of indiscernible rap, one day he will have to pass the monosyllabic torch on to one of his lackeys, and Gunna has positioned himself as one of Thug's most promising understudies.
Plus, given that Thugger and Gunna are performing at the same festival on the same day, there is a high likelihood that either Gunna will jump on during Thug's set, or (less likely) Thug will jump on Gunna's set. Either way, it's best to get to know the whole family.