If you have ever dabbled in the YouTube realm, you may have already heard of Elijah Daniel. He is most well-known for his collaboration with Christine Sydelko. The duo uploaded comical videos to their shared YouTube channel (Elijah & Christine), many of which generated millions of views.
They have parted ways since then, and the channel has been claimed by Christine, where she uploads videos of herself with numerous of other YouTube celebrities. Elijah has also begun his own YouTube channel, which he uses to upload vlogs and music videos. He is now none other than the new rapper — LIL PHAG.
This isn't the first outlandish thing Elijah Daniel has done. He is often accused of doing publicity stunts. Yet, these "publicity stunts" always serve to promote the LGBT community in some small way. For instance, he once became the mayor of Hell, Michigan. In the course of his single day as acting mayor, he banned heterosexuals and, to no surprise, was impeached.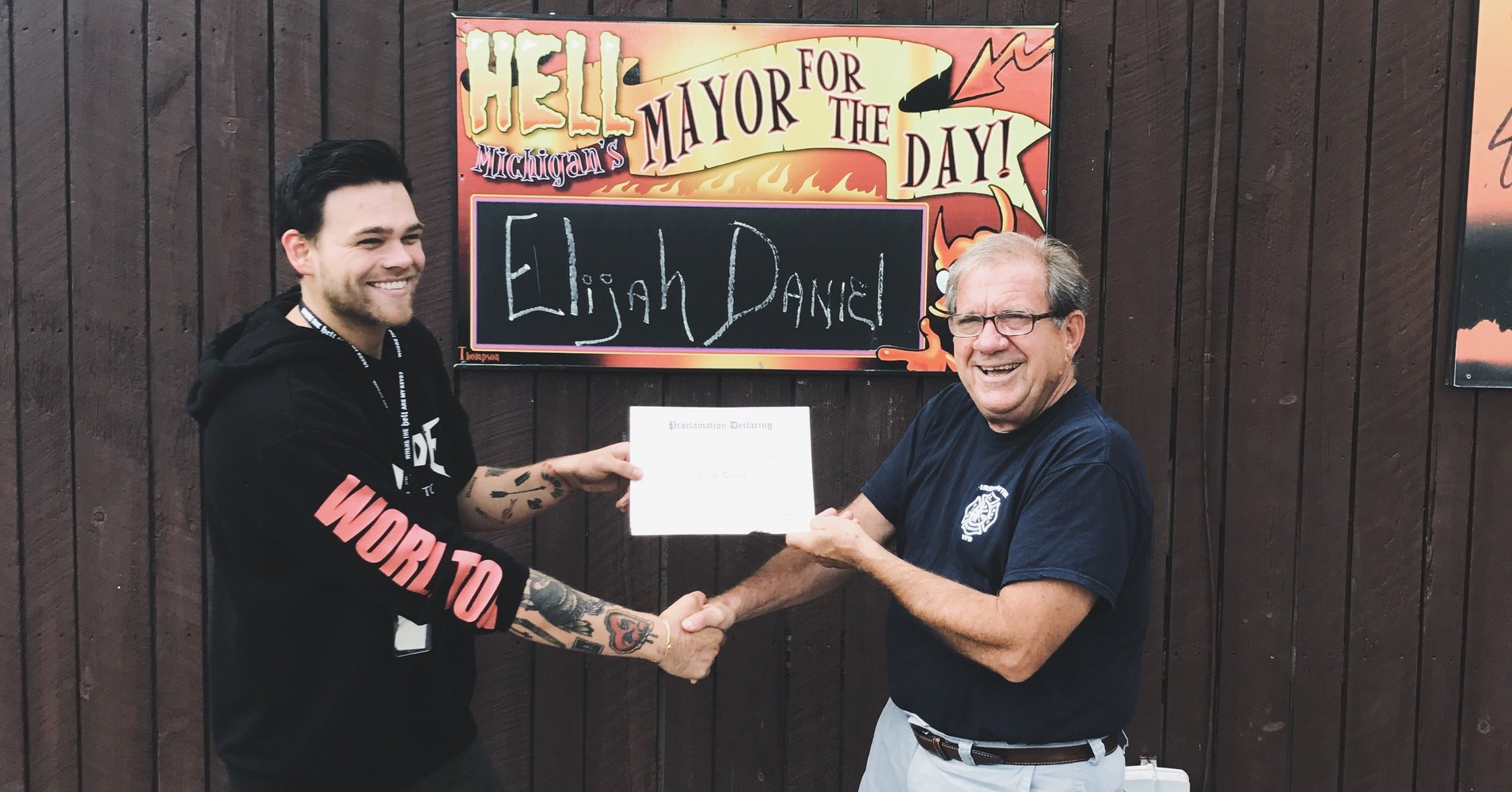 He has also written a book titled, "The Holy Bible … But Gayer," which is a satirical and politically comical version of the Christian bible that portrays Rihanna as God and Donald Trump as Satan. Amazon immediately banned the sale of the book on its website, but Daniel simply sold his book from a different website. These two events may seem comical and insignificant, but they serve a true purpose — to make LGBT youth laugh and feel comfortable in their skin.
In addition to these occasional controversial actions, Daniel has begun publicizing his sexuality through his music. He seems committed to his current career as a rapper. He even got the name "PHAG" tattooed onto his face, above his left eyebrow. He is currently on tour with his boyfriend and collaborator, a DJ/rapper known as Dr. Woke, or Sam F.
Some of the songs Daniel has produced so far are "Clout 9," "Elton John" and "Rick and Morty." While he has some other songs with titles that aren't exactly family-friendly, many of these songs promote his sexuality, as did his contentious activities detailed earlier.
Elijah Daniel is a member of the LGBT community and he is not afraid to show that. He has even recorded a song with the rapper CupcakKe, another huge supporter of the LGBT community and her own sexuality, who can also be a bit raw and vulgar with her music. At the core of it, it's all about living life the way you want to. Daniel is letting LGBT youth know that they are allowed to openly exist and have fun while they're at it.
Not only does LIL PHAG's music promote pride in one's sexuality, but he actively seeks out ways in which he can help the community. For example, in his usual style of raising eyebrows, he has begun selling "Pride Pens," which you can use to smoke marijuana out of.
The pen is rainbow-colored in order to support LGBT Pride Month, and a portion of the money made from each sale is donated to the LA LGBT Center for Homelessness. He is providing real help to those who need it most.
LIL PHAG doesn't simply speak to on his LGBT fans, though this is definitely his primary focus. He also discusses his own struggles with depression and drug dependency. He has made a YouTube video called, "Does It Get Better?" where he details his experiences with depression, anxiety, homophobia and even drug addiction/abuse. In the video's description, he asks his fans to talk to one another about their own struggles and to be willing to listen.
He says, "If your DMs are open and you're willing to talk to others who suffer from any of these things, leave a comment with your twitter handle and what you have experience in. And if you're someone who is suffering and needs someone to talk to, go through the comments and find someone who is willing to talk. Start a conversation, talk about your problems, make a group chat, support each other. We're all in this garbage world together, and we need to stick together."
LIL PHAG's love and support for his fanbase are evident on his Twitter account as well. He is constantly replying to his followers and retweeting their pictures with him. He even made his tour poster say his real name instead of his rapper name, "LIL PHAG," for his fans that are have either yet to reveal their sexuality to their parents or are afraid to do so.
He understands what it's like to struggle with something like this, therefore he's able to foresee possible problems and solve them. He truly considers his fanbase and their situations.
On the surface, a rapper named LIL PHAG, donned with face tattoos and blocked on Twitter by the president of the United States, may not seem like best representation for LGBT youth; however, Daniel has undoubtedly proven himself a worthy advocate. Not only has he taken direct action by donating money, but he has created a lifestyle for himself that openly centers around his homosexuality and having fun.
He displays this personality all over the internet, so that these youth will have someone to either look up to or laugh with. If you're looking for some fresh, up-and-coming hip-hop music, why not check him out? You may even find yourself wanting to attend "LIL PHAG & DR WOKE'S PROBABLY TERRIBLE RAP MATINEE SHOW."