Canadian queen of pop, Carly Rae Jepsen, has returned to the city of Minneapolis after three long years to celebrate Twin Cities Pride with fans. Her show at The Armory on June 25 featured a slew of hits, fan favorites and new songs; and I'm going to take you step-by-step through the show.
6:42 p.m.
The scene outside of The Armory just 12 minutes after venue doors opened is quiet, and a few fans can be spotted out on the street. As I maneuver through the security checkpoint, I anxiously wait to see if the best spot in the house is already taken or if it is still up for grabs. I make my way up the steps and onto the general admissions floor of the venue and spot a small congregation of about 50 people patiently standing at the barricade roughly 10 feet from the stage.
As I make my way up to the crowd, it's clear that these are Carly Rae Jepsen's people: individuals of all gender identities from the ages of 18 to 70+, all decked out in their rainbow attire, mesh tops and baseball caps. Most have come in pairs or with a group of friends, but there are still attendees opting to celebrate alone, but not so alone in a place like this. I take my spot dead center, about four people back from the barricade, and let the anticipation begin to build.
7:30 p.m.
Shortly after half-past seven, local Twin Cities DJ queenDuin takes position at a table center stage and kicks off their pre-Carly set. They amp up the crowd with a non-stop mix of anthems from beloved pop divas like Madonna, Whitney Houston, Lady Gaga, Kim Petras and Ariana Grande. QueenDuin's mother makes an appearance near me in the crowd, cheering the loudest of everyone and making everyone around her smile. QueenDuin's time on stage continues for close to an hour and a half before they pack up their electronic turntable and make their way offstage.
9:30 p.m.
As the DJ is making their exit, I look back for the first time in nearly two hours and am almost startled at how much the scene behind me has changed. The Armory looks nothing like it did when I arrived nearly three hours prior — almost all the floor is filled with fans, and the balcony is packed as well.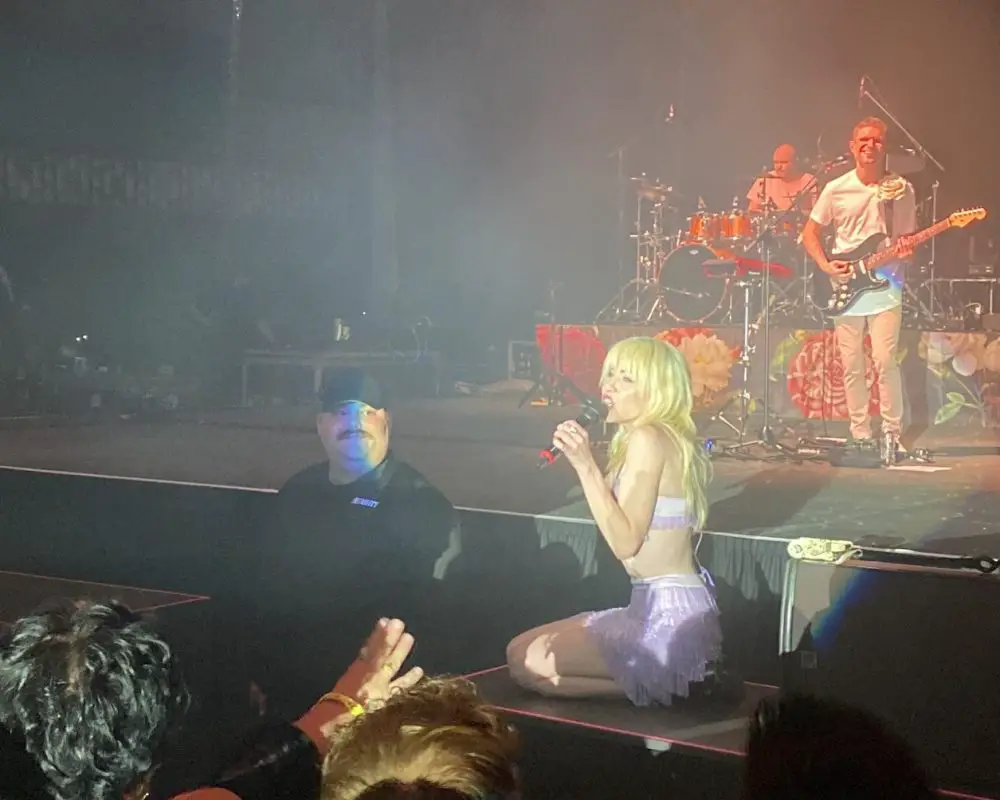 Stagehands are running back and forth across the stage, preparing it for Carly. Water bottles are being set by every mic stand and instrument for Jepsen and her band. The subtle pre-show playlist echoing throughout the venue cuts out and the lights go dark at 9:32 p.m. exactly. Red lights fill the stage as psychedelic visuals appear on the big screen in front of the audience. Jepsen's band and backup singer all get into their respective places, as the crowd spots a swift-moving Jepsen gliding to her spot on the stage. The spotlight comes on and illuminates Jepsen for the first time, and the crowd loses it. At only 5'2", Jepsen stands tall and fully claims her stage, without a doubt the centerpiece of the set.
She's wearing a shimmering pastel pink flapper-like skirt with an oversized bow top in the same shade. Her bleach blonde hair falls in waves down to her mid-back and is cut with her signature bangs. It matches the style featured in the video for her latest single, "Western Wind." Overall, Jepsen looks ready to celebrate with the thousands of people in the crowd.
Her set opens with 2019's "No Drug Like Me" off her fourth studio album, "Dedicated." Once the show started, Jepsen wastes no time delivering all the songs fans are anxious to hear. Just a few songs later, she sings the 2015 "cult" hit "Run Away With Me," which booms through the space and is met with chanting in unison from the audience. It's during this song that Jepsen first jumps off the stage, onto a platform between the formal stage and barricade, in an act to get even closer to her fans.
Jepsen's time on stage continues on, singing fan favorites like "Let's Get Lost," "Too Much" and "Julien." Midway through the show, she performs "Western Wind," and sings "Summer Love" in front of a live audience for only the second time.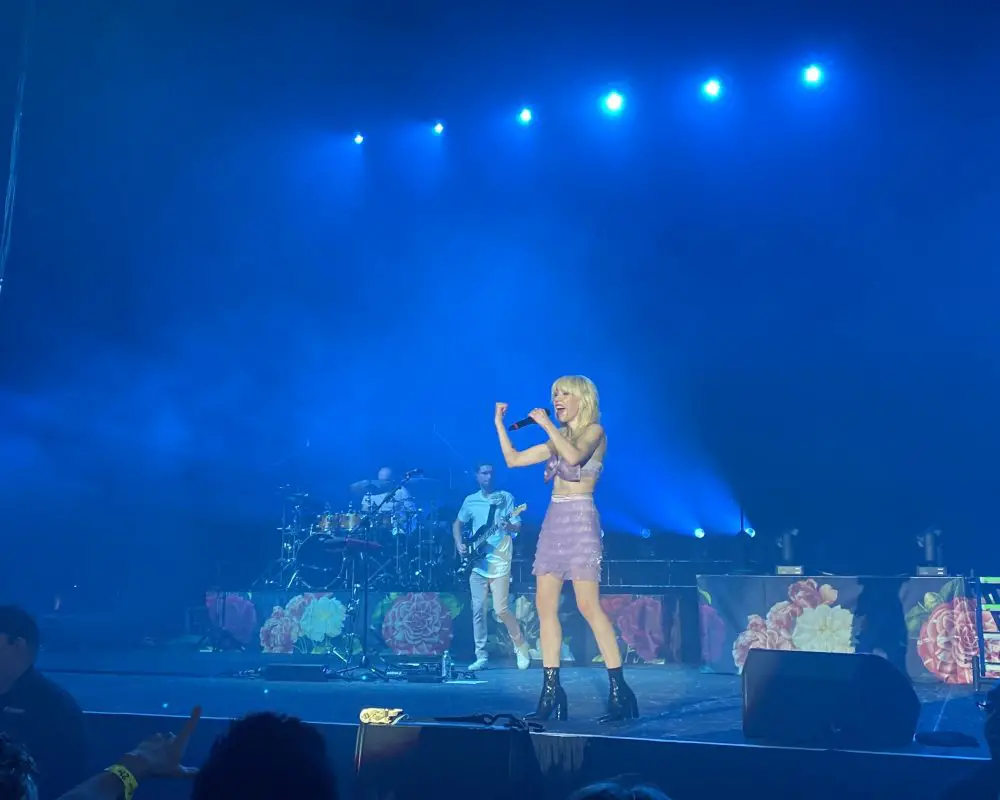 With the release of "Western Wind," anticipation for a new full-length project continues to increase, especially since she's announced dates for a new tour this fall. Although Jepsen didn't give Minneapolis fans any previews of new songs, she did sing "Automatically In Love" for the first time in front of a live audience.
As the show goes on, Jepsen goes on to sing her biggest hit (and the one she's most known for), 2012's "Call Me Maybe." Despite being released over a decade ago, the song remains on most of her set lists, and always gets the crowd amped up. One of the most memorable moments of the night comes during the hit track, when she kneels down on that same platform she stood on during "Run Away With Me" and calls on a security guard to finish singing the hook of the song. Much to everyone's amusement, the guard sings into Jepsen's mic and the crowd bursts out cheering.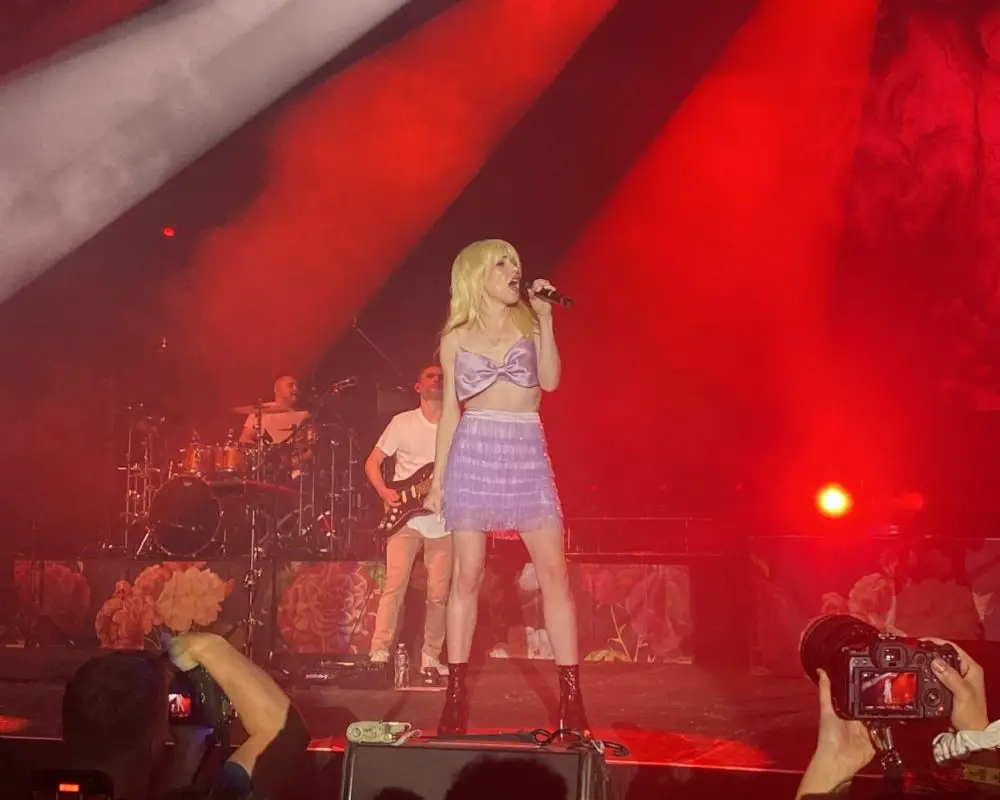 10:37 p.m.
At long last, the show comes to a finish with 2017's electric yet somehow nostalgic sounding "Cut to the Feeling." The song is a popular closer for Jepsen, and it makes sense thanks to its chant-worthy chorus. This moment in the show feels like an arena-wide rejoicing for not only Jepsen's music but for the LGBTQ+ community — which has made up a large majority of Jepsen's supporters and listeners throughout the years. After all, this is a concert in celebration of LGBTQ+ pride.
Once Jepsen finishes singing "Cut to the Feeling," she and her band thank the audience for dancing along with them, and they make their exit. I'm able to see Jepsen parading off to a door leading backstage, bouncing with each step after an infectiously vibrant time in Minneapolis.
If you haven't seen Jepsen live before, you should spend the money and do so if you can. Even if you just know her hits, you'll leave the show with the motivation to become even more acquainted with her music.