Austin City Limits, the crowning musical event of a city internationally known for its robust music scene, will be bringing plenty of hall-of-fame acts to Zilker Park in the early weeks of October.
Your parents are probably fans of Sir Paul McCartney, who recently disclosed the importance of circle jerking as apparently integral to the creative process. Doubtless you've heard of Childish Gambino, aka Donald Glover, probably the closest thing the American people have had to a musical renaissance man since Tim McGraw got out of the rap game. And Camila Cabello, who just barely avoided a bloody street beef with 6-year-old Blue Ivy in February, must surely have crossed your radar at some point earlier this year.
In other words, the lineup is stacked and there will be plenty of shows you'll have to throw elbows through in order to muscle your way to the front of the stage.
However, the real beauty of ACL is that it dares to break rank from the carbon-copy lineups most music festivals are scared s—less to break rank from. The two-week festival routinely plays host to a number of lesser-known, and even local, bands, and it does so in a conscious effort to pay homage to the city's roots as a breeding ground of indie musicians.
Plus, if supporting burgeoning artists doesn't quite do it for you, these smaller shows also have the added benefit of being less populated and occurring during less competitive time slots, meaning they're something to do when you have nothing else to see and you'll get good spots. In short, they're win-wins.
In that vein, here are five lesser-known bands that you should see at this year's ACL.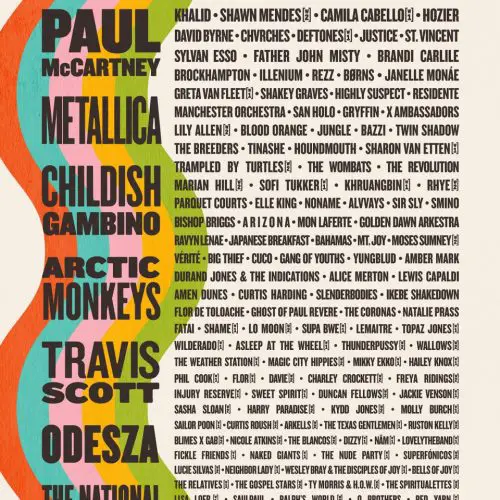 1. Big Thief (Weeks 1 & 2)
Make no mistake, Big Thief, the Brooklyn-based foursome headed by lead singer Adrienne Lenker, will be no raucous performance. The group, however, which sprung into prominence following their 2017 release, "Capacity," will brood and shoe-gaze their way into your hearts, with a melancholic sound anchored firmly in a confessional sense of songwriting.
In "Mythological Beauty," a heart wrenching track off "Capacity," Lenker describes the sacrifices two too-young parents made in their uphill battle to give their children — one of whom was Lenker — the kind of life they never had. "Seventeen, you took his cum / And you gave birth to your first life / You gave Andrew a family you thought / Would love and take better care / I have an older brother I don't know / He could be anywhere."
The album makes perfect ear fodder for any evening you want to spend staring wistfully off a porch, reflecting on the transience of youth and the overwhelming sense of ennui that grows with each passing day. The band, though, will be one of the best, most emotionally resonant shows of the festival; you'd be smart to pencil it in.
2. Cuco (Weeks 1 & 2)
In short, Cuco makes exactly the kind of music you might expect from a 19-year-old SoCal Latino musician: it's slow to the point of dripping, in and out of Spanish, punctuated by adolescent angst and absolutely hypnotic.
Whining electric guitars add verve to synth backdrops that loll languidly up and down as Cuco sings/raps. In "Lover is a Day," the Hawthorne, California, musician harps on the sun-drenched motif, "Time changed / We're different," taking a classic tale of teenage heartbreak and transforming it into something at once psychedelic and laser-focused.
His tempo is lethargic and lyrics loose, but Cuco has a delivery emboldened by a strong sense of self, a fact to which his Spanglish testifies. The resulting music feels incredibly modern, a genre borne of identity politics that ends up feeling like the diary entries of a young, self-aware teenager releasing head-nodding albums in 2018.
3. Duncan Fellows (Week 2)
Of all the Austin acts greenlit at this year's ACL, Duncan Fellows has the most momentum and will so chockfull of bombast that their show will likely surprise any bystanders lucky enough to catch it by accident.
The group, a five-person alt-indie shtick composed of University of Texas grads, plays tongue-in-cheek tunes that will delight anyone with a sense of humor. Their biggest hit to date, "Fresh Sqeezed," rings in with a delightfully up-tempo guitar riff that runs red with lead singer Collin Harmon's velveteen wailing.
The sound of the group falls somewhat neatly into a classically irreverent brand of rock, and though sonically it might feel familiar, the band's freewheeling persona will remind you of an ironic group of musicians trying intentionally to play un-ironically good rock.
4. Khruangbin (Week 1)
Another Texas-based band, albeit this time from Houston, Khruangbin sounds very little like any other band you've heard. Critics trying to pin a genre on the threesome have generally settled on Thai funk, but their sound changes drastically from album to album, and even song to song.
The one constant of their sound, though, is a racing, reverbed-out guitar line that gives them the sonic ambiance of a car chase plucked from some auteur film. To spotlight these distinct riffs, many of the band's songs are instrumental, something I find myself averse to in most other cases.
With Khruangbin's music, however, their style manages to accomplish a rare feat for vocal-less songs: It causes the listener to pay more attention to the instrumentation, yes, but in this case, that heightened attention is rewarded. So many instrumental songs draw attention to their melodies, but their melodies then fail to deserve it — not so with the Houston trio. When the group does add vocals, as is the case in hits like "White Gloves," you'd be hard-pressed to find a more trance-inducing vibe.
Be advised: their newest album, "Con Todo El Mundo," departs slightly from the Thai funk that put them on the map, but it substitutes a swarthy sense of Latin American suavemente in its place. Their newer music slows down the pace of their 2015 album but it doubles down on its soulfulness, and the guitar-work is no less virtuoso — it's just more assured.
5. Japanese Breakfast (Weeks 1 & 2)
In what has now become an apocryphal tale of lead singer Michelle Zauner destined greatness, she wrote the band's debut album, "Psychopomp," immediately after her mom's death, thinking afterward she would quit music permanently. Fortunately, the universe had other plans for her.
Zauner heads up a multi-member band but is just as comfortable performing with just an acoustic guitar and her gauzy, powerful voice. She marries her vocal abilities, which will leave you in goosebumps from time to time, with a strong wit for songwriting, not unlike that of Big Thief or Mitski.
She makes the personal public, writing about the painful processes that make up emotional convalescence, and she manages to turn the sting of loss into an album of soft rock hymns, daring listeners to bare their baggage as unabashedly as she does hers.
Honorable Mentions: Blood Orange + Golden Dawn Arkestra
Blood Orange, at this point, is by no means a lesser-known artist, as his numerous New York Times profiles would attest to. He makes the list, however, because the R&B savant has been notoriously parsimonious with his stage appearances.
Since 2016, when he released "Freetown Sound," and up until now, Devonte Hynes, the man behind Blood Orange, has played only a handful of live concerts. What's more, he typically reserves live performances for cities like Tokyo, New York and London. Next month, though, the reclusive and über-talented performer will be taking his talents to Austin.
Golden Dawn Arkestra makes the honorable mentions again, not because the band is underground, but because their recorded music fails so vastly to do justice to their live performances that hearing them without seeing them is nearly worthless.
The massive musical troupe puts on performances akin to Of Montreal in their theatricality, but with a bent toward mysticism that makes their live sets much more mesmerizing than Montreal's acid-dream shenanigans. See them live if you can; it'll be one of the best shows you'll ever see.