The Incredible Story of the Leicester City Foxes
After overcoming 5000-1 odds, some writers are calling it the greatest underdog story in sports history.
By Kevin Cordon, University of California at Irvine
---
The story begins like so many others that American sports fans will be familiar with.
An old coach thought to be past his prime, a team of doubted talents eager to prove their place and a historic championship run that nobody saw coming. Sounds like the plot of every American sports movie ever made right?
However, writing this particular script would be a little bit different. The story would take place across the pond, in the small town of Leicester, England, where they play football that actually uses the feet. There wouldn't be any buzzer-beaters, hail-mary passes or diving catches, but there would be a true underdog story of resilience and pure self-belief.
This is the story of Leicester City Football Club, the soccer team that recently won the English Premier League, one of the most competitive leagues in all of world soccer. As their victory was their first Premier League title, Leicester City joins exclusive company as only the sixth team to win the Premier League since the competition formed in 1992.
A title run in the EPL is no easy task for a small-town team like Leicester. Every season entails a grueling 38-game season with other tournament games squeezed in, as well as trying to keep up with the "Big Four" large-market teams that have won the title 22 of the last 24 seasons.
Coming off a disappointing season in which they narrowly escaped relegation to a lower division, the Leicester City Foxes came into the 2016 season eager to show that they belonged in the Premier League. They hired a new coach in Claudio Ranieri, who was thought to be on the decline after achieving some success earlier in his career.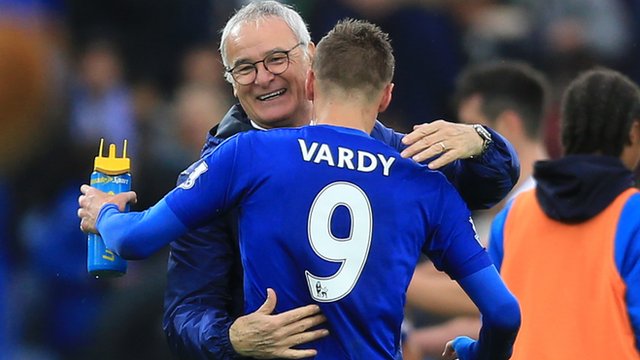 Fans were skeptical of the hiring, but the team believed he was the person for the job, and indeed he was. Ranieri took a group of players that had been dropped from other teams and turned them into champions, beating the same teams they had been shunned by, one of the most notable former castoffs being Jamie Vardy.
Vardy is a story within the story. The Sheffielder's meteoric rise from obscurity to superstardom was already complete halfway through the season, as he set league records and secured himself a spot among the elite forwards in English soccer.
A far cry from his beginnings, Vardy was first noticed playing part-time in the eighth-tier of English soccer, a league in which most players have day jobs and pocket about $43 a week. Even when playing among plumbers and accountants, many scouts considered him too small to compete professionally, claiming Vardy would never be able to succeed at the highest level.
The 28-year old went on to prove them wrong, climbing through eight tiers of English soccer with various teams over the course of seven years, reaching the Premier League and joining Leicester in 2014. He struggled in his first season of play, scoring only five goals in 38 games. The following season, under Ranieri's lead, Vardy flourished, scoring 24 goals and setting a league record for most consecutive games with a goal (11), one of which was a stunner. Vardy was a large part of Leicester's title run, and his consistency and relentlessness provided the team with the character and confidence they needed to sustain their momentum.
There were no superstars on Leicester when the season started. The team was a bunch of nobodies who played for each other and were just hoping to avoid being sent down to a lower division. As they refused to lose, Leicester's season was characterized by resilience, as they repeatedly came back from deficits to tie and win games where other teams would just throw in the towel. Their never-say-die mantra caught the soccer world by storm, and fans from around the world watched to see if they could keep the miracle alive.
Tagged with 5000-to-1 odds to win the title and 3-to-1 odds to be relegated at the beginning of the season, Leicester went unbeaten in their first six games, winning three and drawing three, in all of which they came from behind to tie. The team quickly rebounded from their first loss to go unbeaten in their next 10 games, a streak that captured the eye of the rest of the league.
By imposing their relentless style, the team had put themselves on the map and earned the respect of all the top teams in the league. They went on to lose only twice over the remaining 21 games, beating several of the "Big Four" teams along the way and maintaining the consistency needed from a championship-caliber team.
While their story may lack the slow-mo, buzzer-beating moments that American sports movies have, Leicester's title-winning season boasts more than enough magic to outshine every single one of them.
Their achievement wasn't just one playoff game, one series or one moment—it was an entire 38-game season.
A shadow of doubt loomed over each game they played, and doubters declaimed the story as just too good to be true right up until they lifted the trophy.
Leicester City's season is reminiscent of Bernie Sanders' campaign: disregarded, self-confident and without an inkling of when to give up. Though Bernie's fight is still ongoing, he could learn a thing or two from Leicester about how to beat the favorites.
In true underdog fashion, Leicester defeated teams with individual players more expensive than Leicester's entire starting team. One of the most notable financial discrepancies they faced was against a team they went unbeaten against during the season, Manchester City, whose starting squad is worth about $473 million compared to Leicester's bargain $32.5 million starting squad. (How about that for financial inequality Bernie?!)
From narrowly escaping relegation the season before to champions this season, the Leicester City story will go down as one of the greatest underdog stories in sports history, if not the greatest. The team who overcame 5000-to-1 odds of becoming champions did just that, and their Hollywood-worthy story is ready to be told.