The Worst Athlete-Turned-Musicians
From Clint Dempsey to the Golf Boys, good luck not cringing.
By Will Strecker, University of Texas at Austin
---
More often than not, professional and semi-professional athletes have made it to where they are for one reason: they've dedicated their lives to being incredibly good at one thing.
As a result, they are often astoundingly bad at most everything else. But for some reason, as long as there have been professional athletics, there have been professional athletes trying to parlay their sports fame into musical success.
Time and again though, they've proven through their resounding failures that success in sports rarely equates to success in the music industry. Aside from a very select group of multi-talented superhumans, most of them end up looking really stupid.
The smartest PR move an athlete-turned-musician can make is to immediately turn back, becoming an athlete-turned-musician-turned-athlete-again. But next to the double-reverse, the second best option for non dual-threat athletes is to acknowledge their mediocrity as musicians and use it to their advantage (see: Golf Boys). The third best option is to quit just as soon as they finally come to realize that they're not as talented as they'd thought—even though at that point they're really just covering the grenade.
That being said, I wish all the best to my fellow Longhorn Daje in his attempt to become the first successful athlete/musician hybrid of the 21st century. Now, without further adieu, I present six iconic athletes, five stories of abysmal failure and one clear message: athletes are not musicians.
1. Wayman Tisdale
On the Court
Let's start with a success story. The late power forward and jazz bass guitarist Wayman Tisdale is the shining example of an athlete-turned-musician. It wasn't until Tisdale was in 8th grade (when he learned to dunk) that he began to actually enjoy playing basketball. For Tisdale, music was his first love—he played bass guitar in his father's church growing up and continued playing guitar even as a top-tier recruit at Oklahoma University. While at OU, Tisdale was so devoted to his music that the basketball coach tailored the practice schedule around Tisdale's church duties.
He was named the Big Eight Conference Player of the Year three times, as well as to the first team AP-All-American squad his freshman, sophomore and junior years at OU, the first ever collegiate player to achieve this feat.
Other basketball accomplishments include playing on the 1984 Olympic team, being drafted second overall in 1985, holding OU Basketball's record for most points scored through his first two seasons and membership in the collegiate basketball hall of fame. Also, the collegiate award in basketball for best freshman player is named after Tisdale. He retired from the NBA in 1997 after a successful 12-year career in order to pursue his music career. 
In the Studio
Amazingly, Tisdale's music career was equally as successful as his basketball career. Over the course of thirteen years, Tisdale released eight albums, the fourth of which, titled Face to Face and released in 2001, climbed to the top spot on Billboard's list of contemporary jazz. The following year, he was awarded the Legacy Tribute Award by the Oklahoma Jazz Hall of Fame. Sadly, Tisdale was diagnosed with cancer in 2007 when a tumor was found in his knee, and died two years later in May of 2009.
Tisdale's story is an outlier—few can replicate the kind of success he had in both sports and music—and as such, his legacy should not be undervalued.
2. Shaquille O'Neal
 On the Court
Shaquille O'Neal is a unique case. An entrepreneur and multi-talented man, Shaq's done well to diversify his portfolio across several professional fields, not just basketball and music. However, his impact on the court and in the studio are, perhaps, the most monumental.
At 7'1" and 325 pounds, the Big Aristotle is one of the most massive players to ever grace the hardwood. He was the Rookie of the Year in 1993 and season MVP in 2000, in addition to a four-time NBA Champion, three-time NBA Finals MVP and 15-time All-Star team member. Say what you want about his Icy Hot commercials, but the man can play basketball.
In the Studio
Along with his Hall of Fame basketball career, Shaq managed to turn out a moderately successful music career as well, even if it was mostly because of his popularity from the NBA. His 1993 album Shaq Diesel, released under Jive Records, went platinum and still has a cult following. Three singles from the album, "Skillz," "What's Up Doc (Can We Rock)," and "I'm Outstanding" made it to the #35, #39 and #47 spots on Billboard's Top 100 chart. He's also appeared in 16 movies, 13 televisions shows, dabbled in real estate and business, earned multiple law enforcement titles and has an MBA. Clearly, basketball wasn't enough to satisfy the Big Shaqtus. 
3. Kobe Bryant
On the Court
Kobe Bryant, one of the greatest basketball players of all time, is a terrible musician. Bryant's status as a living legend in the NBA earns him a whopping $25 million a year (the highest in the NBA), where he has contributed to the team by sitting on the bench for the better part of the past three seasons. His rap career, on the other hand, has earned him nothing more than a few scattered paragraphs littered across the Internet.
In the Studio
Bryant began rapping at an early age and continued throughout his young adult life. It wasn't until his single "K.O.B.E." was released in January of 2000 that he began to doubt his musical prowess.
With the beautiful Tyra Banks on the hook, "K.O.B.E." was supposed to be the beginning of a promising career for Bryant—he had a record deal with Sony and planned to release his debut album, Visions, later that year. Unfortunately, after "K.O.B.E." was performed at the All-Star game that year, plans for his album were promptly abandoned, and Sony soon dropped him from their roster label.
After *trying* to listen to the single on YouTube, I understand fully why his career came to an abrupt halt. The lyrics were so generic, the production so weak and boring, that I couldn't finish it. Bryant dropped the mic after the "K.O.B.E." fiasco, and five years later, dropped 81 points against the Toronto Raptors. Coincidence? I think not.
4. Clint Dempsey
 On the Pitch
Typically, athletes that cross over into music hail from the "big three" of American sports: football, basketball or baseball, with an emphasis on the first two. Considering how rare it is for an athlete from a top-tier sport to make it in the world of music, it's almost unimaginable that an athlete from a fringe sport could make the transition.
Though soccer's popularity is nowhere near Big-3 status, it has risen a lot in the last decade, something for which Clint "Deuce" Dempsey is largely responsible. Oh, perdón, never heard of Dempsey's rap persona, Deuce? I hope the rock you've been living under since 2006 was comfortable, but now you need to know about Deuce.
In the Studio
Just before the advent of the World Cup, the Nacogdoches native and US Men's Team-Captain released the music video for his song "Don't Tread," featuring Houston rappers Big Hawk (a founding member of the famous Screwed Up Click, of which the oft-shout out to DJ Screw was a member) and XO.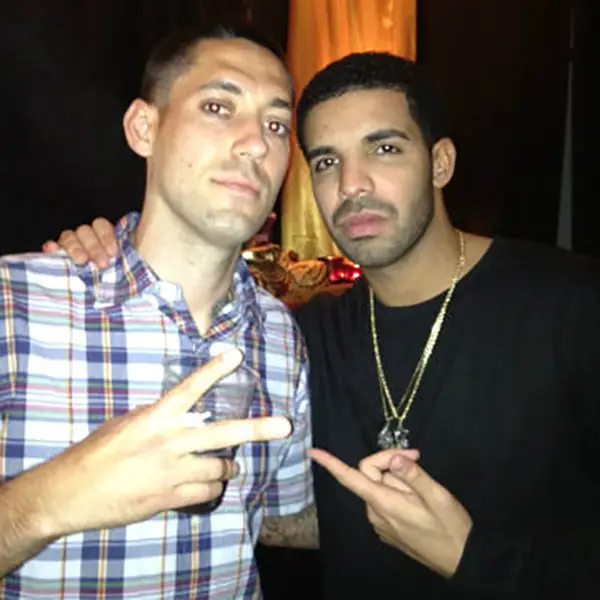 Though inspirational, the song itself isn't particularly good. The beat is reminiscent of classic Houston rap, and the underlying message is nice: with determination and hard work, your dreams can come true.
Because of his affiliation with Houston, Dempsey is an acknowledged well-known fan of hip-hop. Unfortunately though, his talents as an athlete don't really translate to the music realm. His flow is mediocre and his bars lean towards cheesy, but compared to "K.O.B.E.," Deuce could have won a Grammy. Watching the video, even his swag circa 2006 makes other rappers style at the time look … good? (Did I just say that?) One thing is for certain though, the man can ball on the pitch, and if anything, "Don't Tread" shows us that Clint "Deuce" Dempsey is a pretty cool guy.
5. Daje Johnson
 On the Field
Daje Johnson, wide receiver for the UT Longhorn's football team, is attempting to accomplish what many athlete/musicians haven't been able to do before him. Earlier this year, the electric playmaker and obvious genius released a song, "Dealer," in which he raps about selling weed.
Following the release, Coach Strong approached Johnson, asking him if he was still on the team, prompting a public apology from Johnson in order to keep his position.
In the Studio
More recently, he released three more tracks slated to appear on his much-hyped debut EP Unusual. From the four song sample size, it's apparent Daje's skill as a rapper does not parallel his skill as a football player. As a whole, his sound resembles Future and other Atlanta rappers, but without the precise lyricism, flow, production quality and creativity of professional rappers.
I wish I could say differently about one of my favorite UT football players, but I don't get paid to sugarcoat and favor my alma mater (actually, I don't get paid for this at all). In an attempt to get Daje to talk about his forthcoming EP, I was promptly ignored via Facebook message, likely so that he avoids any negative backlash from his coaching staff. Smart move, Daje, smart move.
6. The Golf Boys
 On the Green
Departing from serious attempts at making music, let's turn our attention to the PGA. Waaaaaay back in 2011, Bubba Watson, Ricky Fowler, Ben Crane and Hunter Mahan—at the time, rising stars in the PGA—joined forces to form a boy band/rap group they called the Golf Boys (not to be confused with Golf Wang).
In the Studio
Their first single "Oh Oh Oh," and its accompanying music video, were a viral hit. Though not particularly captivating musically, the video is entertaining to watch. None of the golfers display much of a knack for rap, spitting cheesy lines behind soft voices and mediocre flow. But despite their ineptitude as rappers, watching Watson dance around in nothing but a pair of overalls, Fowler dressed like a Native American biker, Mahan in a fur vest and leopard print pants and Crane in a skintight red wet suit is entertaining to say the least.
Golf Boys - Oh Oh Oh (Official Video)
And if one song isn't enough to quell your appetite, the four reunited in 2013 to embarrass themselves one more time in their sequel "2.Oh." The second attempt is just as ridiculous and hard to watch as the first. Although both songs, garnering nothing more than a few laughs and plenty of cringes, were made for charity, I don't advise any of the talented golfers to pursue a musical career any further than it's already gone.
7. Bubba Watson (Solo)
 In the Studio
For Fowler, Crane and Mahan, it appears as though "2.Oh" was the end of their rap careers, but Watson hasn't given up on the dream just yet. Since 2013, Bubba Watson has released one solo project and been featured on another.
In December of 2014, Watson unveiled "Bubbaclaus," the first attempt at a Golf Boys solo career. Honestly, I'm not sure what to make of the music video. Watching Bubba drive around in a golf cart/hovercraft, flailing around a candy cane and dancing with someone in a Gumby costume is as confusing as it is ridiculous.
His music is painful to listen to, as he sounds like the quintessential white guy trying to sound cool. Earlier this year, he again tried his hand at rapping, adding a guest verse on Christian rapper KB's song "Ima Just Do It." Once again, he displays his ineptitude at rapping and lack of creativity as a lyricist, talking about the same golf-related themes he raps about in each of his previous three attempts. Watson must really enjoy rapping, because otherwise he needs to quit while he's ahead. The two-time Masters champion needs to stick to what he's good at—the comedic effect of his raps only lasts so long.