On her debut album, "SweetSexySavage," Kehlani Parrish, the Oakland native and rising queen of R&B, pays homage to several R&B greats, including Aaliyah, Akon, TLC and others.
As she told The Fader, "Factually, hits intrigue me. As a songwriter, I break down a song's melody, hook, timing, patterns, wordplay…But now, I just focus on making what I make."
The artist works hard to perfect her craft and is a triple threat — dancer, singer and songwriter — which makes her unstoppable, a fact that her album, a work that embraces all aspects of her journey, musical and otherwise, testifies to.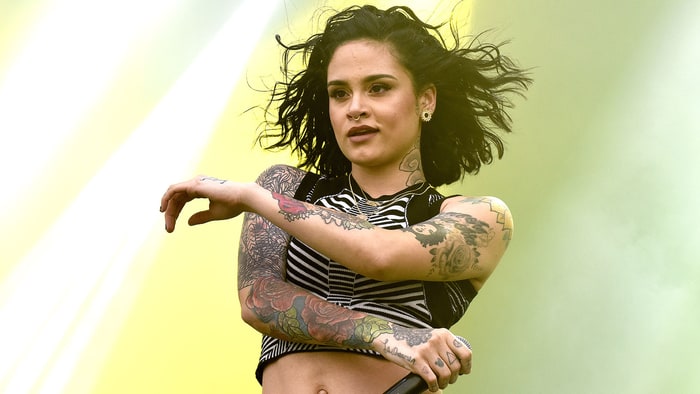 In "You Should Be Here," a mixtape that preceded her album, Kehlani showed her vulnerability in songs like "The Letter" and "You Should Be Here." In "The Letter," a song that highlights Kehlani's truth and the pain of her upbringing, the R&B artist reflects on her complicated relationship with her mother. Though Kehlani was raised by her aunt, her mother was in and out of her life, causing the young singer to question her self-worth.
"You Should Be Here," another emotional hit from her mixtape, is more introspective, as in it Kehlani reflects on the experience of growing emotionally distant from her significant other. The music is soulful and honest, and every line is genuine. The "You Should Be Here" mixtape was a great indication of the artist Kehlani could be, and as a result was recognized by a Grammy nomination; in "SweetSexySavage" though, she takes it to another level.
Of the 18-song album, "Distraction" is easily the sexiest inclusion. With a sultry video in honor of Destiny's Child's "Say My Name," and featuring lyrics like "So I need you with me / To keep me right and keep me up all night," "Distraction" is perfect for a night of fun, flirting with your boo, or, as the chorus suggests, just a "friend" for the night, willing to be your distraction.
In "Escape," the sweetest work on the album, Kehlani sings about a realistic love, one in which she doesn't want to hold the person back; on it, her lyrics are shy and honest. Kehlani grapples with wanting someone but feeling unworthy of their love, and listeners can empathize with her inner push and pull, as she tries to decide between doing the right thing and doing what her heart wants.
Finally, the most savage song is a three-way tie between "CRZY," "Do U Dirty" and "Personal." In "Personal," she croons: "They sleeping on me / But I don't waste my time / tryna prove that I'm something to see." Kehlani's self-confident, IDGAF attitude shines through in a classy way; she refuses to let anyone bring her down from the positive place she has found in her life.
"Do U Dirty" has a similar vibe. Kehlani sings, "You liked it when I used to leave a wound / And promise I would come and kiss it / I fed you lies and you just ate 'em up." She is savage as ever, not promising to take care of a man, but instead focusing on herself.
Finally, "CRZY," one of her first singles from the album, sets the stage for her savage aspects. "CRZY" is a song for a boss, and the music video, which features alternating scenes of a birthday celebration and dance routine, personifies the song's status as a perfect Friday night turn-up number, custom-made for dancing around someone's living room with three of your best friends. No one can resist tapping their feet and doing some version of the Harlem Shake to the song's amazing, up-tempo beat.
Without a doubt though, the most profound moment of "SweetSexySavage" is "Intro." Though listeners would be tempted to breeze through the opening verses, Kehlani begins empowering listeners as soon as they press play.
Reyna Biddy does spoken word on the one-minute introduction, and every word is amazing, featuring phrases like: "And I'm sorry you missed the light / I'm sorry you forgot the way I arose like the moon," and "I've practiced how to hold my tongue long enough / I'm afraid I forgot to say goodbye / I'm afraid you're under the impression / That I was made to please you."
In the context of The Women's March and other political events, Reyna's voice is a ray of sunshine in today's dark times. Women—black, white and all other colors—need to hear "Intro" for strength and validation. At a time in which women are starting to tear down patriarchal ideologies, every woman deserves to be "a superwoman," "an angry woman" and "a crazy woman," because the female experience is just as valid as the male.
It is clear that Kehlani put her heart, soul and mind into her debut album, and her ability to persevere in the midst of adversity makes her a role model for anyone considered an outcast. In a Fader interview, Kehlani discusses her insecurities and tells the story of getting tattoos because she disliked her body.
"SweetSexySavage" is for the insecure, lost or coming-of-age listener, emotional states with which many students are familiar. If you are feeling insecure, listen to "Piece of Mind" to let go of all your worries; if you don't know how to get out of a rough relationship, listen to "Advice." Because the artist is so transparent, every track can have significance for a young listener.
Kehlani is a new version of R&B, taking the traditionally soulful lyrics and connecting them to contemporary issues, like female empowerment, and in doing so, she finds a new way to reward the listener. She has created a new form of R&B, a form born of her extraordinary personality and harrowing personal journey.