Oh, Kawhi, where do I begin? As a fellow Spurs fan, I have seen the young superstar grow as a player since the Spurs selected him as the 15th overall pick in the 2011 draft. After being named MVP in the 2014 finals for bringing San Antonio a much-needed championship, it became clear Kawhi Leonard would take the reins from Tim Duncan.
After Duncan's retirement in 2016, Leonard accepted the destined responsibility to lead the team to a sixth championship. His career with the Spurs laid the foundation for his impressive resume, with only room to grow after playing alongside legends.
Since his start with the franchise, he has claimed Defensive Player of the Year consecutively and has appeared in two All-Star games to date. So why all the sudden speculation of a departure from the franchise recently?
Leonard suffered an injury to his right quadricep in pre-season that has yet to heal in a timely manner. This is reminiscent of when Tony Parker faced the same injury just last season. Leonard has chosen to pursue rehab in New York to get back on the court, but the once soft-spoken player has seemed to go rogue, creating a silence that will lead to the inevitable outcome of seeking a future with another franchise.
This season, Leonard appeared in only nine games. If you compare the Spurs 2017 – 2018 season to their past records, you'll find that the team struggled to regain fluidity on the court without Leonard on the lineup.
The Spurs ended their season ranked No. 7 in the Western Conference and after falling short to Golden State in round one of playoffs, it's no doubt that the team struggled to put up against teams they consistently dominate.
I could go on about the list of obstacles the team has faced this season, but Leonard's absence seems to taint the Spurs' reputation of avoiding controversy. This red flag on the team's character not only jeopardizes the performance of these athletes but can also have the potential to ruin future contracts with the remaining roster.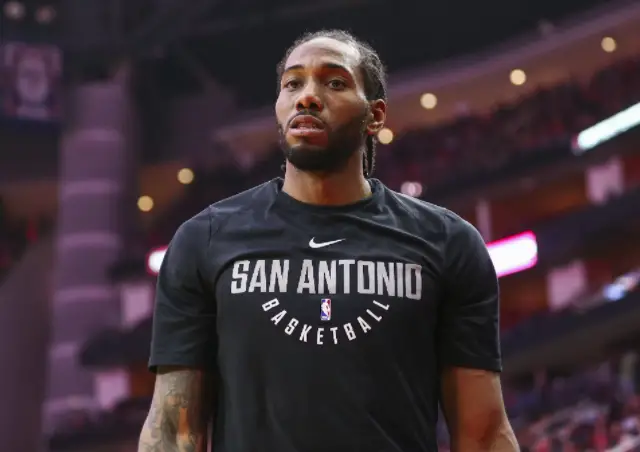 Locker Room Friction
In addition to Leonard's quadricep, his relationship with his team will need rehab if there's any chance of him suiting up in a black and silver jersey next season. It's no secret that the key to success is always communication; the lack thereof has appeared to have caused friction with teammates.
As tensions built behind the scenes, Spurs vet, Tony Parker, took a subtle shot at Leonard when asked about his own injury. "I could've gone anywhere, but I trust my Spurs doctors," Parker said. "They have been with me my whole career … I didn't take two weeks to go through options. For me, it was a no-brainer because I feel like we have the best medical team in the world."
The strain hasn't just affected Leonard's teammates either. Head coach, Greg Popovich has only addressed his conditions and rumors in vague statements.
"I don't know when [him and his group are] going to feel like they're ready to go," Popovich said. "If I knew, he'd be here. So, when he and his group feel he's ready, then he'll be ready." Although Pop's silence wouldn't normally surprise me, his recent participation in topics other than basketball leave me questioning if maybe Kawhi has distanced himself from Pop too.
Although it has been denied, locker room friction remains evident and though I respect Leonard's effort to put his health first, he doesn't seem to realize that his lack of participation with his team injures their season as well.
Superstar Seeks Supermax Money
As always, every athlete, whether they admit it or not, prioritizes their money and contracts. Leonard's current contract with the Spurs includes a five-year, $90 million deal.
However, contingent upon an extension this summer, Leonard will become eligible for a five-year supermax contract that will exceed $200 million. That's a large sum of money for a 26-year-old who once tried to avoid the spotlight being branded as soft-spoken and humble.
The Spurs aren't going to just hand Leonard the money up front; Leonard's supermax contract depends on his actions to obey the team's medical staff. If there's one thing he's made clear, it's that the medical staff doesn't know his body well enough to treat his injury. I wouldn't doubt it if the franchise begins to question if his health will deteriorate or if he's riding the bench by choice after being cleared by Spurs' doctors.
If Leonard's integrity remains a topic of discussion, San Antonio has the opportunity to trade him in pursuit of different talent as Parker and Manu Ginoboli approach retirement. Leonard will be a free agent in 2019; while San Antonio fans hold a soft spot for him, his actions appear to sway more towards a departure.
San Antonio would enter another period of rebuilding if Leonard decides to entertain offers from other teams. It almost appears that Leonard's camp could be using his new controversy to form a trade deal with a larger market.
Maybe he's picking up a few tips from LeBron; after gaining some experience on the court, he has realized he's one of the most elite athletes in the league. This could explain why he also walked away from endorsements, such as Nike and Jordan, because he didn't feel the $20 million contract valued his NBA champ worth.
However, I'm not saying Leonard has always chased the money. In fact, he resigned with the Spurs in 2014 after being named MVP with no increase in contract so that the team could afford to bring in more talent like LaMarcus Aldridge. That's selfless, right? Don't get me wrong; if I were in his shoes, I'd want money too. But seriously, where's the Leonard that put his team first?
Last Plea of Loyalty
What ultimately has led me to believe Leonard will definitely leave the countdown city arose when he responded to a reporter's question when asked if he'd finish his career as a Spur. "For sure," Leonard stated.
Let's face the facts here: any time an athlete pledges their allegiance to their team for their whole career, it usually signals a near departure. Over the past few years, this theory has proven itself with stars such as Paul George and the Pacers, DeMarcus Cousins and the Kings and, soon enough, LeBron James, as he has the option to stay in his hometown as he nears free agency.
It might be quick to make an assumption here, but Leonard has yet to put his foot down on the rumors about leaving the Spurs. His questionable sincerity in his statement about his future with the team has left his fans and the franchise on edge. If I have learned anything from sports, it's that loyalty means little to nothing when an ego blurs your vision.
Leonard might have entered the NBA quietly, but with the levels of frustration rising, there's no chance of him leaving the Spurs roster without making some noise. This season has seemed to drag on; it'd be a shame to further disappoint fans to not have the No. 2 jersey hung over the AT&T center amongst other legends such as David Robinson. But hey, in the NBA, everything comes down to business.