Everyone remembers "Friends," "Sex and the City" and "How I Met Your Mother." But in the midst of those iconic TV shows there was also "Will & Grace," a show about two gay men and their two straight hags that took current, real life topics and made them relatable and funny. With its 8-season run in the late 90s and early aughts, the show was a solid hit, gaining nominations and wins in a variety of award circuits, from the Golden Globes to the Primetime Emmys.
Starring Eric McCormack as Will Truman, a gay and uptight lawyer, and Debra Messing as Grace Adler, a neurotic, Jewish interior designer, "Will & Grace" took network TV by storm, demanding a seat at the table fit for a queen. Joining the duo and sometimes stealing the show were their freewheeling friends, flamboyant actor Jack McFarland and millionaire socialite Karen Walker, played by Sean Hayes and Megan Mullally.
"Will & Grace" didn't come without its own set of problems. As a sitcom with episodes required to fit into a 30-minute time slot (including commercials), it often heavily relied on tropes to get laughs or quickly set up a situation. To this day, there are questions as to whether or not "Will & Grace" helped to normalize gay people in society or caused more harm than good for the LBGTQIA community. Even so, Vice-President Joe Biden credited "Will & Grace" as part of the growing acceptance of gay and lesbian people on NBC's "Meet the Press" (though research and polls suggest that it was inevitable anyway). The Smithsonian has added LGBT items to its museum collection, including pieces from "Will & Grace."
The show, had it continued its run on broadcast television or moved to Netflix, would not be amiss in today's culture. Just as current events often become memes, so "Will & Grace" used topical subjects as punchlines or episodes, treating both serious and trivial themes with equal measures of gravity and frivolity.
In S6E19 "No Sex 'N' the City," Karen and Jack face the impending doom of several long-running shows coming to an end. Have you ever marathoned an entire show on Netflix, only to come out of it confused and adrift without those characters? 2004 was a tough year for anyone attached to "Frasier," "Friends" and "Sex and the City," and the show was well aware of it.
Before the Supreme Court ruling declaring same-sex marriage legal, "Will & Grace" S2E14 "Acting Out" focused on the way network television treats homosexuality. Jack is outraged that one of his favorite shows did not show a first kiss between two gay men, while Will and Grace are resigned to the fact. Shows and movies have depicted gay and lesbian relationships prior to this episode, but "Acting Out" focused on media representation. Jack, a gay man, points out that there is "a clear message that the way I live my life is offensive."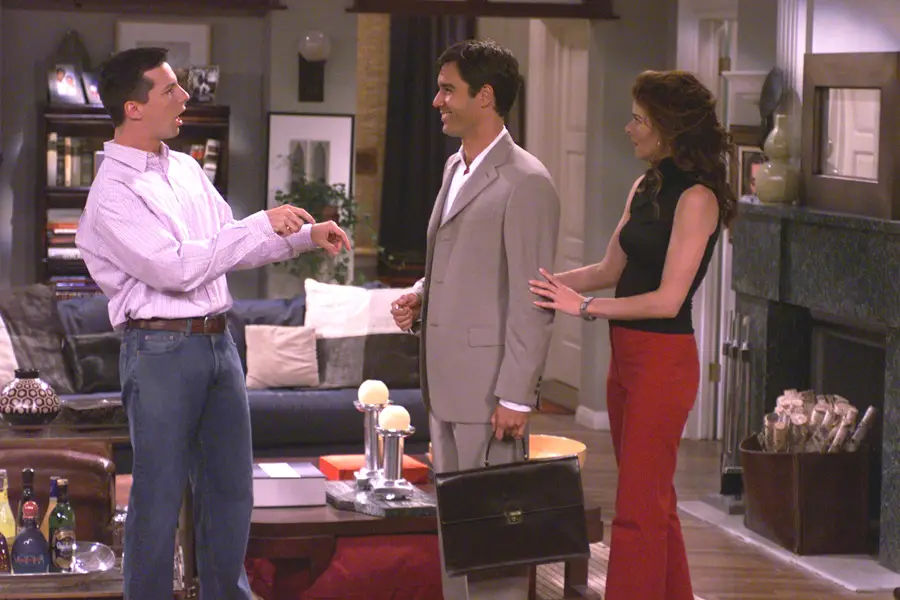 That episode had a cameo by Al Roker of NBC's "Today," and he wasn't the only celebrity to guest star. Matt Lauer and Katie Couric of "Today" wound up on the show as well, all in different episodes. The cameo list is long, including Kevin Bacon, Cher, James Earl Jones and Elton John.
It wasn't just cameos, either. Celebrities also came on as actors, occasionally making a series of guest appearances as a character. Harry Connick, Jr. played Leo Marcus, Grace's husband, periodically appearing throughout the last four seasons. Madonna, rather than doing a cameo as herself, played Liz opposite of Mullally's Karen Walker in S5E11 "Dolls and Dolls." And while everyone remembers Britney Spears' role of Abby in "How I Met Your Mother," she actually made her TV acting debut in "Will & Grace" as Amber-Louise in S8E18 "Buy, Buy Baby."
"Will & Grace" has also made politics the central theme of an episode, deftly pivoting the approach to the subject into a humorous warning and encouragement toward voting at all levels of government. In S4E8 "Star-Spangled Banter," Will and Grace face off about mayoral candidates who appeal to their specific demographics without considering the policies they present. Will supports the gay candidate while Grace, who is Jewish, gravitates toward the Jewish candidate.
Barack Obama also got a call-out in S7E10 "Queens for a Day: Part 1," when Grace, feeling sex-deprived, tells Karen and Jack about a dream starring Obama. This particular episode first aired on November 24th, 2004, several months after then-U.S. Senate Candidate for Illinois Barack Obama delivered the keynote address at the 2004 Democratic National Convention. The awareness of the showrunners proved fortuitous for the show, beating other sitcoms to the first punchline for the future President of the United States.
Though the show has been off the air for 10 years, the cast began teasing a reunion episode in the week leading up to the first Presidential Debate between Donald Trump and Hilary Clinton on September 26th. Just hours before the debate started, a 10-minute webisode dropped on YouTube via the account Vote Honey. The timing was impeccable and advocated voting, taking turns to poke fun at each Presidential candidate. If the show were still on the air today, this new episode would not have gone amiss in the line-up.
**Spoiler Warning** (But come on, it's been 10 years.)
Many are supposing this was a one-off reunion, but there is some speculation that there may be more to come. However, a return to regular programming may be hard to pull off. The series finale leaps to several points in the future after Will and Grace have a falling out. It is only when their children meet in college that Will and Grace rekindle their friendship. After jumping 18 years into the future, even if a "Will & Grace" reunion series were to be made, the show would require some retconning of the finale, or a pivot of its focus to their children, a la "Girl Meets World" or "Fuller House." The children would be roughly the same age that Will and Grace where when the show started in 1998, which could potentially prove interesting.
And yet, Will, Grace, Jack and Karen would be a welcome voice in today's pop media culture. Their treatment of social media, memes and reality celebrities would be just as unique as it was back in the day. If you're feeling nostalgic, "Will & Grace" can be found in single seasons or box sets, with reruns on the cable channel WE. Alas, it has yet to be made available for streaming anywhere. Perhaps, if there is to be a reunion series, we may yet get it on our favorite streaming sites.