Long Live Morning Radio
Though never a radio show enthusiast in my life, I would recommend anyone, especially students, check out Elvis Duran.
By Lindsey Davis, Iowa State University
---
Every morning, I stumble out of bed, brew a cup of joe and groggily head out the door.
The commute to my summer job takes me about a half hour to 45 minutes depending on how fast I feel like driving. In order to avoid falling asleep and pump me up for the day ahead, it's absolutely necessary that I listen to something entertaining. I tried listening to pop-music Spotify playlists for a while, but ultimately I got burned out of hearing the highly repetitive songs.
One day a few weeks ago, I stumbled upon Elvis Duran and the Morning Show airing on a local radio station. I don't remember exactly what the cast was talking about at that moment, but the uproarious laughter emanating from my car's speakers was enough to capture and hold my attention. Ever since then, I've been hooked.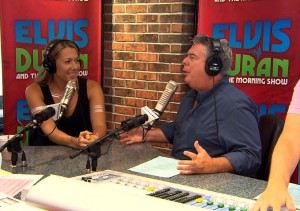 The combination of scandalous, obscure topics and hilarious antics do their job to wake me up each morning and ensure that I won't dread the work day ahead of me. I never thought that I would dread hearing a song come on the radio until I realized the entertainment value that a high-quality talk radio show could yield.
Elvis Duran and the Morning Show is a syndicated weekday radio show that can be found on local radio stations across the country. Need help finding out if a station in your area hosts the show? The Morning Show's website has a feature where you can search your state and it will tell you what local stations air the show.
The production is live every morning from 6am to 10am EST.  Even if your area doesn't have a station hosting the morning program, you can listen for free on iHeartRadio, an internet site airing a wide variety of radio stations and radio programs on demand. The convenient thing about the site is that even if you can't catch Elvis in the morning, you can listen to the show at any time with iHeartRadio. Even if you're not a morning commuter, the topics touched on and the foolery that ensues are relevant no matter what time you dial up the show.
I've never been a huge talk-radio type of gal, mainly because I never found one of even decent value. I'd spend my whole commute scanning radio stations until I found one without voices droning on, opting for an overplayed pop song instead. Why would I listen to an ensemble of people talk about irrelevant, boring topics that I simply could not relate to? Elvis Duran and the Morning Show is the first radio program that I can even bear to listen to without cringing in anguish.
I'll go as far to say that this program is perfect for any target market (besides children—definitely not child appropriate).
Each morning, the cast surprises me with unique, trendy topics that never fail to hold my attention for the duration of my trip. For example, the other morning I was listening and the discussion of the hour was taking time for yourself and silencing everything going on around you for a while. This is something I not only wanted to hear about, but something I needed to hear about.
I don't think many radio morning programs talk about personal topics or the mental state of well being. I feel as if a majority of radio discussions just involve current events or fluff to fill the gap in between songs. The Morning Show is a blissful mixture of talking points, ranging from how to improve your life to the "real" reason Calvin Harris and Taylor Swift broke up.
Not only are the discussions fabulous and fun to listen to, but the pranks are just as amusing. Each day, the show produces a Phone Tap—a prank call to friends or relatives of a listener who wants to pull a fast one on their loved one. It never fails that the person receiving the prank phone call becomes enraged and lashes out at the caller.
One woman became livid when she thought she had to pay more for her new car, another threw a fit when he was told his wedding was being moved to a hallway. Though at first I cringe when these innocent people blow up in a fit of anger, I always end up laughing along with them. The phone taps are pre-recorded too, so each person pranked has to consent to the airing of the phone call.
Another favorite of mine is when the show hosts a celebrity interview. If a musician comes into the studio, they play a couple of songs and then are interviewed. Yet, it's not only musicians who are invited to come in. Recent interviewees include Andy Samberg, Shawn Mendes and HGTV's "The Property Brothers."

There's something different about just listening to a famous person get interviewed, as opposed to watching them talk say on TV or YouTube. My personal favorite was when Ryan Tedder, lead singer of OneRepublic, was on the show. I learned that one of my favorite musicians was actually an incredibly talented and popular songwriter as well. He's written songs for Adel and Selena Gomez alike, plus many, many more. I loved getting to hear his insight and background on the meanings of a lot of the songs he's written. Had I not been listening to Elvis Duran and the Morning Show, I probably never would have listened to such a cool interview.
The radio show helps keep me up to date with current events and trends, just like I'm sure a lot of radio programs would. Yet, they deliver the information is such a unique format, unlike any other talk show I've listened to. The cast is funny, says exactly what's on their mind (censors be damned) and are unafraid to laugh at the expense of their counterparts.
Their content is fresh and I never fail to learn something new, whether it be obscure and incredibly relevant. I'm already thinking about finding a full-time career in the future that allows me to commute, solely so that I can continue to wake up to Elvis Duran and the Morning Show. Well, that's very untrue because gas money, but that's just how amazing and life improving I think this radio program is. Take a listen for yourself.