With nearly endless content for users to scroll through, Instagram's Discover feature can be pretty addictive.
Determined by what users have liked and looked at, the section often consists of foodpron, fitness motivation, small furry animals, friends of friends, celebrities, memes galore and, a staple element of Instagram, big booty models.
Of all the content that appears in Discover, the big booty model is perhaps the most unexpected. Instagram's big booty models are in a league of their own.
The big booty models of Instagram live all over the world, though many of the most popular ones hail from the U.S., Brazil, Colombia and the Dominican Republic.
The existence of the big booty Instagram model prompts many questions, namely: Are the nature of big booty accounts the product of empowerment, objectification or both?
Famous posteriors have always been a topic of conversation in celebrity magazines and often an object of lighthearted jokes.
Shortly after "Keeping Up With the Kardashians" aired, the media gave endless not-so-lighthearted attention to Kim Kardashian's butt, and Paris Hilton infamously compared it to "cottage cheese…in a trash bag." Now, with Kardashian's more established presence, the press has, more or less, let her be.
As a result, stars like Nicki Minaj and Kim Kardashian have gradually helped catapult big booties into the spotlight. That many celebrities today have large butts lets fans know that wafer-thin bodies aren't the only beautiful bodies, a message the fashion industry has taken decades to come back around to. Indeed, body-positive culture is on the up and up.
The hot topic now is no longer J. Lo's butt on the red carpet, but the fact that people are now surgically enhancing their butts. The procedure saw a 36 percent growth rate between 2015 and 2016.
The booty has become a source of pride and an object of desire, for men and women alike, and it's getting more attention on social media than ever before, especially on Instagram. With increasing support for the big booty, beautiful, curvaceous women worldwide have created accounts dedicated to sharing photos of themselves and their booties.
Many big booty accounts follow a clear progression. Personal Instagrams slowly become more public, less geared to a small circle of friends and family, and eventually #instafamous.
When an account hits a certain number of followers, it's only natural that companies reach out and ask users to promote their products, which for big booty models entail bright, revealing dresses, rompers and swimsuits.
The swimsuit itself has spawned a genre within the big booty community: beachside and poolside content. A big booty model might sit poolside, you see a face smiling at the camera and some chest, and then the video cuts to the booty. In the poolside shots, there is an undeniable cinematographic quality: The sun is always shining, the water glistening, the booty jiggling.
The video feature of Instagram turns big booty models into low-key actors and perhaps low-key adult film stars. The material is sensual and extremely easy to access; any child could accidentally stumble upon a big booty account through the Discover page.
But is the content of a big booty Instagram account erotic, empowering or both?
The response is difficult.
Some signs suggest that the nature of the big booty account empowers women. After all, many of the accounts accept submissions from followers and feature other big booty accounts in their feed. A network of big booty women on social media exists; they promote other beautiful women, creating a sense of digital solidarity.
Other times, the homegrown models post photos of their children, with heartfelt captions, reminding fans that they are mothers, wives and, above all, people.
Most models also almost always make sure to show their faces.
Signs of solidarity and empowerment aside, it's impossible to meditate on big booty Instagram models without taking the male spectator into account. Many followers of big booty accounts are men. Whether male followers interact respectfully with big booty content lies in the comment section of any photo.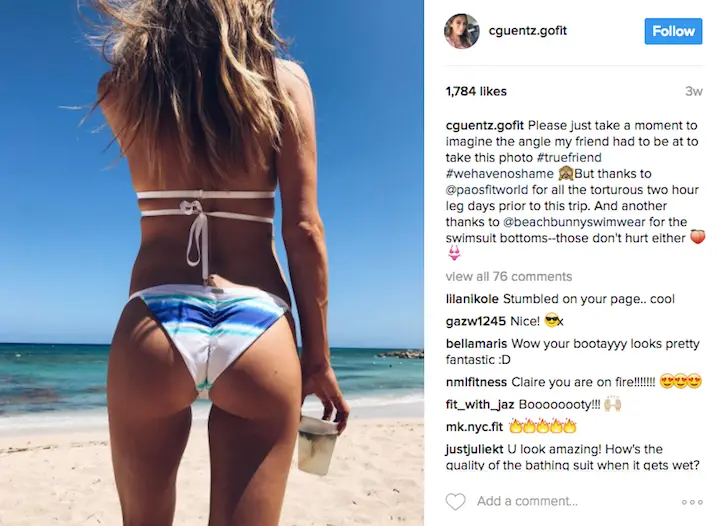 Considering that many big booty models are women of color, it's impossible to ignore the intersectionality of these identities. On public platforms like Instagram, the fetishization, objectification and sometimes blatant hating on curvaceous women of color plays out in the comments section. Many followers comment in broken Spanish or say things like, "Ay mamiiiii." On Instagram, these comments are seemingly nonthreatening, but in real life, they take the form of unwanted catcalls.
Comments, just like catcalls, can be far from innocent, but policing obscenities in the comments section is tiring. Big booty models should be free to post what they please, especially if it makes them feel beautiful. But in the modern commodification of the booty, it's important to stay vigilant and uphold respect towards women. That booty may be a beauty, but it's also attached to a person.