The Realities of Trekking Through a Foreign Country
Hiking through the Continent can be culturally and personally rewarding—just make sure you've planned for the worst. 
By Josephine Werni, University of Minnesota
---
Backpacking around Europe is undoubtedly an incredible experience.
Travailing through the Continent is the type of trip that many people make a top spot for on their bucket lists. However, there are many not-so-romantic parts of these dreamy Eurotrips that are seldom discussed, such as how it feels to wear all of your clothes at the same time for five days because of the cold, or what you should do when your traveling partner's credit card is hacked the night before departure.
So, based off of my own experiences traveling around Italy and Greece, here are several things to consider before embarking on a European backpacking adventure.
With Money, Expect the Unexpected
The night before my friend and I left for our backpacking trip, Rachel, my traveling buddy, and I cozied up with some popcorn and watched the movie "Mama Mia."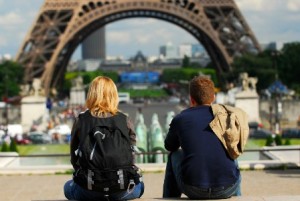 We were trying to get hyped for the trip, which included several days on the picturesque Greek island of Santorini. We were both so excited that we could barely stand it, but there was a sense of uneasy tension lurking beneath our exhilaration. We had a good reason to be more than a bit anxious.
That morning, Rachel had tried to withdraw some extra cash before we left and was denied at the ATM. She investigated and found that her only card had been hacked and then promptly cancelled by the bank after they noticed suspicious activity. The "suspicious activity" turned out to be nearly $1,000 worth of video game purchases on Amazon and Ebay. She would get her money and card back fortunately, but not until the end of the trip.
The card mishap meant that I would need to financially support both of us on the trip, which proved to be interesting as I had saved up only a little more than enough to support myself. In short, if we messed up at any point, I definitely would not have been able to afford extra plane tickets out for both of us. It became absolutely necessary to make every single one of our scheduled flights and bus, ferry and train rides. There was no room for error. We were very lucky in that we managed to make the whole ten days without committing an expensive mistake that would have left us stranded, but boy did we have some close calls.
That said, although backpacking may appear to be the cost effective way to travel a continent, that doesn't mean you shouldn't still build up a decent financial cushion before you leave. Though extremely common, by simply saving in advance and being careful with any cards you may have, money troubles are one of the easiest things to prevent.
Mind the Backpacks
Although Rachel and I were occasionally able to ditch our backpacks for the day if there was a safe space available, they were almost always fastened to our bodies as we moseyed from place to place.
There were several days when we'd check out of a hostel in the morning and then not check in to another until later that night, meaning we'd need to carry everything with us throughout the day. Other times, we would be staying in a public hostel room and feel uncomfortable leaving our belongings unattended.
One day, Rachel and I walked almost 14 miles all over Rome in the rising spring heat, and by the end of it, we felt as though the damp, biting straps of our packs had simply fused with our knotted shoulder muscles. In addition to the physical discomfort that carrying a backpack presents, wearing one will also mark you as a tourist and therefore a target for pickpocketing.
Use (Rain) Protection
As the Mediterranean had an abnormally precipitous week and I had forwent a rain jacket in order to save space, I don't think it's necessary to explain why I'm including this on the list.
Don't Rely on Others
One common romantic idea about backpacking across Europe is that you will meet and befriend countless charitable, fascinating locals from your various destinations, who will joyfully divulge all sorts of inside tips, tricks and advice to aid you in your adventures. While many people you may meet will be more than happy to give you a hand, there are always some who won't be.
Rachel and I experienced the animosity of strangers firsthand when we arrived at the Athens airport sometime past midnight, and realized that we had no idea how close we were to our hostel or how to get there. We found one of the only airport employees still hanging around at this time of night and asked what we could do. "You can get help at the Information Desk" the woman said dismissively, waving to said Information Desk, which was about ten feet away and was clearly closed for the night.
We ended up paying a 100-euro taxi flat rate to get to our hostel, which turned out to be less than 20 minutes away.
Later, in Santorini, instead of explaining the island's incredibly wonky bus system to Rachel and me, the local man we met got absolutely plastered in an amazingly short amount time and kept trying to sniff my hair when he thought I wasn't paying attention. Moral of the story: Accept advice when it's offered, but don't rely on it.
Although backpacking may be misleadingly romanticized, there is good reason for its character-building reputation. I don't think I've ever learned so much and experienced so may new things in such a short amount of time in my life.
By being as prepared and realistic as possible, you can ensure that your trip will be memorable (in a good way), rather than scary and stressful. Backpacking across Europe is an experience that may be confusing, uncomfortable and frightening at times, but it is one that you will never forget and never regret trying.