Finding its way onto your dinner table and in your hair, avocados, with their high healthy fat content, are all the rage among millennials today. With over a 600 percent increase in the last three years alone and in the number of people identifying themselves as vegan in the United States, avocados are not leaving the fruit stands any time soon.
You may have thought avocados could only do one thing right: quiet your partner who nags you to balance your diet with something healthy with all that bacon and cheese on your bacon grilled-cheese sandwich. Rookie mistake.
They're more talented than that, child. Avocados have now made it to the big leagues as ring boxes, or avo boxes, in the marriage proposal: avoproposals. Well done, green team, well done.
Replacing your pompous look-at-how-sophisticated-I-look velvet boxes, avo boxes say in a very Rodney King-esque way "Why can't we all just get along?" and drink and be merry.
All you need to do — besides find someone to propose to — is take a fairly ripe looking avocado, slice it in half, remove the pit, insert the ring et voilà: there you have it, just your average Joe Blow avocado transformed into a Class A avo box.
While the majority of undergrads are just happy to be able to afford access codes for homework, for the 15 percent of American college and university students who will marry their college sweethearts, it may be time to consider a more modern spin on a traditional convention as old as time.
Here is the good, the bad and the ugly of the avoprosal you should definitely be aware of before proposing to your future life partner.
The Good
If you have a way with words, work avocado puns (sparingly) into your proposal repertoire. Phrases such as "grow old with this unripe avocado" or "You're the only avocado I want to spend my life with" or, my personal favorite, "Marry me and make me the happiest avocado on the fruit stand" will serve to placate your partner if only momentarily.
Being able to make a traditionally solemn moment lighter will show your partner that even during life's serious moments, a little humor and laughter work to enrich a moment, rather than diminish its quality.
Warning: Do not overuse the avocado puns. Because the mere presence of the avo box instead of the traditional ring box already shifts the dynamic from one of fervent sincerity to lighthearted vulnerability, one or two avocado puns should do the trick. Your level of earnestness should far outweigh the levity of the avoprosal.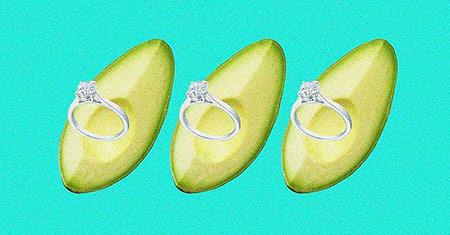 The avoprosal also gives you the freedom to personalize the marriage proposal. If your partner identifies as a vegan, they would likely appreciate this type of proposal as it's a courteous nod to their lifestyle choices.
Or maybe by some chance like Randy Gonzalez, an early adopter of this trend, the avocado brought you two together in the first place. Gonzalez proposed to his future wife-to-be, Kim Tyler, using an avocado as a way to honor their first moments together in which his future wife had never tried an avocado before and he convinced her to try one.
For him it wasn't a statement of veganism per se, but, instead, a nod to how he and Tyler first met.
Personalizing your proposal by taking your future life partner back to the place you first met, if possible, is one of the best ways to show you've thought about how you would propose. If you met your partner at a smoothie bar, put the avo box beside your smoothies when you order.
Say you met in line at college while waiting to buy your textbooks, you should take your partner back to the same store and propose close to the textbooks. Maybe you met at a no-pants party in college: use your own discretion and please, for the love of God, have fun with that one. Whatever it is, handling your proposal with care will make the moment that much more special.
The Bad
An avoprosal presents some difficulty in terms of the locale of the proposal itself. For example, you may have difficulty proposing at a grocery store next to the avocado stand, if that's where the two of you met, because it may look like you stole the avocado and, of course, you'll be making the other avocados green with envy that they were not the chosen ones for the purpose.
It'll probably be better off avoiding such places for the proposal, but if you must propose there, the trick is notifying staff of your intentions and picking a worthy-looking avocado for the moment.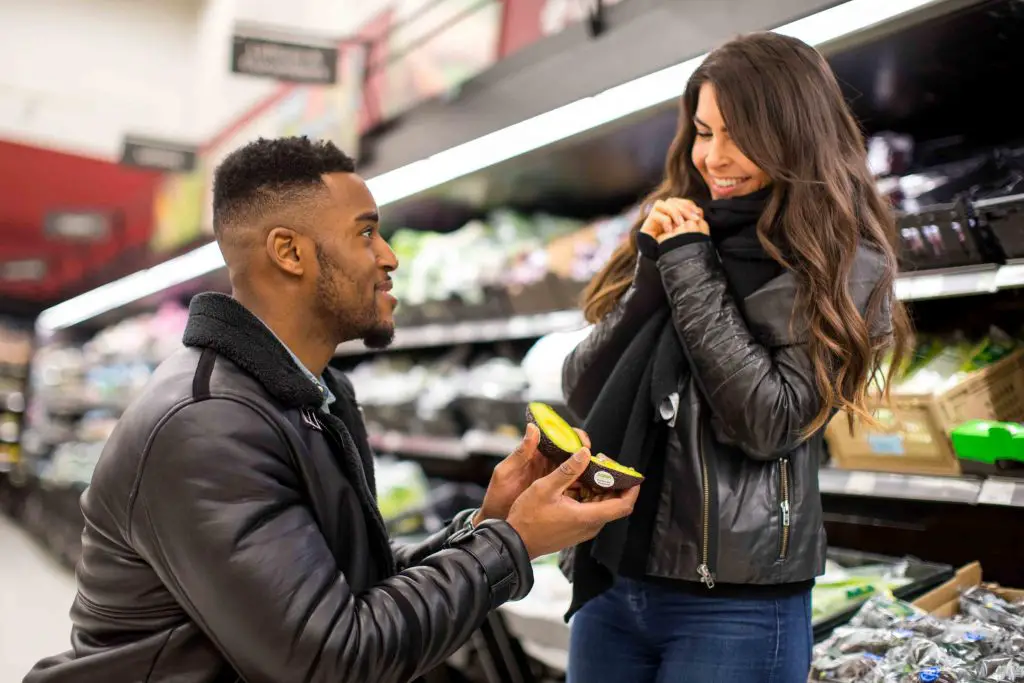 Because you'd be using a non-traditional ring box in the avoprosal, it may be easier to forget the avo box, entirely, at home. Let's say you planned a romantic getaway to Lookout Point Lakeside Inn in Arkansas and forgot the avo box with the ring inside at your place.
Don't panic; call a true friend (no, that doesn't mean that fake friend who will sabotage you and bring you an orange instead), your brother or sister or even your regular Uber driver to go to your place to pick it up.
To avoid this mishap entirely, set a reminder on your phone for the occasion and be sure that the avocado and ring are some of the first things you pack on a romantic getaway trip.
The Ugly
Since avocados tend to brown quickly when exposed to air, don't wait too long to propose to your better half. Nothing says "for better or for worse" better than a slow-rotting avocado; you may want to put the brakes on anything referring to old age before things get too real.
To avoid this avo decay situation, make sure your proposal is one of the first things you do when you take your sweet pea out somewhere nice for the occasion. If you happen to get lost in conversation with your partner and forget to propose, pack an extra avocado and be prepared to transform the avocado into an avo box.
In addition to the extra avocado, pack a lemon to squeeze overtop the avo box if it starts to brown — lemon juice usually restores the color back to browning fruits. If that doesn't work, just throw in an avocado pun and don't take the accident too seriously: If you must present a rotting avocado to your future life partner, go out with flair.
Unless you want your partner to wipe off little green bits of avocado slime from the ring you bought them, don't put the ring in the avo box naked in its glory. Instead, consider wrapping it up in saran wrap or even put sticky tac inside and stick the ring in the tac.
At the end of the day, it's not the way you propose to your partner that actually matters; instead, it's more important that you know what you have with the person you're about to propose to. You should know your partner well enough that you know which kind of proposal they would love and which they would love less.
Whether you're proposing with an avo box, a wooden box or your grandma's P.O. box, if your partner loves you with all their heart, they'll say yes to you, not the proposal.