The advent of sport, if nothing else, is pure, unadulterated theatre.
Die-hard fans feast on the feel-good stories of the meteoric rises and underdogs, while consuming the epic collapses and falls from grace. To many sports fans, the "Rocky-esque" storyline of the overlooked underdog rising to prominence is as satisfying as the biggest stars falling for the whole world to see.
Sure, most sports fans out there will root for Isaiah Thomas in this year's NBA playoffs. Not only does his drastically undersized 5'9″ NBA frame constitute a typical underdog role, but his magnificent performances in the playoffs, in memory of his recently deceased sister, are what Hollywood scripts are built on.
At the same time, most, if not more, of those same fans were glued to their TV screens while watching Lance Armstrong's climatic drop-off from prominence to infamy. Armstrong, once the darling of the sporting world and champion of the human spirit, turned out to be a master manipulator, pathological liar and one of the greatest cheats sports have ever witnessed. While Armstrong's fall was deeply damaging to many, including myself, the abrupt annihilation of his career was a spectacle seen by millions. Armstrong's tell-all interview with Oprah Winfrey in 2013, where he introduced the real Lance Armstrong, was watched by 28 million people worldwide.
It's the unexpected theatre that draws the crowds year in and year out.
There's no greater dichotomy between meteoric rises and epic collapses, no greater theatrical narrative, then the story of former New England Patriots Tight End Aaron Hernandez. The blunt transition from rising NFL superstar, to convicted murderer, to suicide, can only be described with one word, as Patriots Head Coach Bill Belicheck phrased it: "tragedy."
The Rise
Growing up as the son of the proverbial "King" of Bristol, Connecticut, decorated athlete Dennis Hernandez, Aaron Hernandez was heralded at a young age as a freakish athlete. The Hernandez patriarch pushed Aaron and his brother, D.J., to achieve their full potential. Both D.J. and Aaron were pushed to become extremely productive both in school and on the field. D.J. followed in his father's footsteps by playing college ball at UCONN. After a successful four-year college career as a quarterback and wide receiver, D.J. went on to have an extremely promising coaching career, which would only be derailed by the conviction of his brother in 2015.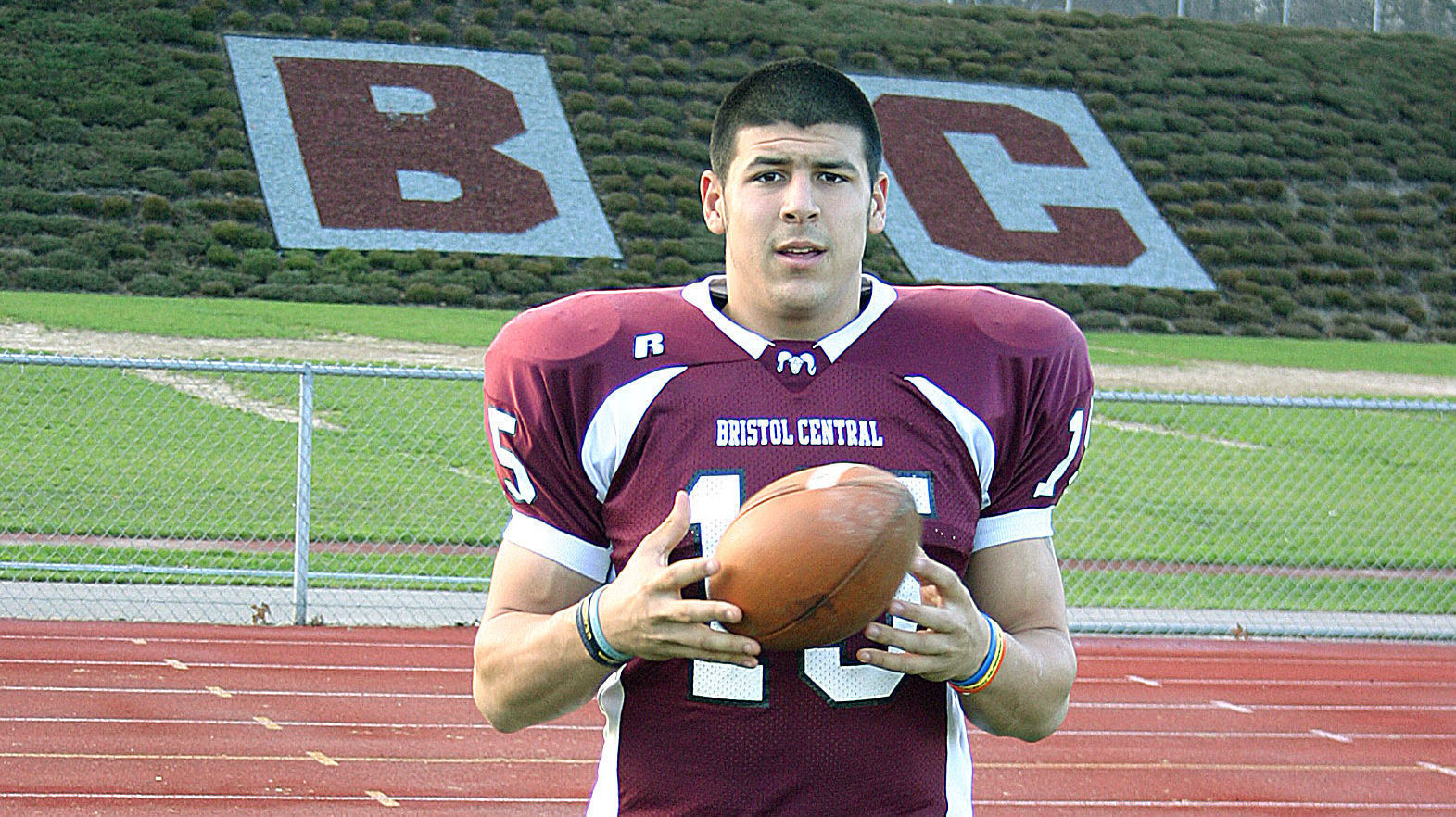 On the other hand, Aaron seemed destined for greatness. He obliterated many Connecticut high school receiving records, becoming one of the most coveted prospects in the country, while having an exemplary school record, constantly making the honor roll.
Aaron took the next step by committing to the University of Florida Gators, after turning down an opportunity to play with D.J. at UCONN. It wasn't until his sophomore season that Aaron was able to show his palpable talent. In the 2009 BCS National Championship Game, Hernandez led the Gators in receptions, on route to their second championship in three years, with a victory over the Oklahoma Sooners. The following year he was voted as the best tight-end in the country, while becoming a first-team All-American.
After a Sugar Bowl victory in the 2010 season, Hernandez entered the NFL draft as a controversial prospect. An offensive prospect oozing with potential, yet marred with pervasive character threats, Hernandez was the prototypical "high-risk, high-reward" opportunity. The Patriots certainly saw enough in Hernandez to overlook the concerns from other teams, and drafted him in the fourth round of the 2010 draft. Hernandez certainly had a number of concerning off-the-field issues, but at the end of the day, the NFL is a business, and teams have taken chances with players with much more extensive track records than Hernandez—looking at you, Greg Hardy.
Hernandez became the youngest player on a NFL roster at the ripe age of twenty years old. That same draft, the Patriots selected another freakish tight end by the name of Rob Gronkowski, in the second round. The two tight ends, combined with arguably the best quarterback of all time, Tom Brady, became one of the most unstoppable offensive forces the league has ever seen. Hernandez could be placed anywhere on the field to great effect. He and his teammate, Gronk, became two of the most dynamic young tight ends in NFL history.
In 2012, Hernandez capitalized on that investment with his signing of a five year, $40 million contract, the biggest contract ever for a tight end at the time. Only a year later, the Patriots released Hernandez, following his arrest on first-degree murder charges.
The Fall
What comes through TV screens can often be misleading. Through all the fame and glory of Hernandez's career, he dealt with his own personal set of demons every step of the way.
Ever since his tantalizing career kicked off in high school, Hernandez has run with a tough crowd. He surrounded himself with convicts and gang members. Those individuals would be along Hernandez's side from every minor slip-up to major felony.
However, what drove Hernandez to the edge was the untimely death of his father. In 2006, Dennis Johnson died due to complications following a hernia surgery. The death shook Aaron to his core, and according to family, friends and coaches, completely changed his personality.
Hernandez turned to drugs to numb his sorrow, and fell deeper into the seedy crowd. According to friends "he wasn't as outgoing," and his mother worried that he lost his sense of direction that his father had provided him. The changes in his behavior weren't subtle, which raised warning signs for his former high school head coach, Doug Pina, who expressed his fear.
Many professional prospects across all sports come from tough backgrounds; some are able to escape and forge a new life for themselves, while others get sucked back in. Hernandez certainly represented the latter. At the University of Florida, despite being well over 1,000 miles from his hometown of Bristol, Hernandez's problems followed him to Gainesville, as he couldn't stay out of trouble.
Most notably in his first year at Florida, Hernandez got in a brawl with a bouncer at a local nightclub when out with his teammates. Hernandez allegedly landed a punch so hard that it broke the bouncer's ear drum. In addition, Hernandez was suspended in his tenure at UF one game for testing positive for marijuana, an insignificant discretion in the grand scheme of things.
After deciding to skip his final season at Florida, Hernandez was seen more and more with the Bristol crowd. Arguably the worst thing for Hernandez was being drafted by the Patriots. Being drafted by the Patriots allowed Hernandez to easily slip back into the harsh environment. The home of the patriots, Foxboro, Massachusetts, is less than two hours away from his hometown of Bristol.
One of the points of culpability for the Patriots administration was their inability to be able to keep tabs on Hernandez's interactions in Bristol. When drafted by the Patriots, Hernandez often seemed like a loner to his teammates. Hernandez didn't seem comfortable in Foxboro, or in the company of his teammates. Any free time Hernandez had drew him back to Bristol, where he was continually exposed to a life of violence.
Right before Hernandez entered his first training camp for the Patriots, his step-father knifed his mother. His step-father went to jail, as his mother was left in the hospital with lacerations to her cheek, shoulder and wrist. Around the same time, members of his "inner circle" bounced in and out of prison. Ernest Wallace, considered Hernandez's "right hand man," was sentenced to jail for 120 days from 2010-2012, after being found guilty for various crimes. Carlos Ortiz, another one of Hernandez's longtime friends, started his criminal rap sheet in the ninth grade. Since 2004, Ortiz has made consistent rounds to prison. He's been convicted in the state of Connecticut alone fifteen times since 2004.
Being constantly surrounded by a life of violence of crime, while not having the grounding of his father's presence, allowed Hernandez to fall deeper and deeper into the point of no return.
The Collapse
Most people are quick to blame the Patriots for taking a risk on a 20-year-old kid with a smattering of character issues, while not keeping him on a short leash. At the same time, no one could have foreseen what came next in Hernandez's bizarre career. Most players slip up with drugs, alcohol and gambling. Even in Belichick's infinite wisdom he couldn't foresee Hernandez's future as a murderer.
About a month before Hernandez signed the mammoth $40 million contract, two Cape Verdean immigrants, Daniel de Abreu and Safiro Furtado, were shot to death, after the two men had a dispute with Hernandez at a local night club. Six months later, Hernandez allegedly shot Alexander Bradley, Hernandez's former associate, in the face. After losing an eye, Bradley filed a lawsuit against Hernandez. It wasn't until Odin Lloyd, semi-pro football player and Hernandez's friend, was found dead, and Hernandez was arrested in connection to the murder, that the Patriots took action. Hours after the spectacle of Hernandez being taken away from his home in handcuffs, the Patriots released their young superstar, officially ending his abbreviated NFL career.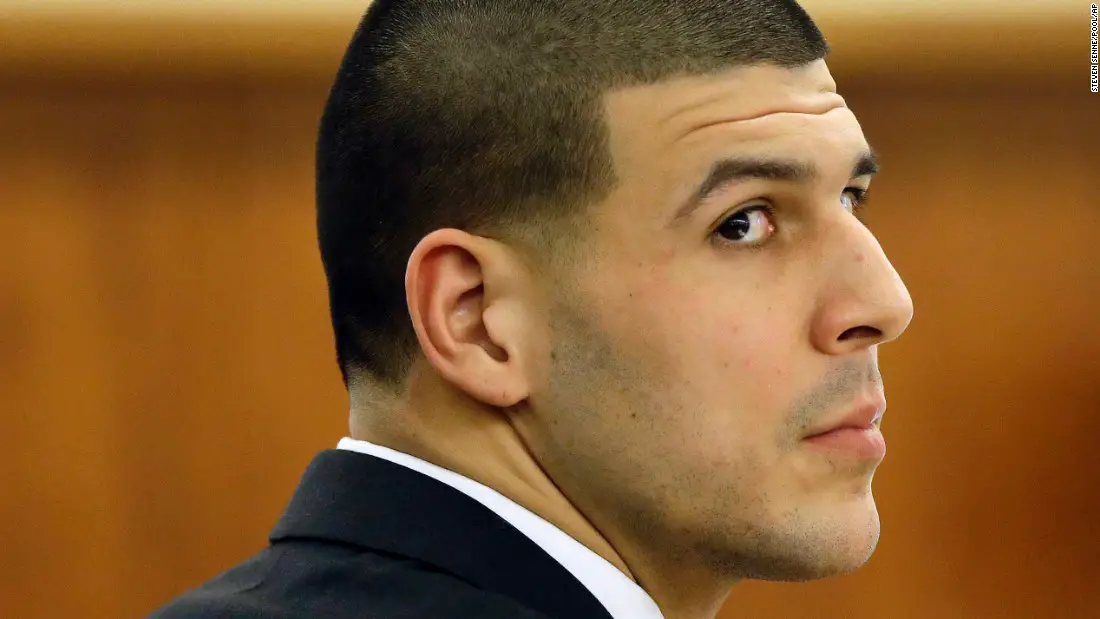 Hernandez first went on trial January 9, 2015, for the murder of Odin Lloyd. The trio of Hernandez, Wallace and Ortiz were all charged with first-degree murder. Wallace was found not guilty, while Ortiz took a plea deal to get a reduced sentence. Hernandez on the other hand, was convicted and was sentenced to a mandatory life sentence. Regarding the other charges, Hernandez was acquitted of witness intimidation, for shooting Bradley in the face to maintain silence in the trial and of the double murder of de Abreu and Furtado.
Only five days after the acquittal, Hernandez was found dead in his prison cell after an apparent suicide. With a bitter sense of irony, the Patriots visited the White House to celebrate their recent Super Bowl victory that same day.
Hernandez was destined for that success. One of those rings should have been awarded to the young phenom. Instead, he left the world on a murderous rampage, leaving behind a four-year-old daughter who will only know her father as the murderer who killed himself.