If you're a Star Wars fan who is in college, to make your place feel homey you need to show your nerdy pride throughout your dorm/apartment. Who cares if your roommate thinks you're crazy? At least they're rooming with someone who is out of this galaxy. Here are eleven Star Wars items that every college student needs.
As you drag yourself through the doorway of your home, you feel stressed, tired and hungry. While you prepare your meal, all you can think about is the homework you need to complete and how they incorrectly charged you at the food court. Once you finish cooking, you plate your food, then open the silverware drawer and boom: You see your lightsaber fork, knife and spoon. Your mood instantly brightens at the sight of them, saving you from the darkness growing within.
After all, who wouldn't want a little pick-me-up after a hard day? Well, your lightsaber silverware can save you from going to the dark side (unless you're already there. Then it'll save you from going to the light side). Plus, your roommate will always remember which utensils are yours, so you don't need to worry about someone using your things.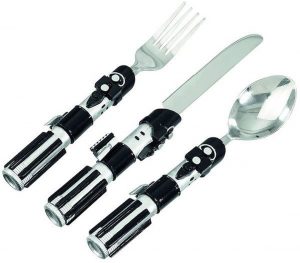 Save the planets one green bag at a time. Take your Star Wars bag with you whenever you go shopping so you don't accumulate plastic bags in your kitchen drawer. Green bags are extremely useful when shopping because they can hold so many items. You won't need to worry about taking multiple trips to the car or your bag tearing as you climb the stairs to your room. Your Star Wars bag gives you the power to save the world, show off your nerdiness and gain confidence.
Why have a boring, generic soap dispenser when you can have a Stormtrooper battling your germs for you? This $11.52 item is destined to bring a smile to your face every time you use it.
After you get ahold of the dispenser, all you'll need is liquid soap to unleash the force. Whether you have your trooper stationed in your bathroom or your kitchen, it'll defend its users from the bacteria it encounters.
Tired of drying your hands with basic towels? Well, I've got the solution for you: Droids. Made out of 100 percent cotton, C-3PO and R2-D2 will absorb the liquid from your hands for you.
They'll survive in the washer, so don't worry about them losing their color (or power). C-3PO and R2-D2 would love to hang out with you in your bathroom or your kitchen. No matter where you put them, they'll always be there waiting to assist you.
Don't throw away your trash in an uninteresting bin; chuck your rubbish into a galaxy far, far away. After all, as a college student, you'll always be crumpling papers and tossing them, so why not send them to a better place?
Your new, awesome trash can showcases some of the original Star Wars characters in the logo, so hurl your garbage to Luke, Darth Vader, TIE Starfighters and C-3PO, so they can shoot, choke and slash your junk to pieces.
You don't need to use the force to take out hot food from your oven when you can have your trusty droid, R2-D2, to help you. Not only will it shield your hands from the powerful heat your pan conducts and allow you to safely grasp it, it'll also prevent the oven's heat waves from licking your hands. Accidentally burning yourself will only distract you from your studies. Avoid the evil of the oven by equipping yourself with R2-D2.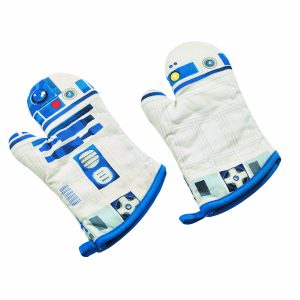 Planning to host a Star Wars marathon (again) with your friends? Serve your snacks in style with Death Star bowls. When your friends see your munchies in the Empire's greatest weapon, they'll think you're out of this world.
Whether it's chips and salsa or wings and ranch, the Death Star will securely hold your food. Just make sure you tell your friends that it will not explode. The only eruption to expect will be inside their mouth when the snacks you're serving are bursting with flavor!
Now you can have Yoda in your soda thanks to these character ice cube molds. Don't want the Jedi Master? No worries. You have Darth Vader, Han Solo, the Millennium Falcon and many more to choose from.
For $20, you'll receive eight molds of your favorite Star Wars characters to make your beverage-cooling options endless. Plus, you can make a splash with your friends as you show off your nerdy ice to them.
Turn up with a little help of Han's beloved ship. That's right. You can let the Millennium Falcon assist you in your voyage to the turnt world as it pops bottles for you. The ship is not only a bottle opener, but also a key chain, so you can hook it up to your keys and prepare yourself for any drinking battle.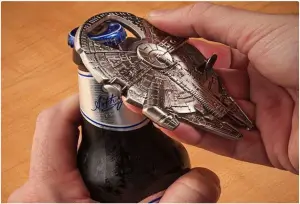 Keep yourself warm with the glow from Luke's and Darth Vader's lightsabers as they battle on your cuddly throw. Whether it's because it's cold outside or your roommate likes to have the AC set to the temperature of Hoth, your Star Wars blanket will certainly keep you warm.
Become a Jedi Master of pizza cutting with your lightsaber cutter, no training required. Each reach for your blade will be an epic moment. Though playing with your food is fun, perhaps the best part of this pizza-slaying beast is the fact that it makes lightsaber noises for each cut you make. So take on the pizza-cutting challenge, Jedi Master. You have friends to feed.