Friendship Does Not a Good Roommate Make
Liking someone doesn't mean liking how they live.
By Michelle Nektalov, SUNY Purchase
---
If you're anything like me, you went above and beyond to ensure that you scored the best roomie possible for your freshman year of college.
Everyone's heard the horror stories of a bad roommate experience, and I wasn't going to let myself become yet another fable. Like any desperate college freshman would, I put my faith into the internet. Stalking profiles, initiating uncomfortable conversations, filling out housing questionnaires—anything to keep me from putting my future into the hands of the dreaded school housing department. "Going random" was not an option. Who knew what kind of weirdo I could end up with?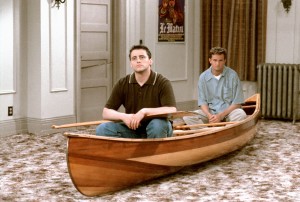 So when my childhood best friend from sleepaway camp delivered the news that she also committed to Purchase College, I knew I had to pose the question. I asked her to marry me.
Kidding!
I asked her to be my roommate.
Without any hesitation, she said yes. We both shared the fundamental fear of ending up with a crazy. I didn't just feel relieved. I was fired up with excitement! Experiencing college with the girl who made my time at camp one of the best parts of my childhood seemed like a major win. It didn't appear like anything could have possibly went wrong. We had never fought, we shared the same sense of humor and we lived in a shitty sleepaway cabin that housed ten girls without a problem. With all of that in mind, my worries melted away.
Spoiler alert: We are not rooming together our sophomore year. Didn't see that one coming, right? (Not even when I said, "What could possibly go wrong?" cough cough.)
I was too fast to blowtorch my concerns. I assumed friendship was the holy exception to roommate compatibility; a special case that allows both parties to live in harmony because of their ability to get along. But I was wrong. I'm embarrassed to admit what the first sign had been that made it evident my roommate and I would undergo problems.
My school had recommended a roommate finder website that helps students find a well-matched roommate, and all I needed to do was fill out a survey. Only moments after completion a list would appear, giving me the profiles of all the girls ranging from my perfect match to just an okay match.
One night this website had resurfaced after hours of immersing myself into my computer. My odd sense of humor pushed me to send the link to my future roommate. For the sake of a good laugh, I asked her to take the survey to see our technical compatibility. The site worked its magic, but the results weren't enchanting. Low and behold, we were sixty percent compatible.
If that result was a test score, it would have been a failing grade. I had gotten my "good laugh," but it was more nervous than amusing. I couldn't fathom how I had scored so low on a test that I thought would highlight my connection with my long time friend. So instead of trying to understand issue, I blew it off. Denial saturated my voice as I convinced her over the phone that no website could calculate something as genuine as our friendship.
Months of anticipation went by. Once school finally came around, we personalized our sides of our dorm to make to feel like home. After unpacking the seemingly never-ending loads of clothing and decor, we headed out to our first hall meeting. This gathering would take us through the last step to finalizing our living arrangements: The Roommate Agreement.
The purpose of the Roommate Agreement is to document specific rules about how to deal with commonly problematic living situations. My RA gave us a few minutes to fill out the form. Everyone seemed to be effortlessly establishing the house rules.
I looked down out my paper; we were barely making it through rule number one.
Our answers for how to deal with each situation contradicted each other. Tension rose as we passive aggressively tried to convince one another to agree on our own propositions.
Our dispute between The Roommate Agreement didn't stop there. As the days went by, we both learned of what we had expected from each other as roommates, each proposal becoming less and less easy to endorse.
The most recurring dilemma we faced nearly every weekend was our unwillingness to agree on terms about guests—more specifically my guests. My boyfriend frequently visited campus. While I would excitedly wait for the week to go by to finally see him on the weekend, she would anticipate having to share a room with two blubbering idiots swooning over one another. Truth be told, I understand better now why she wasn't happy with having to endure a third roommate on weekends. At the time, I didn't look at it in that light. I saw other roommates not caring who goes in or out of their dorm, and all I knew was that's what I wanted.
But here's the kicker about living a specific way: not all of your friends are going to want to live like you, no matter how well you both get along. Sometimes you have to put aside your uneasiness towards strangers, and pick a person who wants what you want out of living in college.
Through it all, I'm proud to say we're still best buds. When living with someone doesn't work out, it's essential to remember that you two didn't work out as roommates, not friends. Sharing a space with someone and hanging out with them are two different relationships. One requires different needs than the other because yes, your friend might be happy for you when you tell her about the hottie you brought home last night, but your roommate won't be too thrilled to have her sleep disrupted when you both stumble into the room.