Recruitment week comes and goes in a happy flash full of glitter, chitchat and nervous anticipation. My experience of going through the recruitment process was a bit unusual, for a couple reasons. First, at my school, students can't participate in Greek Life until their sophomore year so that as first-years, they can get a feel for where their real interests lie on campus.
Also, I waited to try recruitment for an extra year, so I rushed as a junior instead of with the majority of my class, who participated during their sophomore year. As a result, my interaction with rush week was quite different from most: A week of potential fretting became a week of fun and inspiration.
One thing that eased the awkwardness and facilitated better conversation throughout the week was knowing that many of the existing members of the sorority because we were the same age. Walking into each house, I could pick out familiar names and faces. I chatted with members I already knew in a relaxed fashion, and being introduced to girls I didn't know by the ones I did felt more natural than being handed off to a stranger by someone I had met two minutes prior.
Each party (a.k.a. sorority rush event) felt like a game with a home field advantage—I had cheerleaders, allies and coaches on fields disguised as sorority houses, so I had the confidence of the home team rather than the jitters of the visiting players (ahem, sophomores).
In addition, getting an idea of which sorority I meshed well with was easy, because everyone my age had already been placed, eliminating the questions of "Where would my friends would end up?" and "Would I like the girls in my sorority?" I knew the answer to both; all cards were on the table the year before, and I didn't have to "go fish" for women I felt comfortable around.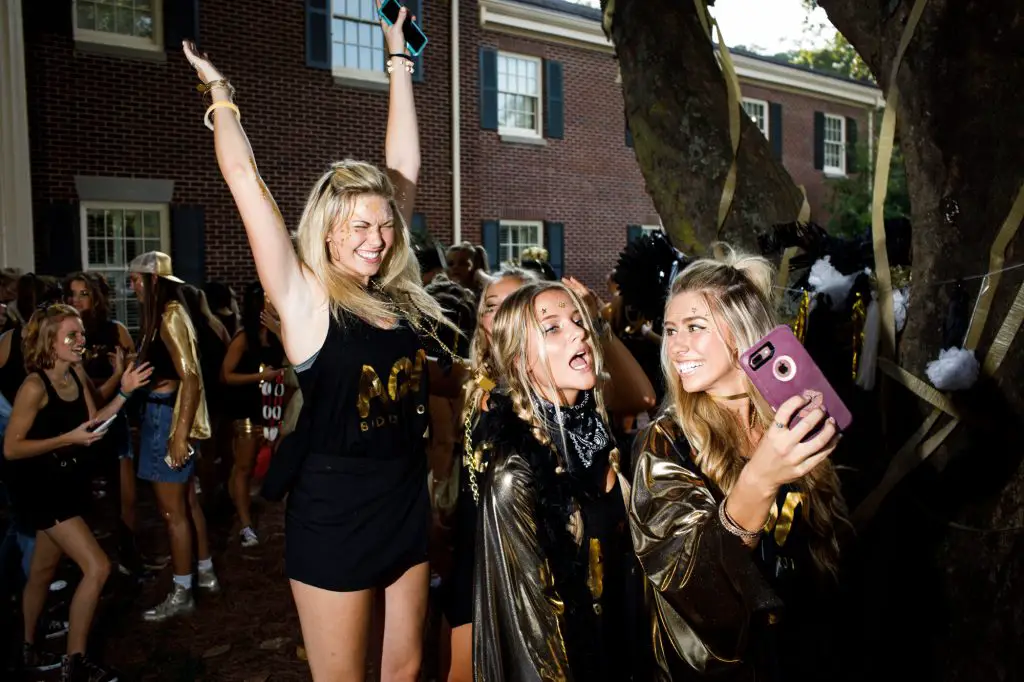 But, I still had the opportunity to meet an entire class of new friends! During the parties, most interactions occur between PNMs (potential new members) and members, but you exchange a few hellos with other PNMs as you wait outside of the houses for things to get going.
While I did feel a bit at odds with the majority of the other sorority member hopefuls, the time spent with them was limited during the week, and I had a few fellow juniors to squad up with. Once bid day rolled around, I had an entire day devoted to acquainting myself with the sophomores and found out how lovely they were. In its entirety, the rush week I was afforded as a junior perfectly balanced connecting with existing friends and meeting new ones.
Not only was it simpler to navigate people during the chaos of the week, deciphering the schedule and the technicalities of the process itself wasn't as challenging. I had heard many friends explaining the affairs of recruitment the year before: The phrases philanthropy night, pref night, bid day and initiation were ideas that were already familiar to me.
While there was still lots to learn and a profusion of details unbeknownst to me, noting the "no booze, no boys" rule and the importance of remembering to wear my name tag moved to the forefront of my thoughts because the mechanics of the week were already familiar.
Our week began with Go Greek Night, where everyone wears their official recruitment t-shirts and files off one by one to begin the introductory meet and greets with members of each house. After about twenty minutes, you walk to the next house and repeat.
There's lots of singing, giddy smiles and clammy handshakes. Day two is Sisterhood Night and is basically the same as its predecessor, aside from having the freedom to wear an outfit of your choice and being granted an additional ten minutes at each location.
After the evening's festivities, interests sheets are filled out and invitations are distributed the next morning that determine which sororities a PNM will visit for Philanthropy Night. The following evening brings even more interest sheets and another fitfully anxious night of sleep as the PNMs again await invitations for the final event, Preference Night. After dressing up and spending an hour at whichever houses a woman attends, PNMs fill out preference forms and one more night of restless sleep and eager waking follows.
Finally, Bid Day rolls around, and if a PNM receives a bid, then they can look forward to participating in an incredible day of glitter, cheering, photos and over-spilling love for each sorority and all of its new members. My Bid Day was probably the most overwhelming (in the best way) day since I moved in freshman year. I felt at home with the incredible women surrounding me and was eager to know and love each one
The sense of "coming home" enveloped each tender photo taken; it was just like the movies where things move in slow motion. Was it cheesy? Maybe, but I do believe that waiting to participate in the whole hoopla made my homecoming special and meaningful, and I felt certain that the decisions I had made were ones that would impact the remainder of my university years positively.
Overall, waiting until my junior year to rush meant that the week itself was exponentially less dramatic. As sophomores, the social pressure to participate in recruitment is intense, because no one knows what their social life will become without it.
After being satisfied with the social opportunities I had as an unaffiliated student, even while many of my closest friends were affiliated, I knew that not getting into a sorority would not doom me to Friday nights alone. So, though I was eager to join a Greek Life organization, unlike many of my sophomore counterparts, I knew I would be perfectly fine if it didn't work out. The lack of internal terror certainly made my week less daunting and more exciting.
Though Bid Day was just yesterday, I feel confident in saying that the nerves and exhaustion of rush week led to the crafting of a wonderful family of women. Though I wish I had more time in my sorority, holding off on recruitment until my junior year allowed me to be sure that I would have a positive experience in Greek Life, because I knew it was something I wanted to pursue after seeing it in action for a year. The saying holds true: Good things are worth waiting for.