Radio 101
Streaming services have brought democracy to music, but at the expense of student-run radio.
By Isabella Waldron, Scripps College
---
From iTunes to Spotify, students have access to a seemingly infinite music catalogue at the click of a button, but does this mean that independent college radio channels are going to fall through the cracks?
I, for one, am hopeful that campus stations are progressing with the times, and will continue to offer a venue for unique music to listeners.
Being a D.J. on a college radio show offers opportunities to form a community and to create an individual voice on campus. College radio stations allow students to come together with shared interests on campus, both physically and intangibly. Whether the station be recorded in a dingy, grey basement on a table covered with emptied potato chip bags, or in a beautiful student center overlooking campus, having a space to connect with peers over a love of music is an incredible addition to the college experience. One spoken-word lover meets a punk-rock aficionado, and the rest is history!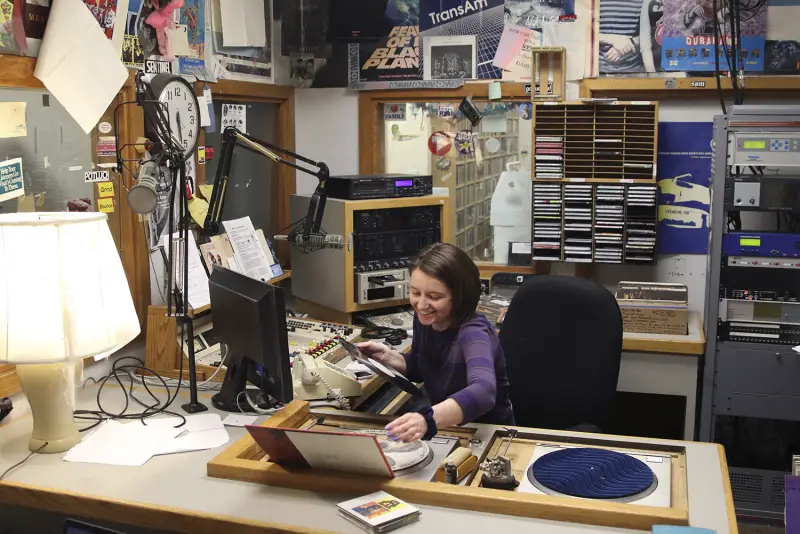 For a one-hour slot, student D.J.'s are free to play their favorite songs, bring on interesting guests and talk about issues that matter to the campus and to them. Deciding what kind of show to be—whether it's alternative, rap, oldies or gospel music—depends on the individual D.J.'s. Students have the opportunity to play what they love, giving listeners a chance to break away from the same Top-40 songs that pound through the car radio in a monotonous cycle.
Student-run radio allows for creativity and innovation in music. Whatever the genre, listening to the shows of your friends and strangers is bound to introduce you to new music that you might not know of otherwise.  Student radio's independent format allows for a level of spontaneity that is unique. Even Spotify, which has a large collection of independent music, seems to lag behind college radio in regaling listeners with music from up-and-coming artists, far away from the chart toppers.
That's not to say that D.J.'s are completely exempt from any rules. Although autonomy is one of the founding principles of college radio, schools maintain some guidelines. My favorite freshman D.J. at Hamilton College, Johnny, told me that the college only allows explicit music after 10 p.m. Over at Kenyon College, songs can't have swear words until after 11 p.m., and then comes free game.
In some college radio stations, what time slot you get depends on seniority, whereas in other stations, sign-up depends solely on availability. Students who have been around in the scene longer have more choice in what time slot they get. Some prefer the early-morning hours, because real people are actually tuning in. Others prefer the 5-8 p.m. time slot to catch evening studiers who want to be distracted, and then, there are those that let loose after 10 p.m.  The time slot is a secondary thought to the excitement that comes from having a venue to share true passions through radio.
The question remains, though: Are people actually listening? In the 90s, college radio channels had a fairly significant impact on the larger music scene, contributing to the discovery of bands such as Vampire Weekend. Now, college radio appears to be less of a contributing factor to the music scene, with only 9 percent of people in the 12-24 age range using AM/FM radio to keep up with music, according to a 2016 survey.
Some schools who used to have large broadcasting centers have now turned the centers over to larger companies, such as NPR, due to economic costs and not enough listeners. Other schools have updated to the live streaming favored by so many millennials—an easier format for students to listen to at a moment's notice after they see one of their friends promoting their 12 a.m. radio hour on Facebook or Twitter.
The aforementioned survey also revealed that the percentage of people who listen to online radio has been steadily increasing in the last few years. Perhaps with college radio's transition toward an online format, more people will be tuning in. Online radio also allows for worldwide viewership, so although listenership might be smaller, the music can reach a broader audience.
Listenership also depends heavily upon student advertisement, because in order to tune in, listeners must either have a car, or stream online, and the vast majority fall into the second category. The need for self-advertisement might push students outside of their comfort zone, while also teaching valuable lessons about marketing to a set of peers.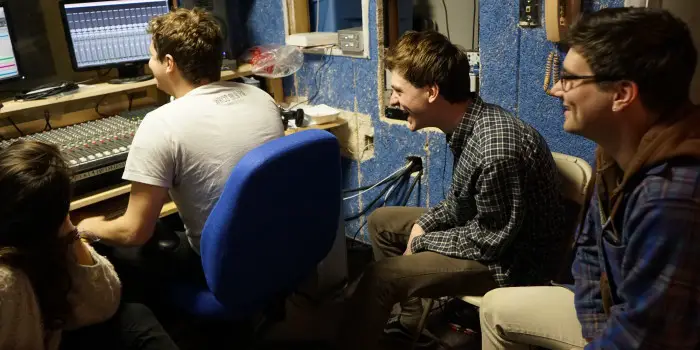 Student D.J.'s also need to develop a strong sense of collaboration in developing a radio "aesthetic," often in duos or teams. For instance, Kenyon freshman and radio D.J. Natalie Berger says that she and her partner have different music tastes, but find a way to make it work.
"He likes more electronic sounds like Shlohmo and co., and I listen to more indie rock and R&B/hip-hop, but I think there's really nice overlap between the two. So it's all about finding transitions between the songs. We normally just riff off one another when we introduce the music—maybe there's a story behind one of the songs we're about to play and we'll share it. The show turns into a conversation between [my friend] and me in relation to music," she says.
Despite the decreases in people who listen to radio, college radio stations remain an integral part of many students' college experience. With student-run radio comes independence, community and a killer playlist to add to your collection.