"With such a controversial kind of protest style, Republicans are always going to make fun of you for being the crazy dildo girl."
Cocks Not Glocks chapter leader Katherine Kerwin, a Political Science/Geography major at the University of Wisconsin Madison, isn't shy about her organization's protest style. Started at the University of Texas Austin in 2016 to protest state laws allowing students to carry loaded guns on college campuses but prohibiting them from toting dildos, the sex toy-brandishing organization Cocks Not Glocks has since spread to schools across the country, sharing their message of gun regulation by highlighting the ridiculousness of legislation that essentially labels dildos as more dangerous than firearms.
Kerwin joined Cocks Not Glocks after being involved in other anti-gun organizations and holding positions as a student council representative at UW-Madison. As a Legislative Affairs Committee chair, she has dealt with student responses to legislative action, and Cocks Not Glocks piqued her interest because a large number of UW-Madison students were concerned about Wisconsin's campus carry laws. "I'm trying to raise awareness around gun violence, especially in Wisconsin," Kerwin says. In particular, Kerwin noticed that many students were concerned about a law allowing carry on college campuses without permit, which the Wisconsin legislature has come dangerously close to passing in recent years. The absurdity of the law increases in juxtaposition with legislation banning the sketching of genitalia in public, and the comparison of two ridiculous laws meshes well with the legislation that sparked the initial formation of Cocks Not Glocks at UT-Austin.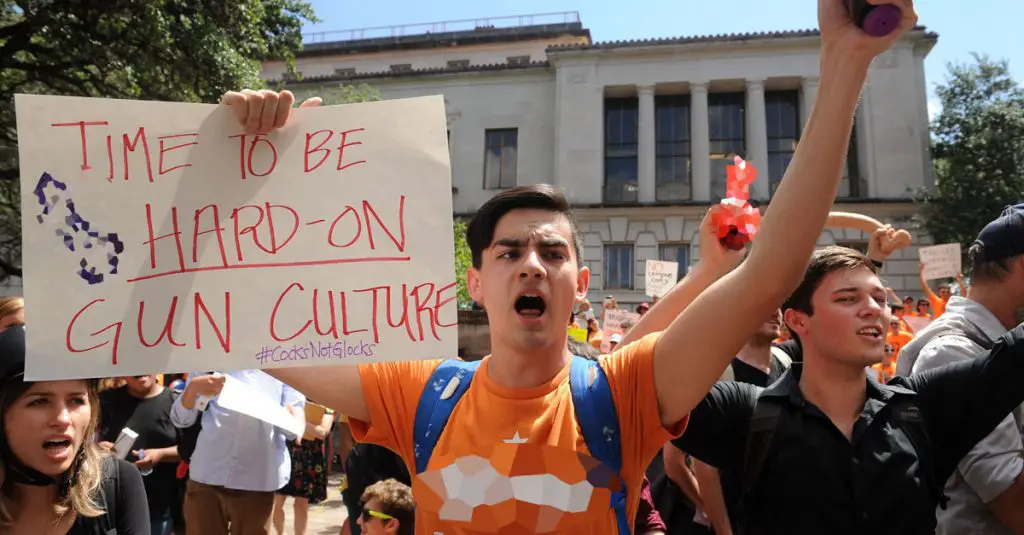 Kerwin's combination of previous experience and passion for political activism made her the perfect candidate to lead a chapter of the organization. Her impact on Cocks Not Glocks since taking charge has included organizing The Bonerfide Penis Arts Fest. On October 10, 2017, Kerwin led a crowd of students to fight pro-gun rhetoric with playful sexual imagery in a peaceful protest of Katie Pavlich, an NRA-affiliated journalist invited to campus by a right-wing student group to speak out in favor of guns as the best way to combat sexual assault. The Arts Fest was intended as a space to erect a wall of penis art, read amateur poetry about penises and brandish dildos in an attempt to fight the absurdity of Pavlich's argument with an equally absurd but distinctly nonviolent form of protest.
"I believe Katie Pavlich was invited here to divide campus," Kerwin states, citing the lack of logic in Pavlich's argument for an ineffective and violent method of preventing sexual assault on college campuses. But Kerwin and other students who showed up to the Cocks Not Glocks protest at UW-Madison fought Pavlich's harmful rhetoric with admirably good humor, combatting her nonsense with their own, more productive brand of foolishness: strapping dildos to their backpacks and sporting shirts and posters with witty innuendos and suggestive images. "It's an absurd protest, and it's a really good way to get people talking about guns on campus," Kerwin says. She hopes that this peaceful, self-consciously ridiculous form of protest will highlight the irrationality of rhetoric perpetuated by Pavlich and other alt-right 2nd Amendment advocates while encouraging further productive discussion of gun legislation.
Rainy weather prevented the chalk drawings and erection of amateur artwork initially planned as part of The Bonerfide Penis Arts Fest—carrying dildos isn't illegal in Wisconsin, but drawing penises in public is explicitly banned—but Kerwin says the protests still went smoothly enough that she would do it again without hesitation. Students attended the protest despite the rain, and in partnership with the sex shop Good Vibrations, organizers handed out sex toys, sparked discussion of the offensiveness of Pavlich's rhetoric—especially when it seems intended to divide campus—and got many more people involved in the ongoing conversation. As Kerwin says, "Yes, our protest was crazy, and yes, it was controversial, but it got people talking. We're talking about an issue that wouldn't be discussed otherwise." Without such a distinctive form of protest, it would be difficult to spark conversations about a topic involving guns and sex, both thorny and uncomfortable subjects that many people would rather ignore than deal with.
Although the idea of students gathering on a college campus to stage a peaceful protest using fun, sex-positive sexual imagery seems lighthearted by nature, Kerwin admits that protesting against people who are presumably carrying deadly weapons is inherently nerve-wracking. Despite that fear, Kerwin and fellow organizers did their best to guarantee the safety of the protestors at the Arts Fest. "We were in touch with the university police and were confident they had our back and would ensure a peaceful protest," she says. "But the protest went really well regardless of the fears that are always on your mind when protesting gun laws."
Kerwin says the UW-Madison chapter of Cocks Not Glocks doesn't have any events similar to The Bonerfide Penis Arts Fest planned at the moment, but after a successful protest, they are interested in hosting another. Regardless of planned events, Kerwin and her fellow protestors are going to keep an eye on Wisconsin's permitless carry law in the future.
"Yes, our protest was crazy, and yes, it was controversial, but it got people talking."
What's next for Kerwin outside of Cocks Not Glocks? She plans to finish school at UW-Madison in December and spend her final semester in Providence, Rhode Island, her hometown, in preparation for running for municipal office in Providence in 2018. She says her work with Cocks Not Glocks and her student council positions at UW-Madison have steered her toward her goal of running for public office. "It has prepared me to run for office and public service because it is work that has required extensive knowledge in lobbying and grassroots activism," she says. Her campaign will incorporate her strong stance on gun violence prevention and her call for progressive legislation, issues that she has furthered her interest in through Cocks Not Glocks.
There are great things in Kerwin's future, from graduation to campaigning to involvement in local government and beyond, but until then, she will continue to protest and spark productive conversations and through it all, cultivate her proud reputation as "the crazy dildo girl."