While working for Americana Models Management LLC, Fashion Institute of Technology (FIT) illustration and photography junior Peter DeVito would spend hours retouching photographs of models, editing out their skin imperfections, specifically acne. In the middle of retouching several images from a photoshoot, DeVito started seeing a different kind of beauty in the models.
The acne-covered skin, he thought, that these models exposed is normal, yet beautiful, so why retouch it? Although DeVito continued to alter photographs for work, he soon stopped retouching the photos he posted on his social media.  
As someone who has dealt with acne for over seven years, it was fitting that in September 2017 DeVito first posted unretouched photos of himself and several models on his Instagram, which has 42,000 followers. The series showcases acne in an effort to normalize skin blemishes and empower people to embrace a beauty based on imperfection.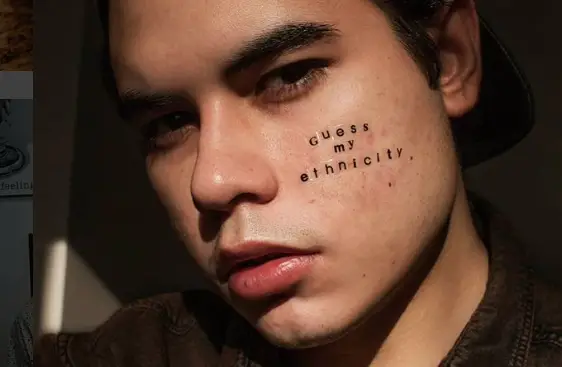 "I've had acne since I was in eighth grade, and I still have it in my third year of college now. So, my skin has always been something that I focused on," says DeVito. "I just recently found a way to bring my fascination for skin into my work." He hoped getting behind the camera as a model would give others the confidence to do the same.
"It was a little difficult to post an unretouched picture of myself, but I thought it would be hypocritical to post unretouched images of others if I hadn't done it myself," he says. The FIT junior drew inspiration after learning about the body-positive movement, a campaign that aims to liberate individuals from body hatred by showing the importance of self-care.
"Seeing how people were starting to love and embrace their bodies was moving," says DeVito, "but I felt like there was a lack of visibility for people with acne. I wanted to create images that would help empower them too."  
In many of the photos, DeVito temporarily tattoos or sticks on expressions such as "acne is normal," "retouch" or "drink water." "I think it just adds another layer to the images," he says. "Some people have a hard time deciphering more figurative imagery, so when you use words, it can help them to see the message more clearly." 
The trend of featuring unretouched photos or videos on social media is not all that recent though. Back in 2015, self-taught make-up artist and Londoner Em Ford's video "You Look Disgusting" went viral on her YouTube channel, "My Pale Skin," and was praised as a bold embrace of adult acne. Like Ford, DeVito has since received accolades for his own contributions to the body-positive movement nationally and even internationally.
In fact, among the many people who praise his unretouched photo series are celebrities such as model and actress Cara Delevingne, who reposted DeVito's work. "It was crazy to see somebody who gets a lot of her pictures retouched all the time agree with what I was saying," says DeVito. 
The FIT student is currently expanding his series to include people who have been diagnosed with skin conditions, such as melasma and psoriasis. His dream is to shoot celebrities in a similar unretouched manner. "We hold celebrities on pedestals, and I think showing unedited images of them would be very powerful," says DeVito. "It would help break the illusion society has created." 
The young photographer also supports a topless culture for both women and men. "I decided to post photographs [of women's breasts] because I wanted to use my platform to show my support for Free The Nipple," says DeVito.
"​I think it's unfair how men can walk around topless, but if a woman does, she is judged for it." The intersectionality between the body-positive movement and feminism is apparent in his work with women's breasts.  
DeVito's previous projects also deal with social issues, particularly race and sexism. His work in Féroce Magazine, titled "Wash Away Racism" and inspired in part by legendary Jamaican model Grace Jones, shows his commitment to breaking down barriers to racial equality, as well as exposing white privilege.
His editorial, "The Yellow Wallpaper," in Elegant Magazine, inspired by the short story by Charlotte Perkins Gilman, unpacks stereotypes of women to promote gender equality.
Through his work now and the projects he plans to pursue, the FIT junior is adamant about bodily acceptance, in all its different forms. "I'm hoping that people will just start to learn to accept themselves more and not compare themselves to what other people look like."