The first couple years of college is a time for students to try different things and figure out what they want to do with their lives from there. For Emily Messana, it took no time to figure out what the end goal for her was. Now a sophomore at The New School in New York City, Messana is working toward a major in dramatic arts and a minor in creative technologies.
From a young age, theatre has been a huge part of her life, and remains so after years of singing, acting and dancing. She had been acting in shows throughout elementary, middle and high school to taking classes both in school and at her performing arts summer camp.
Messana says, "I also devoted time to my thespian troupe in high school, which gave me the opportunity to try out different aspects of theatre. I always wanted to be consumed and surrounded by theatre. This seemed like the only thing I could do with my life, and the only thing I wanted to spend my life doing."
Knowing what she wanted, Messana worked toward the beginnings of her dreams, opening No Man's Land Theatre Company along with her classmates and close friends Missy Hamblet and Sophia Rizzuto. No Man's Land is a not-for-profit theatre company based in New York City that works to create a brave and safe space for female-identified, non-binary and genderqueer artists.
She stressed, "Our work aims to challenge societal gender norms and create work by and for marginalized artists. We're all about making the space for these artists to express themselves and make their work in an environment that not only supports them but also wants to help them."
For Messana, Hamblet and Rizzuto, creating this safe space for actors who might not get that same opportunity for expression otherwise is at the heart of No Man's Land. "As a queer woman in the theatre industry," Messana explained, "I feel that there needs to be more space for the work I want to create, and the easiest way to make that happen was to do it myself. I hope that other female-identified, non-binary and genderqueer artists can take advantage of the community that No Man's Land is creating."
The creation of No Man's Land, of course, didn't come together overnight. Its co-founders, three full-time college students, had to put in a lot of hours of work and overcame many obstacles before the creation of the theatre company came to fruition. For Messana, the largest obstacle she faced was the fact that she was not only a full-time college student but that she also had to manage the theatre company while also directing a full-length Shakespeare play. Not only that, but "Othello" was Messana's first time ever directing a Shakespearean play, which is no easy feat to take on.
So, how did she do it all? "Time management was quite the challenge. But, at the end of the day, all of it has to get done, so I did whatever I had to do to make it happen." In her time working on "Othello," Messana says that she and the cast "spent many late nights in the rehearsal studios in The New School, and after those late nights, I would go home and continue to work till four in the morning, trying to get all of my homework and directorial work done." Though the experience was no doubt a challenging one for the entire No Man's Land team, Messana says it was completely worth it, and it won't be the last time this happens for her.
Within No Man's Land, Messana serves as one of three co-founders and co-artistic directors as well as the singular managing director for the theatre company. Her choice to serve as the managing director goes back to the many facets of theatre that she grew up a part of, with directing taking all those pieces and putting them together to create stories.
When it comes to influences, Messana's list is a large one, though two of the biggest inspirations for her directorial wise are Peter Brook and John Doyle. Messana explained that Brook is such a huge inspiration for her because "his approach to directing Shakespeare was basically that Shakespeare doesn't have to be a period piece because it was modern when it was written." Furthermore, Messana said that Brook changed the ways that both directors and audiences look at Shakespeare's works, which she used as her inspiration, especially while working on "Othello."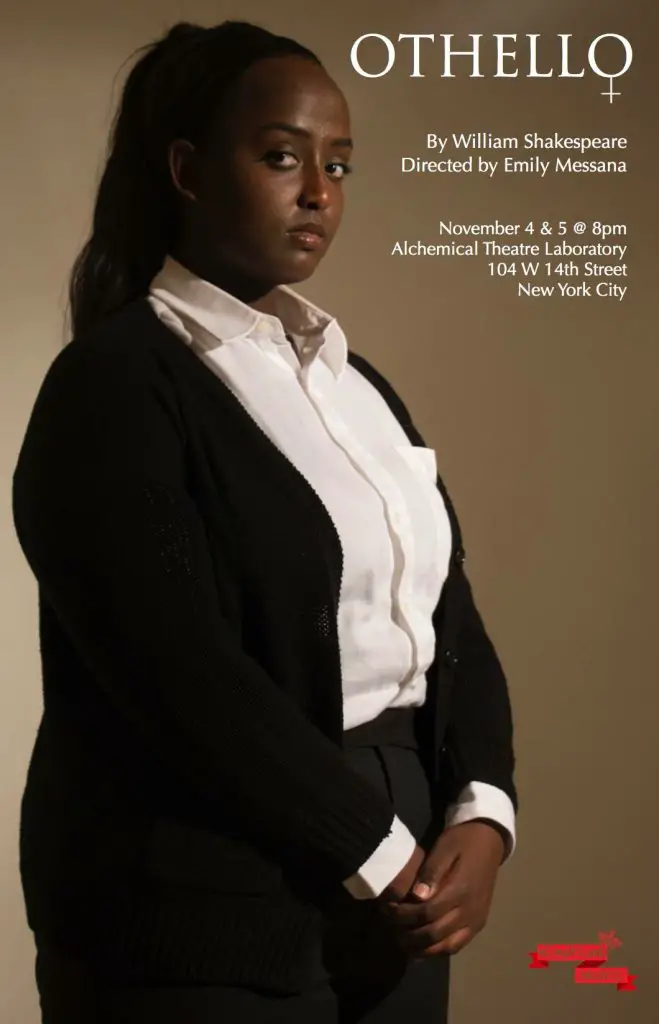 While producing "Othello," Messana had the opportunity to see Doyle's production of "As You Like It" at the Classic Stage Company in New York City. The way in which Doyle chose to interpret the text and the way in which scenic design, lighting and musical accompaniment worked together and played a part in the show was eye-opening for Messana.
Seeing Doyle's production of the Shakespeare classic during a time in which Messana's own production of "Othello" was in the rehearsal process taught her a lot and even influenced some of the choices used in the No Man's Land production. In addition to Brook and Doyle, Messana has also looked to Sam Gold, Sam Mendes, Rebecca Taichman, Rachel Chavkin and Marianne Elliot as influences for her own work.
So, what's next for No Man's Land? Its three founders hope to put on many more productions together in the future, all while promoting the theatre company's goal of creating a safe space for female-identified, non-binary and genderqueer artists to put their voices out there and continue creating something beautiful. Moving forward, No Man's Land wants to not only work with these marginalized artists but also wants to collaborate. Its founders want to create a platform that gives others a place to do their work, turning No Man's Land into a sort of production hub.
And what comes next for Messana? In addition to working more with No Man's Land, she wants to direct as well as work in sound, light and projection design, make films, produce, sing and dance. So, I guess you could say she's interested in experiencing all the aspects of theatre that she fell in love with, expanding her knowledge of them, while also learning new things. Taking the lessons that she learned through co-founding No Man's Land, Messana will put in all the work she needs to make her dreams come true, and she's not letting anything hold her back.
Be sure to check out No Man's Land on Facebook and Instagram.