"Pomp and Circumstance" is already playing in your head as you count down the days until commencement, isn't it? The final days of college are something every student both longs for and has some anxiety over. A huge goal that has taken tears, pints of ice cream and long nights to arrive at, it's hard not to think about it. For the majority of students, early spring is the time to cross the stage, move that tassel and proudly accept that sheet of paper, but for some it's in the cold of winter that all of those traditions occur.
With class schedules mapped out from the beginning, how do students graduate early, and how does it affect the rest of their careers?
Many students reach winter commencement by taking courses during terms outside of fall and spring semesters — summer and winter classes, for example. It takes a little extra motivation to take on an extra course load when others are taking a break. Some students try to cram everything into the last semester to take that leap into adulthood early. Doing so takes an extreme amount of planning, prioritizing, patience and self-motivation, but it could definitely pay off.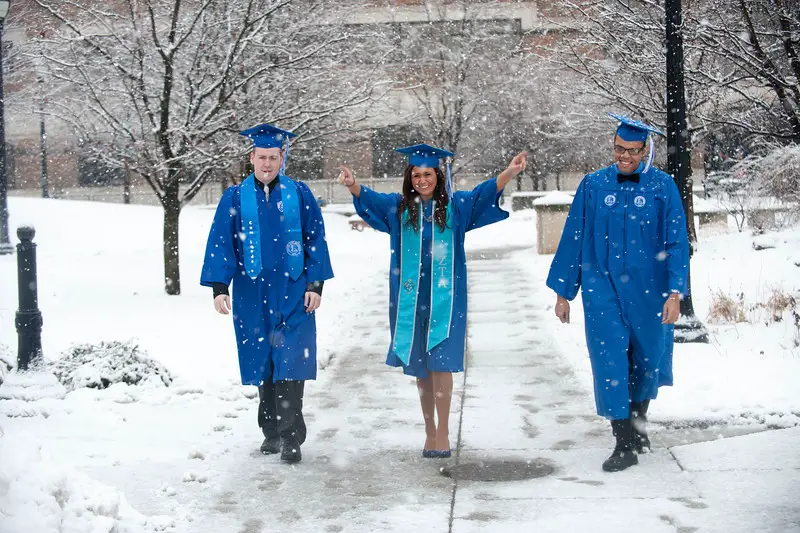 Increasing job opportunities may be one of the most appealing positives to taking on the cold in your cap and gown. In 2015-16, there were 2,246,233 undergraduate degrees earned according to National Student Clearinghouse Research Center. That is millions of students seeking speedy employment, just like you and most of them graduating in the spring. With so many students begging for the same position, it's fierce competition and that may be true no matter the season you finish college. However, December graduates have the advantage of less rivalry and should jump on that prospect.
Ensuring your resume is unblemished and you have a killer cover letter are two surefire ways to make your way to the top. Each college has a career center that helps students be the very best they can be before diving into the work force so use them to your advantage. They can help polish up your resume and cover letter, rehearse interviews, aid in job searches and even help with wardrobe for that first frightening interview.
Maybe graduate school is on the horizon? Hanging up your undergraduate hat early can give you extra time to prep for the daunting task of getting that master's degree. Most students who graduate in the spring find themselves overwhelmed with the laundry list of tasks that follow graduation such as letters of intent, personal essays, applications, entrance exams and visiting possible graduate schools.
Students who graduate in December have an entire semester to worry about graduate school woes, can plan things out and even get a short-term job to save up for grad school because eating Ramen for every meal just isn't cool after a certain age.
Tuition is another consideration for graduating early. The rising cost of attending college is a serious downer and it might always be on the back of your mind. Sparing a semester can save you thousands in student loans, and who doesn't want to save money? Students who graduate early arrive at a job more quickly and can start paying back that mountain of debt sooner. It doesn't sound attractive to fork over hundreds of dollars a month, but eliminating a semester's worth of debt does.
Many students cower away from the idea of heading into the adult world of bills, households, taxes, car insurance and buying ridiculously useful things like toilet paper and dish soap, but some are excited with the new adventure. December graduates are eager to jump into the real world and cut the figurative umbilical cord that college provided. It can be exciting knowing that you're going to hit the ground running along with your other nontraditional early graduates.
On the other hand, following the tradition of graduating in spring sounds like a perfectly acceptable option. While you might not have the advantage of a less competitive job market or that extra time to prep for grad school, it's completely fine to take your time and walk amongst the flowers at a spring graduation.
Waiting until spring to graduate has its pros, too; one of the biggest is time. As you know, your classes are deliberately planned so you'll graduate in four years and in the spring. The schedule of classes is set in place to ensure most students succeed and don't take on too much. College is tough and there is no reason to make it more difficult by cramming everything into a shorter time. Guarantee good grades and optimal learning by giving yourself enough time to complete each course.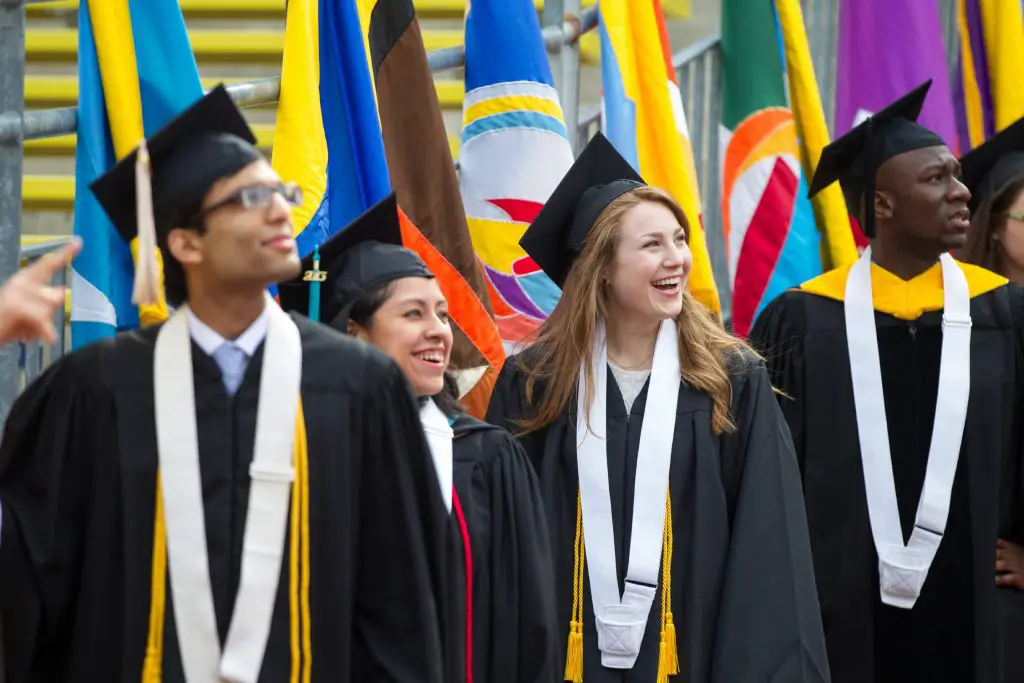 It's no surprise that keeping a social calendar while in college is tough; you might not even have one if you force everything at once. An active social life is key to success and it's hard to be an intellectual if you don't have any down time. Plus, who wants to be cooped up in the library all day and night? Personally, I don't. Balancing the whirlwind of school and life is hard and taking extra time to enjoy your youth before the real world hits is enough of a reason to wait for spring to cross that stage.
A spring commencement will most likely be what most college graduates participate in and most students find comfort in that. Graduating early can be a scary proposition but nevertheless an exciting one. However, whether you're celebrating your enormous achievement during winter or spring, you have every reason to be proud and celebrate. Prepare for your big day with excitement and intelligence and bask in the glory of your loved ones showering you with compliment, but always remember prepare yourself for the next step.