A five-foot-tall girl just moved from a small town to one of the largest universities in the world. No friends or family, just a truck full of boxes and a high school graduate ready to transition to big city living. Everything I had always known was now flipped around and I had to learn the basics of living all over again, but now I was officially a Knight at the University of Central Florida.
The University of Central Florida is located in Orlando, Florida, and, based on the number of people enrolled, is the second-largest university in the United States; as it stands, I am just one of the 64,000 students currently enrolled. I love it here now, but with all of the options out there, choosing the right school can be insanely difficult. You have to answer a lot different questions to find your perfect fit, but one of the first should be whether you want a small or large campus.
So, if you find yourself debating between the merits of both, check out this article to find out about my experience of attending one of the largest universities in the world.
The Intimidation Is REAL
When you first move to a new city, you are most likely going to feel strange and sort of out of place. I know it can be intimidating, but don't let your fear hold you back. I was so excited to move to Orlando and pursue my college education at UCF, but deep down I was terrified.
When I first arrived in Orlando and drove down University Drive, I saw all of the apartments, shops, restaurants and bars, and I knew this was my new home. Everything about the city gave me a warm feeling inside, and I was eager to step onto campus.
When I first arrived onto campus, I went into culture shock. I couldn't believe how large my school actually was and how small it made me feel. The initial awe took some time to wear off, but once it did, I knew I made the right decision.
Before attending UCF I went to a small, local college in Fort Myers, Florida, called Florida Southwestern State College. I wasn't sure what I wanted to major in or what my future looked like, but I knew I had to figure this all out before stepping into the job industry. FSW had less than twenty thousand students enrolled, only one on-campus dorm and was essentially a slightly larger version of my high school.
On a larger campus, just getting oriented takes some time — heck I still have trouble finding certain buildings—but there are maps everywhere on campus to help you out. It's normal to feel intimidated and nervous when you arrive in a new situation, and the greatest thing is that, over time, you will become acclimated fairly quickly.
D-I-V-E-R-S-I-T-Y!
The best part about attending a larger university is the amount of diversity you will encounter throughout the campus and community. In fact, if you attend a large enough university, you will meet tons of people from around the world. UCF has a large population of international students, which makes it easy and convenient to meet some really interesting people from all over the world. One of the friends I've made at UCF is actually from Cairo, and she has taught me so many new things about the world.
One thing I hated the most about attending FSW was that a good majority of the students and professors were locals, from the Fort Myers area, and while I have nothing against the west coast, this was definitely not Parkland, Florida, where I am originally from. The students were snobby and rude, and the professors were uptight and arrogant.
Since there is an enormous population at large universities, making friends isn't the hardest thing to do. There are people everywhere on campus, so even if you are someone who is more on the shy side, a friendly smile and a simple hello is all you need to make friends. You can make friends in the coffee shop, the student union, tailgating at football games, in your classes — it's effortless when you attend a large school. Student life is huge at large universities, so you can also join one of the hundreds of clubs or organizations, play an intramural sport or volunteer for a cause, all while making friends and memories.
Is This the Hunger Games or College?
Large universities are notorious for their enormous size, excessive population and never-ending construction. As a result, you are going to learn how to fight for survival when it comes to choosing classes, finding parking and running across campus to make it on time for class.
When it comes to registering for classes, you are given a time and a date, but if you are in a popular major, chances are you're going to have to fight for a seat in your classes. If one of your required courses is only offered at a certain time/day/semester, and by the time it's your turn to register the class is already full and the waitlist has one hundred people already, you are pretty much SOL. However, larger universities typically offer more courses and different majors than smaller schools.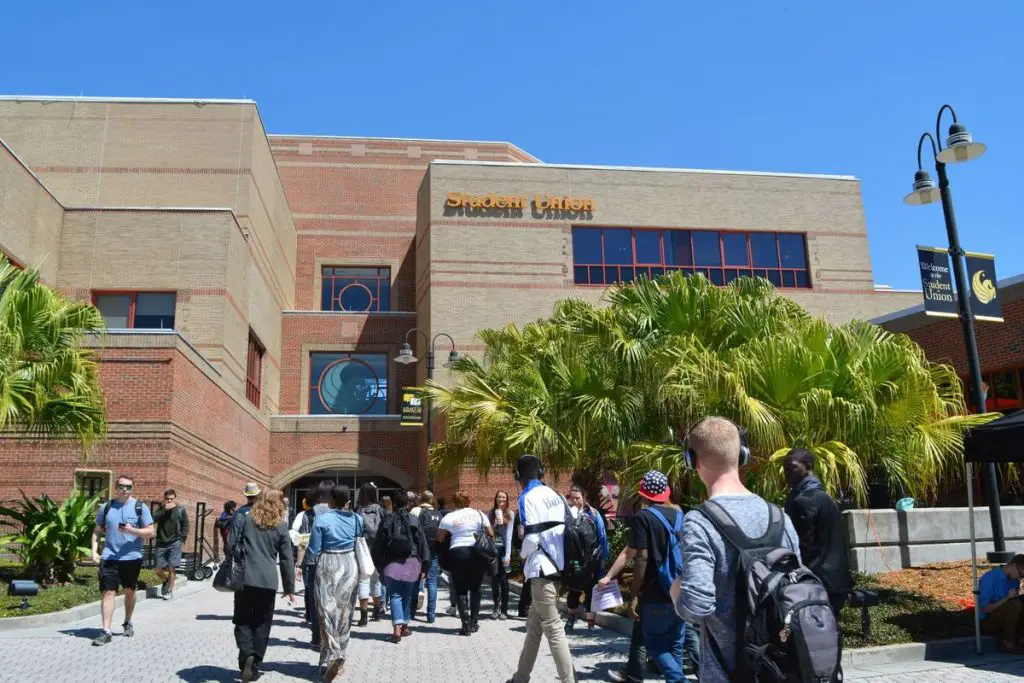 Another thing I hated about FSW was the lack of classes, professors and course modes. I have a hectic schedule and my days of the week are limited, so when it comes to choosing my schedule, I like to have options. UCF offers a wide range of course modes that include face-to-face, online and mixed-mode classes.
The school also offers a diverse selection of times and days with many different professors. There's no need to worry if you check Rate My Professor and one of your profs has a terrible reputation; at UCF, there are hundreds of professors, and there's most likely another teacher scheduled to lead the same course.
Large universities come with too many buildings, not enough parking spots and a large population of students trying to take your unassigned seat. You will most likely be late to your classes because of the lack of parking spots in and out of the garages, but, thankfully, the professors are usually understanding and aware of the situation.
There's also no need to get a gym membership, because you will gain a lifetime supply of exercise when you powerwalk across campus to your classes. Choosing which school to attend may be daunting, but with an endless amount of possibilities, a diverse community and an extensive course selection, a large university might be your best bet.