As someone who has watched the entire series of the medical drama "Scrubs" more than five times—and yes, I do mean the entire series—I feel I am more than qualified to explain how Netflix made a mistake when they removed the show from the online streaming queue earlier this year.
Despite its debut in 2001 and its finale in 2010, "Scrubs" has continued to gain viewership through the streaming platform. After I subscribed to Netflix, "Scrubs" was one of the first shows I watched online, and I can hardly understand why Netflix would choose to deprive future audiences of such outstanding greatness.
If anyone were to ask me, "What makes 'Scrubs' stand out from any other medical drama?" I would say that "Scrubs" is more than just a medical drama, and that's why it's so special. Let's take a look at the chart to get a better idea of what we're dealing with.
John "JD" Dorian, played by Zach Braff, is the main character of the show, and through his experience, lessons about friendship, grief, life and love are offered to viewers. Goofy and well-meaning, JD creates a unique dynamic for the show as he illustrates the life of medical interns everywhere, adding color with his particularly strange perspectives.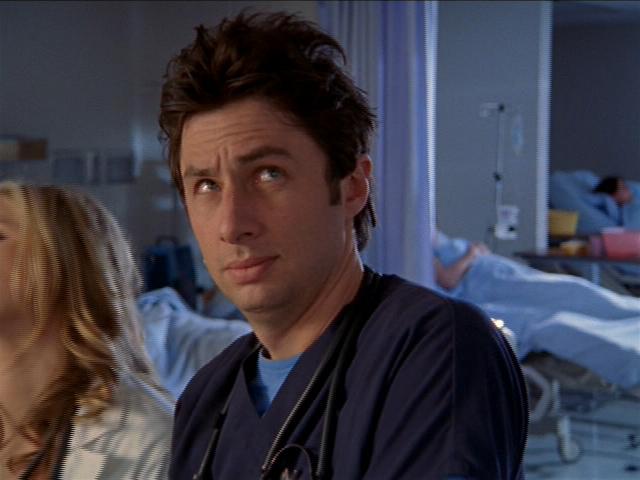 At the start of the show, JD begins as a medical intern at Sacred Heart Hospital alongside his best friend and roommate, Christopher Turk, played by Donald Faison. The show's potential skyrockets from the first episode onward as JD gains a new friend in nurse Carla Espinosa (Judy Reyes); a snarky, unwilling mentor in Dr. Perry Cox (John C. McGinley); a neurotic love interest in Elliot Reid (Sarah Chalke); a seemingly psychotic enemy in the Janitor (Neil Flynn), in addition to meeting a host of kooky characters who only enhance the series.
JD's quirks drive the show forward and give the viewer something truly entertaining to latch onto. Every episode brings a new challenge for JD to overcome, whether it be his constant struggle to gain Dr. Cox's love and approval, his on-and-off-again relationship with Elliot, his need to keep his bromance with Turk alive, his dysfunctional relationship with his brother Dan or his continuous, one-sided battle with The Janitor.
All of these obstacles constantly pile up in JD's path, but he usually stumbles upon a solution—even if the problem is that he's slept with Dr. Cox's ex-wife and now must find a way to keep the potentially disastrous secret from being discovered by his beloved mentor.
Most importantly, everyone has a JD somewhere inside of them, who cannot help but daydream about best- and worst-case scenarios at every opportunity, but who, ultimately, hopes for the best.
As the series continues, JD's depth as a character grows as he must deal with the grief of losing people professionally, romantically and personally. JD discovers the joys and woes of being a doctor as he gets patients of all sorts, some who challenge his ability as a doctor, some who do not listen to him despite his best efforts and some who he becomes attached to and must ultimately lose because Death, who JD imagines to be a father to a girl scout, is really just like another coworker at the hospital who is only doing his job. JD's time at Sacred Heart is never easy, even when his internship ends and he becomes a resident. However, his story is not the only one viewers can take life lessons from.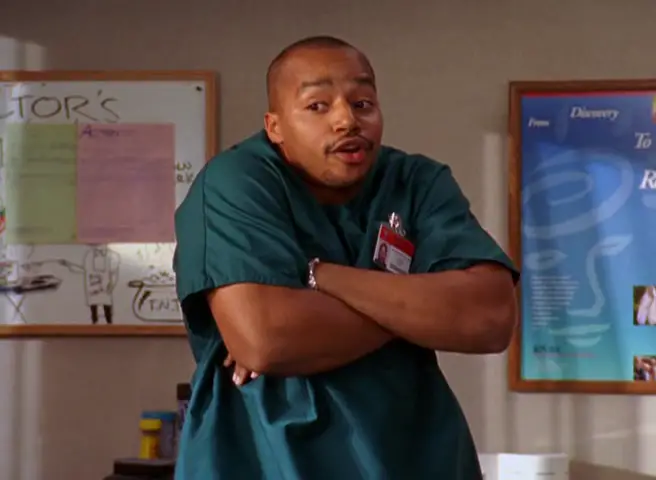 Every show needs a good bromance, and "Scrubs" has one of the best bromances to date. Turk, JD's best friend, differs from the protagonist in many ways. While JD is white, Turk is black. While JD is a medical intern, Turk is a surgical intern. While JD is an insecure dork, Turk is confident and suave, and is generally considered to be the "cool one" between the two. The two complete one another, giving other characters in the show a chance to ridicule their relationship and see them as a married couple.
However, Turk does not always remain the cool one. He begins a romantic relationship with Carla, and from the beginning of the relationship, it is flawed—and thus, it becomes all the more real to the viewer. Turk and Carla experience many trials during the course of their relationship, such as how Carla's mom dislikes Turk, Turk's childish behavior, Carla's independent spirit, Turk's professional uncertainties and many other issues that couples often face. While they never seem to truly overcome this struggle, they demonstrate ways in which a relationship can thrive, even if marked with imperfections.
Elliot, too, is familiar with imperfection, as she struggles with her own neuroses repeatedly throughout the series. Raised by disconnected parents, Elliot first struggles to find her place in the hospital. Her need to be perfect earns her enemies and scorn, especially from Carla, who later ends up becoming best friends with Elliot. Thanks to JD, Elliot is able to nurture her own social life and find the ability to make and keep friends. Unfortunately for Elliot, not even the strongest drugs can help her keep a boyfriend. Disaster strikes for many reasons, her relationship with JD being at the top of the list.
Numerous relationships in the show are imperfect, depicting real-life struggles anyone could face. The on-again, off-again romance between JD and Elliot shows the many phases a couple can go through as they break up, date other people and come back together, only to break up again. One breakup leads to an unplanned pregnancy.
The scandalous situations of Dr. Cox and his ex-wife also provides a realistic element for viewers to latch onto as they show many different emotions toward one another, from contempt to resentment to hurt to frustration to exasperation—but eventually, love overshadows all of those negative feelings, lacing insults with affection.
"Scrubs" prescribes humor to treat your ailments in each and every episode, supplementing with the occasional musical number. While the series is known for its humorous content, it is the way that the characters approach real-life situations that truly connects viewers to the story. The show has a unique way of dealing with heavy themes, such as death and illness, and offers the viewer new perspectives on how to comprehend such difficult concepts.
Now, I can admit that Season 9 of the show did not live up to the "Scrubs" name, but it had its own charm and is only one malady on an otherwise perfect patient chart. In a show that teaches us all about beginnings and endings, Netflix would do well to make sure "Scrubs" continues to be a beginning for its subscribers.